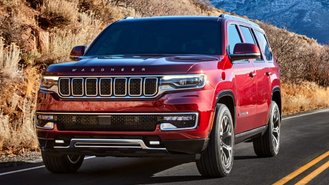 The highly-anticipated premium behemoth that is the Jeep Wagoneer, and its lavish twin the Grand Wagoneer have lease deals ahead of the New Year. However, a close look at the lease prices can offer some important insight worth knowing about when comparing lease deals with competing full-size SUVs.
The advertised lease deal in California for the 2022 Jeep Wagoneer Series II 4x2 starts at $825 for 42 months (down from $869/month) with $3,879 due at signing and is based on a 10,000-mile annual driving allowance. That's an effective monthly cost of $917, which is $42 cheaper than last month.
Jeep debuted the first lease deal for the Grand Wagoneer this month and is advertising leases in California for the Series I 4x4 starting at $1,105/month with $3,935 due at signing for the same 42-month term and 10,000-mile driving allowance. The effective monthly cost comes out to $1,199.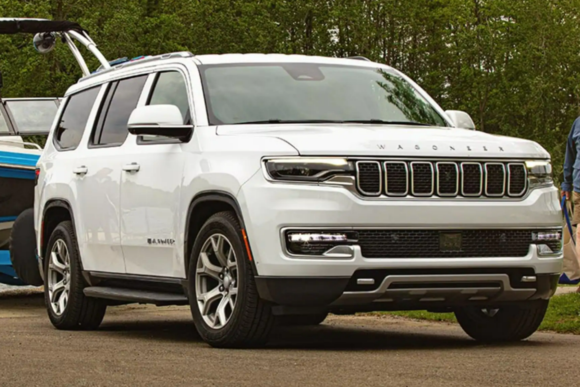 Based on our analysis, both lease deals are expensive relative to the vehicles' MSRPs, but they also aren't the worst deals we've seen for vehicles in this class. For example, the 2022 GMC Yukon Denali has a lease deal from $699 for 39 months with $11,179 due at signing. That's an effective monthly cost of $986 and based on the same 10,000-mile annual driving allowance.
Both the Wagoneer and the Yukon have similar MSRPs; the Wagoneer at $73,840 and the Yukon at $70,295 (destination included). While the Wagoneer is a more expensive vehicle, lessees will see better value for their money in part due to favorable residual values that make it a better SUV to lease.
But what do you get for leasing either Jeep SUV? Besides some seriously opulent interior features, Jeep automatically provides Wagoneer Client Services Complete VIP Service for 3 years or 36,000 miles. Jeep describes this as 24/7 "dedicated and uninterrupted customer service."
The Wagoneer last saw its name on an SUV 30 years ago, and it has been reintroduced with a bang for 2022. With today's consumers expecting luxurious style and advanced tech, the 3-row Wagoneer doesn't disappoint and offers more in these key areas than the competition. Current lease deals expire on January 3, 2022.