Ford has discontinued 0% financing on the Mustang Mach-E just days ahead of a planned price increase. If you were looking to take advantage of an interest-free loan from Ford on the popular all-electric SUV, the cost to buy rather than lease may go up significantly this week.
Beginning today, non-GT versions of the 2022 Mach-E feature 2.49% APR for 72 months. Although the 6-year interest rate has actually gone down from the previous rate of 3.9%, a closer look finds that 36, 48, and 60-month financing offers are much worse than they were before.
Previously, the best Mach-E deal was 0% for 36 months, with 48 and 60-month options at 0.9% and 1.9%, respectively. On a $45,000 SUV, the cost of a 3-year loan has essentially risen by almost $1,750. But that's not the only change that may affect your bottom line as a buyer.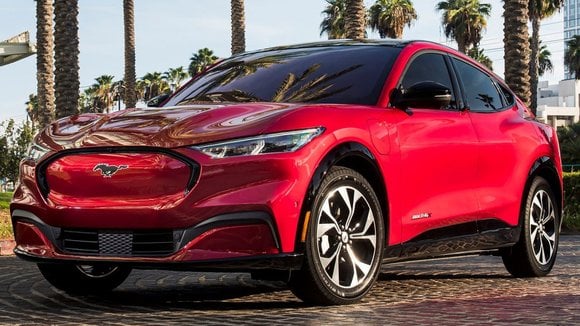 As we reported last Friday, Ford is planning to raise Mach-E prices by as much as $3,000 on Wednesday. In addition to a higher base price ranging from $1,000 to $2,000, the cost to buy certain options like the GT Performance Package will increase by $1,000 on December 8th.
Production delays forced Ford to convert 2021 Mach-E orders to the 2022 model year and to compensate consumers with discounts. With an estimated lead time of up to 28 weeks, some Mach-E buyers will be in for quite a wait and could end up with a higher cost than they expect.
When the Mach-E was introduced a year ago, Ford offered rates from 0.9% APR. Frankly, we were surprised when the 2022 Mach-E debuted with 0% APR this fall. Sadly, it appears this deal may have been simply too good given the high demand for this highly-anticipated EV.
Offers listed here end on January 3rd and are based on the latest dealer incentive bulletins.