While year-over-year price increases aren't unusual, the cost of entry for the Mazda CX-5 Turbo is going up significantly for 2022. Based on our analysis, the price to get behind the wheel of a CX-5 with the brand's 2.5T engine will increase by nearly $5,700 and could make it a lousy deal for those interested in performance.
According to an announcement today from Mazda, pricing for the 2022 CX-5 Turbo will start at $37,625 including destination. Currently, the cheapest CX-5 with the 2.5T engine is the Carbon Edition with an MSRP of $31,935. That's a difference of $5,690 compared to the most affordable turbocharged 2021 CX-5 crossover.
One reason for the price increase is the fact that front-wheel drive has been discontinued. As a result, just about every CX-5 is more expensive than the previous year. Having said that, a closer look finds that the latest version will still be $4,290 more expensive than an AWD-equipped CX-5 Carbon Edition ($33,335).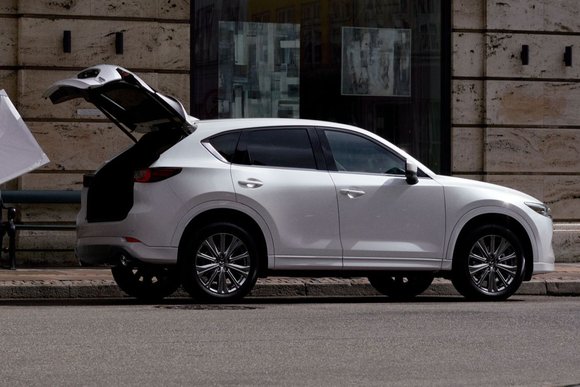 So will a 2022 CX-5 Turbo be worth the money? Mazda says the 2.5T will offer 256 hp, a 6 hp gain in performance compared to the current SUV. However, that's based on 93-octane gas, and 87-octane fuel will actually offer no advantage compared to the current CX-5 turbo's engine specs of 227 hp with 310 lb-ft of torque.
Meanwhile, a fully-loaded 2022 CX-5 Signature with the turbo will cost $39,875. That's $1,195 more expensive than the $38,680 sticker price of the current model. While the 2.5T engine remains an expensive option in other Mazdas such as the Mazda3 and CX-30, the price increase in the CX-5 could deter some buyers.
If you're looking to buy a CX-5 Turbo, getting a deal may be difficult. That's because Mazda discontinued 0% financing earlier this month and an inventory shortage is making it hard to find one in stock. At the moment, the best 60-month financing rate is 2.9%, which would result in over $2,300 in interest on a $31,000 SUV.
Current Mazda offers end November 30th and may vary by region.