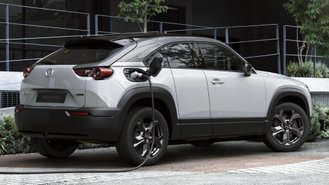 The 2022 Mazda MX-30 may be the brand's first EV, but it's already drawing criticism for its range of just 100 miles. However, our analysis finds that the MX-30 may be a bargain with a cost after incentives of just under $24,000. Here's a look at why this may be one of the cheapest EVs you can buy.
At the entry-level, MX-30 pricing will start at $34,645 with destination, slightly less than the MSRP of a loaded CX-30 crossover. However, as a 100% electric vehicle, the MX-30 will have a significant advantage by potentially getting buyers up to a $7,500 federal EV tax credit. But that's not all.
Here in California, the Clean Vehicle Rebate offers an extra $2,000 in savings on EVs plus the $1,500 Clean Fuel Reward plug-in rebate. That's $11,000 in potential savings, bringing down the MX-30's cost as low as $23,645. That's a hair more than the cheapest CX-30 trim ($23,225).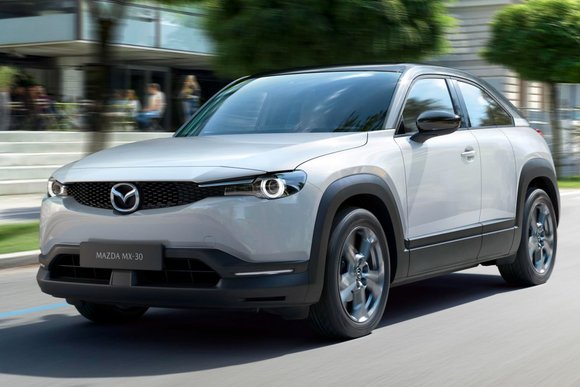 Sadly, there are some catches. First, the MX-30 will only be sold in California, at least for now. Second, the tax credit isn't a rebate, and we don't know if Mazda intends to pass along the full tax credit as lease cash. That's something Ford doesn't do with the Mustang Mach-E.
Although we don't have MX-30 lease prices yet, whether or not it'll be a good EV to lease will undoubtedly depend on how Mazda treats the tax credit. It'll clearly have some competition now that Nissan cut 2022 LEAF pricing and we're seeing LEAF leases as cheap as $89/month.
MINI currently makes one of the cheapest EVs on the market in the form of the 2022 SE Hardtop. It carries a price tag of $30,750, or $19,750 with every incentive listed above. However, availability is limited and the 114-mile electric car is only sold in a 2-door configuration.
For those outside California, Mazda expects to expand sales to additional states next year. The brand also says it will introduce a plug-in hybrid variant in the form of the 2023 MX-30. How these two SUVs will compare in terms of pricing remains unknown at this point in time.