Shoppers looking to buy the all-new Toyota Tundra pickup could be in for an extremely long wait. With the completely redesigned pickup due to arrive next month, we reached out to one of the largest Toyota dealers to find out how long it'll take to get one. As it turns out, the wait on a 2022 Tundra may stretch to 1.5 years.
Normally, automakers build a ton of trucks to meet demand. Toyota even built a factory in Texas dedicated to building its flagship truck. However, according to a sales rep for El Monte-based Longo Toyota in Southern California, 2022 Tundra buyers should expect a wait ranging from 4 months to as long as 1.5 years.
Given industry supply constraints as a result of a chip shortage, Longo claims Toyota is only planning to ship 61 trucks for the entire Los Angeles region over the next 3 months. While the dealer does have a Tundra reservation process, being able to get your hands on one anytime soon could be close to impossible.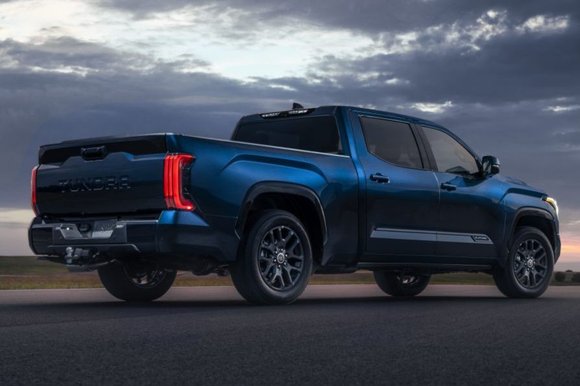 According to Longo, the range-topping TRD Pro will be the hardest version to find with a projected wait of 9 months to 1.5 years. As a result, it may be hard for buyers to even know if they'll end up with a 2022 model or a 2023 Tundra. The dealer expects other configurations to have a wait ranging from 4 to 9 months.
Buyers looking for immediate satisfaction may be disappointed by the lack of options. Given the fact that Toyota doesn't take factory orders like other brands, a consumer's main recourse will likely involve working with their local dealer to get added to a waitlist as early as possible. There may be almost no alternatives.
While it's likely that every dealer will have its own process when it comes to availability and Tundra markups, these early indications don't appear to bode well for shoppers with cash in hand. Considering Toyota expects inventory shortages to extend well into 2022, there may be no real relief in sight for Tundra buyers.
If you were looking to score a deal on a 2021 Tundra, Toyota is offering rare financing incentives. However, the fact that the truck has been extremely hard to find could eliminate your ability to take advantage of this deal. For those unwilling to wait till possibly 2023, this could compel some to switch to a competitor.
Editor's Update: A Toyota spokesperson subsequently confirmed to The Drive that the wait for the Tundra will vary by region, but did not dispute its own dealer's claim that it could take up to a year and a half to buy a Tundra TRD.