When it goes on sale this summer, the Volkswagen Taos will feature a choice of lease deals and APR incentives to attract shoppers. According to dealer incentive bulletins, the best discounts will involve up to $700 in manufacturer lease cash, rates as low as 0.9% APR, plus hidden discounts you won't see advertised.
In most parts of the country, the 2022 Taos will offer buyers 0.9% APR for 60 months, or 1.9% for 72. That's actually the same 72-month rate you'll find on other VW SUVs that have been on sale for months like the 2021 Tiguan and Atlas. In areas of the Southeast, dealers will be able to pass along up to $500 in dealer cash.
If you're planning to lease your new Taos, VW Credit will offer lease rates equivalent to roughly 1.6% to 1.9% APR, depending on trim. Across much of the U.S., the Taos will also offer $700 in factory lease cash. Although VW hasn't listed lease pricing yet, a $700 discount could help make the all-new SUV more affordable.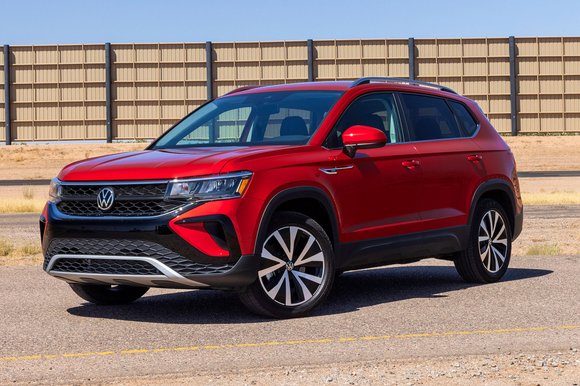 With a price tag of just over $24,000, cheaper financing could help boost the vehicle's appeal among bargain hunters. That said, Taos competitors offer significantly better deals. For example, the Nissan Rogue Sport has a $2,000 rebate, while the Jeep Compass offers 0% APR for 84 months ahead of Memorial Day.
VW appears to be betting that an upscale look will help make the feature-packed Taos a solid alternative to established vehicles like the Mazda CX-30 and Kia Seltos. However, with just over $2,200 separating the MSRP of the Taos with the larger Tiguan, we wonder whether or not buyers will find the latter a better deal.
If you look beyond MSRPs, the Tiguan may be a significantly better value when leased. Here on the West Coast, Tiguans offer lease rates equivalent to 0% APR and up to $1,675 in lease cash. Interestingly, our analysis finds that the Taos will have an 8% advantage in residual value which could help give it an edge.
Current VW offers end June 1, 2021.