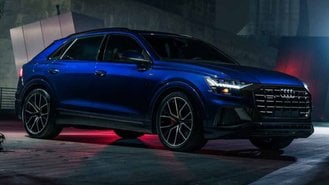 The 2023 lineup of Audi is now available to order and they already have deals. If you're looking to purchase a 2023 Audi as your next vehicle, here is a rundown of the deals available according to the latest dealer incentive bulletins. In some cases, you may not see these 2023 Audi deals advertised yet by the manufacturer.
The full lineup of 2023 Audi models, from the carryover of the recently redesigned A3 to the upscale Q8, is starting out with the same special APR rate of 4.99% for up to 72 months when you finance through Audi. This rate is the highest we've seen from any luxury brand so far, even considering the longer nature of the loan terms.
We consider it competitive with other brands that are offering lower interest rates for shorter loan terms. Some brands come close to Audi's APR, like European cousin BMW's current rate of 4.29% for up to 60 months across the lineup. Luxury models from the U.S. like Buick and Cadillac are closer to the mainstream segment and tend to offer better deals than more pricey names like Audi. Right now you can get a Buick for as low as 0% APR for 36 months, while a Cadillac can be had as low as 2.19% for 60 months across the board.
The sole APR offer from Audi isn't enough to recommend running out to buy a 2023 Audi, but there are more offers to consider. The deal can be combined with a $500 retail order bonus when you opt to wait for your purchase of the latest model year, rather than selecting from current dealer stock. You don't need to be financing your next Audi to take advantage of the retail order bonus either – the $500 credit is also available for buyers who are purchasing outright or leasing.
To sweeten the deal even further, Costco members who take delivery of a new 2022 or 2023 Audi model by October 3, 2022, receive a rebate for the price of their AudiCare scheduled maintenance plan with the Costco Auto Program.
With a rebate for the full price of the Audi Care program through Costco, members who take advantage of this offer essentially get free scheduled maintenance for the first 40,000 miles of ownership. This program could save members up to $1,799 depending on the model of Audi covered. Coverage for the A3, S3, and Q3 is valued at $999, while line-topping A8 and S8 models have AudiCare packages valued at $1,799. All other eligible models garner a savings of $1,399.
Even with the retail order bonus and the Costco deal, whether it's worth shelling out nearly 5% in interest for the latest model year is up to you. But we'd consider looking into finding a 2022 model in stock first. Some popular Audi models are going for as low as 1.99% APR for up to 72 months until August 31. Any A4 model, A5, A6, and A8 models are all being offered to qualified borrowers for the low APR, other 2022 model Audi can be found with an APR of 3.99% for up to 72 months.
If you're looking to lease a new 2023 Audi, you should check with your local dealership for incentives. Audi hasn't advertised lease deals since very early in the year most some models, and even then they were not a good value relative to their MSRPs. They were about the middle of the pack when it came to effective monthly costs in the luxury vehicle segment.