Leases for the 2023 Ford F-150 Lightning are staggeringly expensive. As before, Ford Credit isn't passing along a major government tax credit. However, the lack of a promotional lease rate suggests that most F-150 Lightning leases may cost over $1,000 a month to lease following a major price increase for the electric truck.
According to Ford's online payment estimator, the cheapest 2023 Ford Lightning lease is for the fleet-focused Pro trim at $706 for 39 months with $6,133 due at signing. That's based on an MSRP of $54,269 and 10,500 miles per year. With no money down, the payment rises to $862 before factoring in any taxes & fees.
However, that could be misleading since most buyers will likely opt for an XLT trim or higher. The 2023 Ford Lightning XLT lease price is listed at $830 for 39 months with $7,007 at signing. With $0 down, that comes out to $1,007 per month. While the truck's MSRP of $61,769 isn't cheap, it's an awful truck to lease for the money.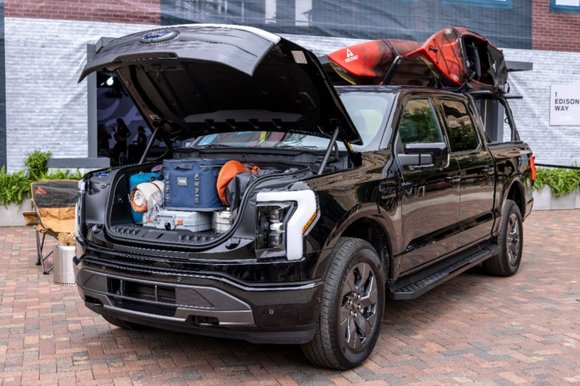 As we've reported previously, Ford is keeping a $7,500 tax credit even though the truck remains eligible for the incentive. It's the same story with the Mustang Mach-E and a likely reason why leases aren't advertised for either model. Instead, the company is promoting a balloon financing option called Ford Options Plan.
At the top of the range, the most expensive 2023 Ford Lightning lease price comes out to $1,701 per month. That gets you a Platinum trim with an MSRP of $98,219 with no money down. Although Ford Lightning payments for buying can be lower, it's actually because Ford is based the figures on pricey 7-year loans.
For example, the F-150 Lightning XLT loan estimate is listed online at $837 per month. But that assumes a down payment of $6,177, or 10% of the selling price. Given the fact that Ford's 7-year rate is 6.9% APR, we estimate that the true cost of that loan could involve nearly $15,000 in interest and cost over $70,000.
Still, Ford Options Plan and traditional financing could be the only way for buyers to score the $7,500 tax credit. Still, the fact that the F-150 Lightning remains a hot commodity could expose buyers to dealer markups for the foreseeable future, especially since Ford stopped taking new orders for the wildly popular EV.