The completely redesigned Genesis G90 sedan already has a financing deal. According to an incentive bulletin sent to dealers last week, the 2023 G90 has discounted interest rates on loans for up to 72 months. While there is a 2023 G90 lease deal, our analysis finds that the new luxury car can be incredibly expensive.
All versions of the 2023 Genesis G90 sedan offer 3.49% APR for up to 60 months. There's also a 72-month option at 3.99% APR, and this could prove to be the best deal for shoppers looking for lower monthly payments. These are the same interest rates you'll find from Genesis on models like the 2023 GV70 and GV80.
For reference, Mercedes-Benz and BMW aren't even advertising 72-month loans at this point. Meanwhile, the best deal from Lexus is 2.49% APR but is limited to just 48 months. If you opt for a 72-month Lexus loan, you'll find a higher rate of 4.25%. Interestingly, 72-month rates from Audi currently start at 1.9% APR.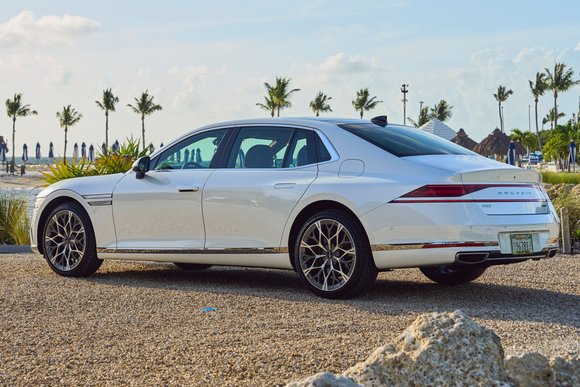 Sadly, Genesis G90 lease prices can be extremely expensive. The featured lease on the base version of the massive luxury sedan starts at $1,279 for 36 months with $6,999 due at signing. We estimate that the effective cost of this lease is approximately $1,473 per month before factoring in any applicable taxes & fees.
For illustrative purposes, that's more than the brand's advertised lease prices for both the 2023 G70 ($552) and 2023 G80 ($715) combined. Still, the cheapest Mercedes S-Class sedan lease has an effective cost of $1,936 per month. As a result, the Genesis G90 could seem like an outright bargain by comparison.
If you're looking to score a deal on a 2022 G90, odds are you're too late. Our analysis of national inventory data finds that the outgoing G90 generation has already sold out and manufacturer incentives have ended. This could give G90 buyers no choice but to wait for the redesigned sedan to arrive at Genesis dealerships.
Looking for an alternative? Audi recently more than doubled its rebate on the 2022 A8 to $7,500. What's more, you can combine the A8 discount with 1.9% financing for 72 months. Just in time for this year's Labor Day sales, Audi has teamed up with Costco to offer free Audi Care maintenance for eligible warehouse members.