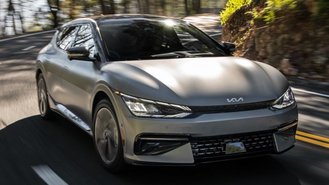 The 576-horsepower Kia EV6 GT could cost over $1,000 a month to lease. Based on Kia's latest incentive offers, the high-performance 2023 EV6 GT can be more expensive to lease than a Tesla Model 3 Performance. As a result, the EV6 GT may be a bad car to lease if you're looking to get the best deal possible on an EV.
According to Kia's website, the 2023 EV6 GT has an estimated lease price of $1,007 for 36 months based on an allowance of 10,000 miles per year and a down payment of $2,000. With no money down, the payment comes out to $1,067 per month before factoring in taxes, fees, and any applicable state plug-in rebates.
At $1,067 per month, the EV6 GT may seem shockingly expensive to lease. There's also the fact that limited availability could compel dealers to add costly markups that dramatically increase the payment. We looked at Kia incentive bulletins sent to dealers and found some likely reasons why the EV6 GT is so bad to lease.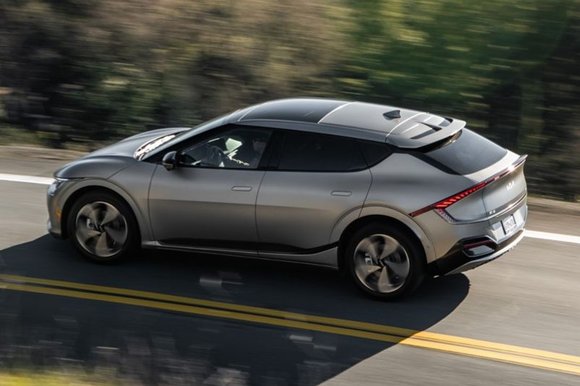 First, the 36-month residual value of the EV6 GT is 55%, the lowest of any EV6. To help put that into perspective, the entry-level EV6 Wind comes in at 58%. Next, Kia's EV6 GT money factor is 0.00253. This translates to an interest rate of 6.1%, though Kia is actually allowing dealers to mark up the rate by an additional 1%.
Like other EV6 trims, there's also no lease cash to help bring down the price. However, that may not be all that surprising. After all, even though the EV6 qualified for a $7,500 tax credit until the Inflation Reduction Act was signed, Kia was keeping most of it for itself on EV6 leases. That's a limitation that buyers didn't have.
Next to a Tesla Model 3 Performance, the EV6 GT may seem overpriced. Tesla's online payment estimator lists the over-$64,000 EV at $779 for 36 months with $5,974 due at signing for an effective cost of $945. That makes the Model 3 almost $1,500 more expensive on paper but $122 per month cheaper to lease.