Following in Hyundai's footsteps, Kia has decided to slash lease prices for the 2023 Kia EV6 this month. According to an incentive bulletin that Kia sent out to dealers yesterday, lease prices for the 2023 EV6 have been cut by up to $80 per month. In February, the 2023 EV6 is available with up to $2,700 in lease cash depending on the trim. These lease incentives are based on 36-month lease deals.
$2,600 off Wind RWD
$2,100 off GT-Line RWD
$2,700 off Wind AWD
$2,500 off GT-Line AWD
$2,500 off GT AWD
Compared to last month, these lease cash deals are great, because Kia wasn't offering any lease cash with the EV6 in January. As far as lease deals go, the 2023 Kia EV6 is available in CA and other ZEV states for $619 per month for 36 months with $3,999 due at signing for the Wind RWD trim with an MSRP of $49,795 (with destination). This offer includes 10,000 miles a year and is available until February 28.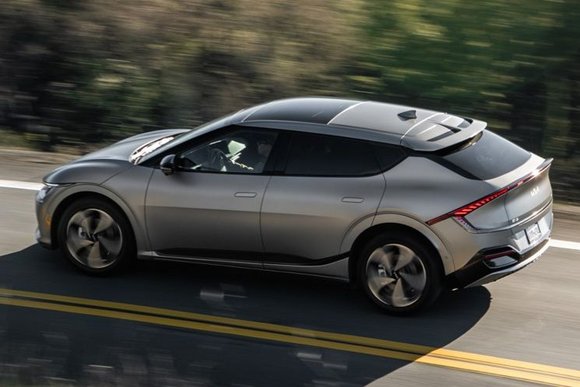 Last month's featured lease deal was for the same Wind RWD trim but included a monthly payment of $699 per month with $3,999 due at signing. This month's lease deal is an $80 per month price cut. However, if you reside in other parts of the country, your prices may be a lot higher because Kia is offering no lease cash whatsoever on the 2023 EV6 outside of California and ZEV states.
While getting up to $2,700 in lease cash on the EV6 is a relatively great offer for what Kia has been offering on the electric car, the commercial tax credit is for $7,500. So, it's clear that Kia seems to be keeping the majority of the tax credit for itself. The underlying lease rate is virtually unchanged versus last month.
Like Kia, multiple automakers have introduced more affordable lease deals because of the commercial clean vehicle tax credit that makes leased EVs eligible for up to $7,500. Unlike the regular federal tax credit, the commercial clean vehicle tax credit doesn't require electric cars to follow the requirements set out by the Inflation Reduction Act.
Late last month, VW and Audi brought back a $7,500 discount on leases. Volvo followed suit with a $7,500 lease incentive on EVs and plug-in hybrids. This week, Polestar cut prices by over $150 per month. Even Hyundai cut IONIQ 5 lease prices by increasing its lease discount fivefold. The moves came around the same time that Tesla cut prices across the board on its EVs.