With the 2023 Kia Niro starting to arrive at dealers, we're starting to see incentives for Kia's hybrid subcompact crossover. In fact, those looking for a fuel-efficient compact crossover SUV will find some of the first 2023 Kia Niro lease deals in the month of October on the redesigned model. Here's what to expect.
Kia's latest dealer incentive bulletin announced the first lease deals for both the 2023 Niro hybrid and plug-in models. The hybrid LX trim can be leased for $299 per month for 36 months with $3,499 due at signing. The annual mileage allowance is 10,000, as is the case with all promotional Kia leases at the moment.
The resulting $396 effective monthly cost isn't really anything to write home about relative to the $27,785 MSRP, but it's not bad and still presents the Niro as a competitive option, particularly as there are no competing hybrid subcompact crossovers.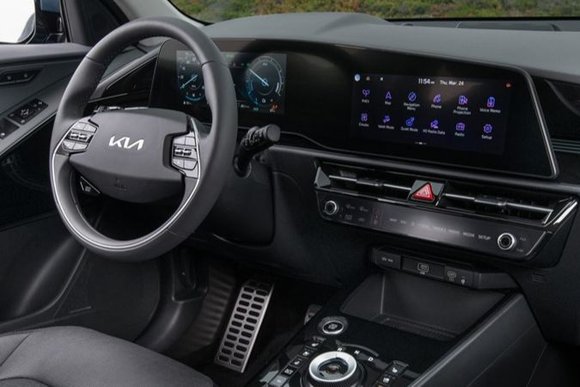 Better deals can be found for the all-electric Chevy Bolt EUV or gas-powered Jeep Renegade, but those aren't exactly apples-to-apples comparisons. The Niro's closest hybrid competitors would likely be the Toyota Prius and the Honda CR-V Hybrid. These are both more expensive to lease than the Niro, even though the Prius has a slightly lower MSRP at $27,310.
The CR-V is the best value of the three, as its $426 effective monthly cost is comparably low relative to its $33,255 MSRP. However, all three options are different sizes and offer different capabilities, so be sure to consider your needs in those regards as well. Both the Prius and the CR-V are offered with 10,000-mile annual allowances.
The plug-in hybrid version of the 2023 Niro is a bit more expensive, with the EX PHEV trim available for lease at $449 per month over 36 months with $3,699 due at signing. With an effective monthly cost of $552, this is not a very good deal relative to its $35,085.
It looks even worse when compared to Kia's own Sportage plug-in hybrid, which offers more space and all-wheel drive for only $10 more a month to lease. On top of that, the 2023 Niro PHEV is no longer eligible for the $7,500 tax credit for plug-in hybrid vehicles, as its final assembly is not done in the US.
The conventional hybrid Niro offers much better value than the plug-in with the current incentives and offers reasonable value within its segment. However, if a hybrid powertrain is not a priority for you, consider some of its competitors.