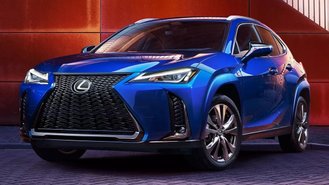 The 2023 Lexus models are on their way to dealers soon, and you can already order a few of them. Ahead of their release, Lexus has announced two models with deals this month. If you're looking to buy the latest version of the car you want, these 2023 Lexus deals could create a way to save, particularly when buying versus leasing.
The 2023 Lexus UX and GX models can be ordered and are showing their first cash and APR deals. The UX is stocked in small numbers and the 2022 UX has already sold out. The GX is still available for the 2022 model year but is typically harder to find than other Lexus SUVs, so you may need to work with your dealer to find the one for you.
With the UX sold out and GX hard to find, consumers who are looking for the latest model year can place an order for either vehicle. Right now the UX is available for the 2023 model year with $750 in APR cash according to the latest dealer bulletin. This is for financing through Lexus at non-promotional interest rates.
If you're looking at the 2023 Lexus GX instead, you can order it for the promotional APR of 4.49% for 60 months or 5.75% for 72 months. To put that in perspective, the 2022 GX is available for financing starting at 2.99% APR for 48 months, with incrementally higher APRs for longer terms based on offers here on the West Coast.
Neither the UX nor GX are showing promotional leases at this time. In fact, Lexus isn't currently advertising lease deals for the 2022 GX, either. The last advertised lease deal for the GX was in June running at $659 for 36 months with $3,999 due at signing. Relative to its $58,825 MSRP, this was a bit expensive.
One good perk of the Lexus lineup is the ability to take advantage of current deals with the Lexus Sold Order Program. Consumers who place a sold order now and are willing to wait for their vehicles to arrive may be able to lock in current interest rates and residual values for up to 30 days past current expiration dates.
We expect more deals to emerge in the coming months as we get closer to Lexus debuting new models for 2023.