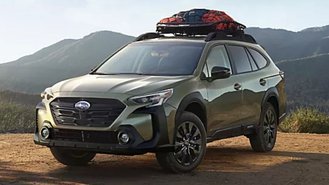 It may be easier than you think to get a deal on the latest Subaru models. According to a dealer incentive bulletin, 2023 Subaru deals are already available, though some of these 2023 Subaru incentives aren't being advertised. Right now, you could get a low APR on a popular new Subaru if you qualify. Here's what we found.
There are five Subaru models that are currently available to reserve in the 2023 guise, and all of them have unadvertised APR deals which we've found out about via the latest dealer bulletins. If you're looking to get your next Subaru for a low APR you may want to consider the 2023 version of popular models like the Crosstrek, Outback, Impreza, BRZ, and the all-electric Solterra. Right now you can place a deposit with a dealership for any of these models for as low as 2.9% APR for up to 48 months now through August 31.
If you need longer to pay you're probably not seeing advertised deals that are striking your fancy. That's because, for longer-term loans, Subarus have hidden deals that aren't being advertised. According to Subaru dealer bulletins, you can get a rate starting at 3.9% for up to 63 months, and 4.9% APR when you finance for up to 72 months.
Why keep these deals out of the limelight? Well, for starters, it may be hard to find a deal that's actually so low. Subaru allows their dealers to markup rates as high as 1% over the advertised APR for loan terms longer than 48 months.
This means that your potential APR of 3.9% may have climbed as high as 4.9%, while a 4.9% interest rate could cost you 5.9% after a markup. Markups can be hard for customers to swallow but are persisting right now due to inventory lag from the ongoing chip shortage and other supply chain issues.
If you're not willing to wait, the 2022 models start at the same 2.9% APR but increase to an unadvertised 3.9% when you finance for up to 72 months. The higher rates allow for dealer markup, making this a potentially expensive deal when it comes to interest, but not as high as on a 2023 Subaru model.
So, if you're looking for a Subaru and need a long-term loan, we don't recommend holding out for the 2023 model, as they can potentially cost you in interest charges over that life of your loan. 2022 models are in stock now, but you may have to search for the one you want. Check with your local dealer for Subarus in stock near you.