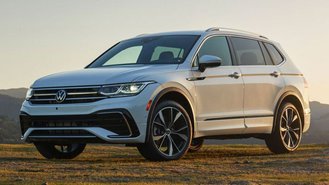 Editor's Note: Volkswagen has since released an incentives adjustment on 12/13, making the Taos cheaper to lease than the Tiguan at $489 and $499 a month, respectively. The Taos is also eligible for $1,000 in lease cash, while the Tiguan is only available with $500.
The subcompact Tiguan and the compact Taos are Volkswagen's two most popular models. Both crossovers currently feature lease deals, which isn't out of the ordinary. What is interesting is that the Volkswagen Tiguan is currently cheaper to lease than the Taos, even though it's the more expensive vehicle.
Despite occupying a higher spot in the Volkswagen lineup, the 2023 Tiguan currently sports a better deal than the Taos. Both crossovers are currently available with no money down as a part of a sign-and-drive promotion based on 10,000 miles a year, but the Tiguan's offer is $519 a month for 36 months with the Taos at $529. The result is a better deal for the Tiguan, since you're getting a more expensive car for a lower monthly cost.
Both offers are for the SE trim, which carries MSRPs of $30,580 and $28,925 respectively. No first-month payment is required for either model, but it's worth noting that this offer is only available in certain Western regions like California, so be sure to check with your local dealer since VW lease prices can vary by location.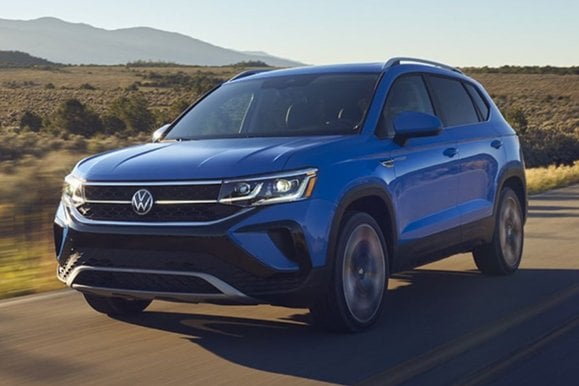 The Tiguan's heftier price tag comes from its larger size, more powerful engine, and a larger selection of standard safety features. It's also optional with a third row. Unless the compact size of the Taos is really appealing to you, we'd recommend opting for the Tiguan while the deal is still available (the deal ends on January 3rd).
Conventional wisdom may lead you to assume that the Tiguan is lagging behind its smaller sibling in terms of sales, but that is not the case. The Tiguan is still Volkswagen's best-seller. However, it is in a less favorable position to competitors from other brands, such as the Kia Sorento, Hyundai Santa Fe, and Mazda CX-5. Honda sells about as many CR-Vs in a month as VW moves Tiguans in a quarter despite being more expensive.
Volkswagen is likely making the Tiguan a higher priority this month to strengthen its foothold in the compact crossover market by giving it a better deal. Luckily for the consumer, the result of that is more Volkswagen for your dollar.