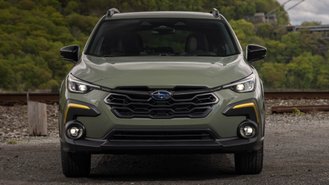 The 2024 Subaru Crosstrek may be a better deal than the outgoing generation based on the first lease deal that starts at just $299 per month. What's more, the SUV's exceptionally high residual value can make it as little as $13 per month more expensive than the lease price for a comparable 2023 Crosstrek this month.
To start, the 2024 Subaru Crosstrek is being advertised at $299 for 36 months with $2,549 due at signing in many parts of the country. That's based on an MSRP of $26,290 after a $1,295 destination charge and an allowance of 10,000 miles a year. Meanwhile, the 2023 Crosstrek is listed at $285 with $2,585 due at signing.
When you factor in the payments and amounts at signing, the 2024 Crosstrek has an effective cost of $370 per month. The 2023 Crosstrek comes in at $357. That's a difference of $13. As a result, you may be able to upgrade to the redesigned SUV for about the cost of a burger, fries, and drink depending on where you live.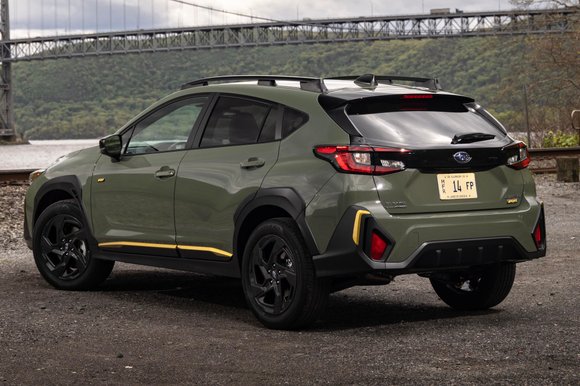 So why is the 2024 Crosstrek such a good car to lease relative to its predecessor? According to Subaru's latest dealer leasing guide, the 2024 Crosstrek has a residual value of 73%. To help put that into perspective, a 2023 Jeep Renegade — another subcompact SUV — has 36-month residual values as low as 52%.
In the most extreme case that we found, the 2024 Crosstrek can have a residual value as high as 83% on a 24-month lease for the entry-level trim. Higher residual values can often make some cars better to lease than others. However, there may be some good reasons to curb your enthusiasm for a new Crosstrek lease.
First, dealers may not be able to honor Subaru's advertised lease prices or even have the vehicle in stock. Second, there are no lease cash incentives to help bring down the vehicle's price. Lastly, Subaru's underlying money factor for the 2024 Crosstrek is 0.00337, which equates to an interest rate of just over 8% APR.
At an effective cost of $370, the 2024 Crosstrek isn't the most affordable subcompact SUV on the market. Based on our most recent analysis, the 2023 Hyundai Venue has one of the cheapest lease deals with an effective cost of $291. You could even step up to a 2023 Kia Sportage LX ($376) in some parts of the country.