The sheer thrill of driving is reason enough for many shoppers to choose a sporty car. However, despite the allure of leasing, some models are particularly bad to lease for a variety of reasons.
If you aren't careful, it's actually possible to pay less to lease a car that's $30,000 more expensive. Here's a look at 4 examples of sporty cars you probably shouldn't lease in April.
Offers listed here are available nationally unless noted otherwise.
FIAT 500 Abarth
The 2017 FIAT 500 Abarth may have a low sticker price under $22,000, but it's actually one of the worst leases available based on our analysis of over 480 offers.
This month, the Abarth Turbo with automatic transmission is listed at $289 for 48 months with $4,549 due at signing, an effective cost of $384/month.
That's $2 more than a 2018 Kia Stinger with an MSRP of almost $33,000.
The Stinger 2.0 Turbo with automatic is listed at $299 for 36 months with $2,999 at signing, an effective cost of $382/month.
Our analysis of manufacturer bulletins reveals the main reason has to do with an abysmal residual value of just 21% for the Abarth.
On the other hand, the Stinger has a residual of 53% and a whopping $4,900 lease cash incentive. For the money, it's a superior choice.
Learn more about the Stinger »
Subaru BRZ
Even though it carries a relatively inoffensive MSRP of $26,455, the 2018 Subaru BRZ has an absurdly high cost to lease.
Nationally, the BRZ Premium with manual transmission is advertised at $365 for 36 months with $2,165 due at signing, an effective cost of $425/month.
Based on our analysis, the main reason for this has to do with the underlying interest rate.
The lease in question uses a rate of 0.00175, which is basically 4.2% APR. There are also no lease cash incentives to speak of to help drive down the price.
For $4/month less, you could lease a Honda Accord 2.0T EX-L with an MSRP of $32,860.
For $1/month less, you could even lease a 2018 Lexus IS 300 with a sticker price of $39,460.
Learn more about the 2018 Accord »
Ford Mustang GT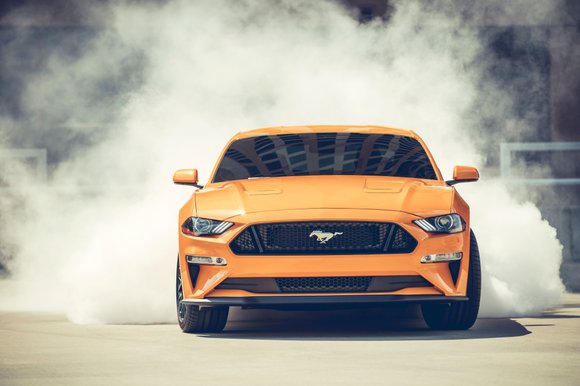 Although promos on the 2018 Mustang are nothing new, a closer look reveals that GT versions aren't eligible for the same deals that you'll find on the more popular 4-cylinder EcoBoost version.
Believe it or not, the Mustang GT isn't eligible for any factory lease cash incentives or promotional lease rates. For comparison, the EcoBoost Mustang gets $1,500 lease cash and a 36-month rate of 1.5%.
Ford's official website won't even give you an estimated lease payment on the GT.
On the flipside, buying instead of leasing gets you access to the same incentives as the EcoBoost— in this case, a choice between $2,000 cash rebate or 0.9% APR for 36 months.
Learn more about the 2018 Mustang »
Alfa Romeo Giulia Quadrifoglio
Despite absurd levels of horsepower, the 2018 Giulia Quadrifoglio is fantastically expensive to lease. In fact, it's one of our picks for the absolute worst deals in April.
Here's why.
This month's lease is $1,400 for 36 months with $4,449 at signing, which equates to an effective cost of $1,524/month. Even for a car with an MSRP of $75,295, this is a particularly bad deal.
For less money, you could actually lease a 2018 BMW M5.
The M5 has an MSRP of $105,295 and is listed at $1,299 for 36 months with $5,724 at signing. That translates to an effective cost of $1,458/month.
For those keeping track, that means the M5 is $30,000 more expensive than the Quadrifoglio but actually $66/month less to lease.
The reasons are threefold.
In addition to not being eligible for any sort of lease cash incentives, the Quadrifoglio has a money factor equivalent to 5.1% APR and a residual value of just 50%.