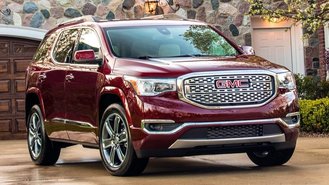 Although there are certainly incredible lease deals to be had, some cars feature considerably better discounts when you buy.
If you aren't careful, you could be missing out on as much as $5,700 in savings, not to mention 0% financing promos and discounts for coming from a competitor.
Here are 5 cases in which discounts are better for buying vs. leasing.
Deals on the GMC Acadia heavily favor purchases, with a choice between a 16% discount or bonuses totaling $6,450 in places like California.
All 2018 styles are eligible except the entry-level SL.
In contrast, the only discount for leasing is a regional bonus worth $750. That's a $5,700 advantage in favor of buying.
Now that the 2017 Cadillac CTS is close to selling out, there's a $5,000 rebate available to clear remaining stock. Together with a $4,000 loyalty bonus, that's $9,000 in potential savings.
On the flipside, there are no lease discounts to speak of. Even the loyalty offer is exclusively for buyers. That could come as a bit of a surprise to shoppers expecting to get a deal at the end of the model year.
With a redesign set to arrive soon, Hyundai has increased discounts on the outgoing 2017 Veloster as a result. However, those looking to lease may find themselves left out in the cold.
If you're buying, you can now enjoy up to $4,500 in savings, or an option to choose 0% APR for 72 months plus $1,000 cash. To put that in perspective, there are zero incentives for leasing.
The 2017 Camaro is getting close to selling out and discounts heavily favor buying.
In places like California, both the coupes & convertibles are eligible for $1,500 in rebates. You can even get a $2,500 conquest bonus for coming from an Asian brand.
In contrast, there are zero standard discounts for leasing, not even the $2,500 conquest bonus. To get that bonus on a lease, you'll have to choose the 2018 Camaro.
This month, Buick is offering 16% off MSRP on most 2018 Envisions. In the case of the mid-tier Essence model, that equates to as much as $6,634 in potential savings.
On the flipside, there's only $2,800 in lease cash here in California. Although some might think leases would be more favorable since this is a luxury model, that isn't the case.