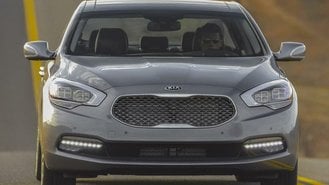 Many cars feature outstanding incentives for buying, but some can be smarter to lease because of more favorable discounts.
In some cases, leasing can get you access to as much as $15,550 in discounts that you wouldn't get otherwise.
Here are 5 instances in which the discounts this month are better for leasing vs. buying.
Last month, Kia sold 32 K900 sedans in the U.S. Despite that fact, those looking to bring one home will find absolutely zero cash incentives for purchasing. The only advertised offer is 0.9% financing for 60 months.
On the other hand, those looking to lease will enjoy between $13,000 and $15,550 in factory lease cash depending on vehicle trim, with the most cash on the mid-tier 3.8-liter Luxury model.
This month's featured lease is on the K900 V6 Premium at $429 for 36 months with $2,999 due at signing.
The 2017 Forte can be an excellent choice for those on a budget. However, those considering buying one could be missing out on substantial lease incentives.
This month, Kia is offering $2,750 in cash for buying, but up to $7,230 available for leasing. The largest discounts are on well-equipped versions like the sporty SX.
This month's featured deal in places like California is $139 for 36 months with $1,999 at signing on the Forte LX Hatch. Our analysis shows this is one of the cheapest leases on any car.
The 2017 Ioniq Hybrid continues to undercut the Toyota Prius by a rather insane $110/month when leasing. That's due in part to the fact that the car is eligible for $2,250 in lease cash.
In contrast, there are no standard rebates for buying. The only real option is 0% financing for 60 months when taking out a loan through Hyundai Motor Finance.
This month's featured lease on the Ioniq Hybrid Blue is $219 for 36 months with $1,999 due at signing.
The 2017 CX-5 earns high marks for sportiness, but you may find more value in leasing one rather than buying.
In cities like Los Angeles, you'll find $2,750 in lease cash, but only a $750 rebate for buying. That's a $2,000 advantage for leasing.
This month's featured deal is on the CX-5 Sport at $199 for 36 months with $1,999 due at signing. Believe it or not, that's just $10/month more than the smaller CX-3.
The 2018 RAV4 offers more value than most in its segment with advanced features like automatic emergency braking and adaptive cruise standard on even the least-expensive model.
In places like Southern California, Toyota has heavily stacked incentives in favor of leasing with $1,500 in factory discounts. For comparison, there's only a $500 rebate for buying.
This month's deal is $199 for 36 months with $1,999 due at signing. That's $20/month less than a Toyota Camry LE, and equates to one of the best leases on an SUV in March.