Update (1/05/21): A Toyota spokesperson has confirmed that the hydrogen car tax credit was successfully extended through December 31, 2021 as a result of the recent budget deal signed into law by the President.
An $8,000 federal tax credit for buying a hydrogen electric car will end December 31, resulting in higher prices for consumers. Although there are still just a handful of fuel cell vehicles available for sale, the change could give regular EVs a major advantage and deal a blow to upcoming cars like the 2021 Toyota Mirai.
The Alternative Motor Vehicle Credit currently covers cars purchased in 2018, 2019, and 2020. With December 31 just weeks away and no recent developments listed on the IRS website, the incentive is set to expire as expected. The change will come at arguably the worst possible time for Japanese automaker Toyota.
Later this month, the brand is set to begin selling the redesigned Toyota Mirai in the U.S. Pricing hasn't been announced, but the 2020 Mirai starts at $59,545 with destination. However, a $4,500 California Clean Vehicle Rebate and $8,000 credit can help lower its actual cost to just over $47,000 before taxes & fees.
Toyota is well aware of the change, as confirmed by company spokesperson Nicky Hamila yesterday. Barring some sort of legislative miracle, our analysis finds that this could result in an effective price increase of $8,000 for the handful of hydrogen models currently for sale like the Honda Clarity Fuel Cell and Hyundai NEXO.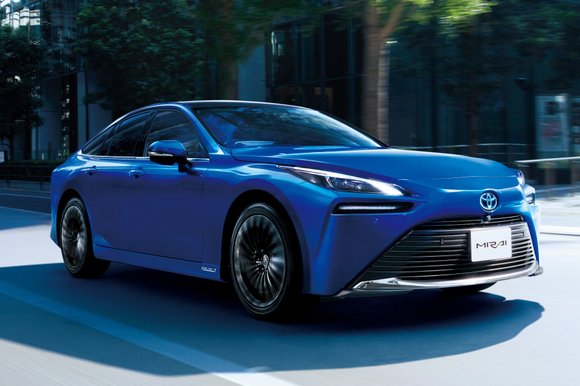 We also checked with Paul Cobian, local contact for the Los Angeles Clean Cities Coalition, who verified that partner agencies like the California Fuel Cell Partnership expect the credit to end this month. Interestingly, the development could give regular battery-electric cars a major advantage when it comes to incentives.
Many EVs with the exception of Teslas and GM models are still eligible for a $7,500 federal tax credit. Here in California, you can get an additional $2,000 with the Clean Vehicle Rebate plus up to $1,500 with the recently-announced Clean Fuel Reward. The latter is funded by electric utilities and excludes hydrogen cars.
Even all-new models like the Ford Mustang Mach-E will soon debut with up to $11,000 in incentives. That's more than double the $4,500 Clean Vehicle Rebate that will become the only major incentive for hydrogen cars. That said, limited choices and infrastructure limitations have helped keep fuel cell cars out of the spotlight.
Following the recent presidential election, the impacts of climate change are likely to rekindle the debate over the role of incentives. While it may be too early to say whether the loss of the credit will be the nail in the coffin for hydrogen tech, it certainly won't help matters when it comes to making greener cars more accessible.