The new Acura Integra may have a premium price on paper, but our analysis found that it can be cheaper to lease than a Honda Civic Si. Despite having a much higher MSRP, Acura's newest luxury car can be a substantially better value than the redesigned Civic Si due to its high residual value and a lower lease rate.
Based on Acura's latest dealer leasing bulletin, the 2023 Integra is listed at $369 for 36 months with $2,499 due at signing. That's based on an MSRP of $31,895 and 10,000 miles per year. When you factor in the payment and amount at signing, the effective cost of this Integra lease deal comes out to $438 per month.
At that price, the Acura Integra is among the cheapest luxury cars to lease. It can also be cheaper than the 2023 Honda Civic Si. According to Honda's website, the Civic Si (MSRP $29,195) has an estimated lease payment of $438 for 36 months with $1,033 due at signing. That translates to approximately $467 a month.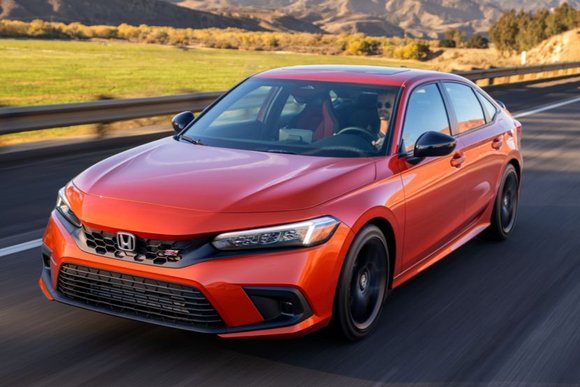 That makes the Integra $2,700 more expensive on the surface but potentially $29 per month cheaper to lease. The main reason appears to be the fact that the Civic Si is excluded from special lease rates. In contrast, the 2023 Integra's money factor is 0.00169, which is roughly equivalent to an interest rate of 4.1% APR.
As we've reported previously, Integra residual values are pretty good. Earlier this year, our analysis found that this helped make the all-new luxury car cheaper to lease than the outgoing Acura ILX. While there may be criticism among enthusiasts that the car is a rebadged Honda Civic, it simply may not be right for everyone.
After all, the Civic Si is only sold with a 6-speed manual transmission whereas you need to spend nearly $37,000 to get one in the Integra by upgrading to an A-Spec Integra with Tech Package. Both models have a claimed output of 200 horsepower with 192 lb-ft of torque from a turbocharged 4-cylinder 1.5-liter engine.
If you're shopping based on price and don't mind a car with a standard CVT, the Integra may be cheaper to lease. Having said that, real-world lease prices may vary considerably in the event there's a dealer markup. Inventory remains scant at dealers across the country, so consider taking these prices with a grain of salt.