The power-packed Acura TLX Type S may be a lot more expensive than you think, at least if you plan to lease. According to a dealer incentive bulletin, the Type S isn't eligible for the same rates as other TLX models, and a lease deal introduced yesterday reveals that the sporty car can end up costing nearly $800/month.
Acura's first lease on the 2021 TLX Type S starts at $649 for 36 months with $4,499 due at signing. That's based on an MSRP of $53,325 including destination and 10,000 miles per year of driving. Based on the payment and amount at signing, that comes out to an effective cost of $774/month before taxes & fees.
At that price, the Type S is $297/month more expensive than the cheapest TLX ($369 with $3,899 at signing, or $477/month). In fact, the difference in price approaches the cost to lease an Acura ILX ($317). While the Type S isn't a cheap car, there are some important quirks that help make it a bad car to lease.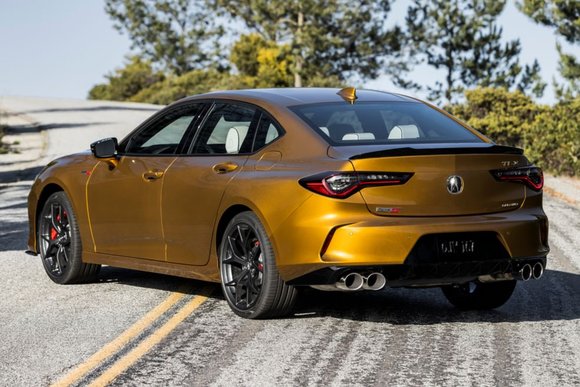 First, there's the fact that the residual value of the Type S offers no advantage over the cheapest TLX. Both cars have a 36-month residual of 59%, just 3% higher than the slow-selling ILX. Next, Acura's lease rate for the Type S is 0.00160, or 3.9% APR. The base TLX's rate is 0.00052, which comes out to 1.3%.
In addition, the Type S is excluded from the $500 in manufacturer lease cash that you'll find on other TLX trims. Perhaps more importantly, Acura's built-in profit on the Type S lease is significantly higher than other styles and is listed at $2,814. In contrast, the margin on the entry-level TLX lease is just $790.
At $774/month, the 355-horsepower Type S isn't a great deal. For $12 less, you could also step up to the over-$57,000 Mercedes-Benz AMG C43 Sedan ($762). Believe it or not, you could even lease a 2021 BMW M340i (MSRP $59,795) based on $579 with $4,999 at signing or $718/month here in California.
Buying a Type S can be expensive too because Acura has excluded it from promotional financing rates starting at 0% APR. Similarly, the Type S is excluded from a $2,500 loyalty discount for current Acura owners & lessees, as well as a $2,500 conquest cash incentive available for TLX buyers switching brands.
The new TLX Type S promises to bring the car back to Acura's performance roots. Coupled with the brand's reputation for reliability, it could be an appealing choice for luxury car shoppers. Unfortunately, these built-in disadvantages prevent us from being able to recommend it as a top lease deal at this stage.
Current Acura offers end on July 6, 2021.