Now that the 2018 Stelvio has finally arrived, Alfa-Romeo isn't wasting time in courting potential cross-shoppers. This month, the Italian automaker rolled out a $750 conquest bonus as well as the vehicle's first pair of lease deals.
However, a closer look reveals the offers may not equate to an incredible value, especially when compared to the Giulia. So what sort of deals should you expect to see? Are current offers competitive for this segment? And is there any sort of catch?
Here's what you need to know.
Note: Offers listed here are national unless noted otherwise.
Offer Details
Through September 5, the Stelvio is eligible for a $750 conquest bonus. To qualify, simply show proof that you currently own or lease any non-FCA vehicle. In other words, any vehicle that isn't a Chrysler, Dodge, Jeep, RAM or FIAT.
All versions of the Stelvio are eligible except for the power-packed Quadrifoglio. You don't have to trade-in your current car, and the discount can be shared between members of the same household.
You can also take advantage of special financing starting at 1.9% APR for 36 months. However, rates get progressively worse with longer terms at 2.9% for 48 months and 3.9% for 60. There's even a 72-month rate at 5.9%.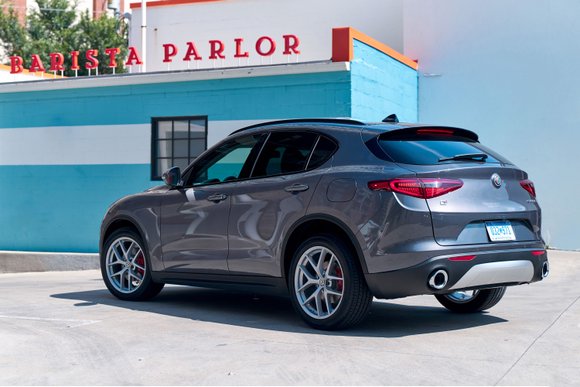 If you'd like to lease, the Stelvio Base is available from $419 for 36 months with $4,299 due at signing. Its effective lease cost comes in at $538 and includes an allowance of 10,000 miles per year.
Opting for the Stelvio Ti adds $20 to the monthly payment, resulting in an effective cost of $558. Based on the advertised MSRPs, you're getting a vehicle that's $2,000 more expensive for $20/month more.
So what's the catch?
Although the offers are mostly straightforward, it should be noted that the $750 conquest bonus is being factored into the Stelvio's lease numbers. If you aren't eligible, your price will be higher.
Manufacturer bulletins indicate this equates to a $9 higher monthly payment. That's not a whole lot given how much you'll be spending over the life of the lease, but it's worth being aware of.
Our Analysis
As far as deals go, these should be considered preliminary offers to help introduce the Stelvio. If you're coming from a competing brand, the 2017 Giulia actually features more than four times the amount of incentives.
Here in California, the Giulia features up to $3,250 off when coming from a competitor. The Stelvio is also a bit less attractive when it comes to leases due to its high effective cost.
You could actually lease a Giulia Ti for $82/month less than the Stelvio Base when comparing effective costs ($456 vs. $538). The difference in MSRPs in this instance is $2,000, so the Giulia equates to a superior value.
Next to a Mercedes-Benz GLC300, the Stelvio could come off as a bargain. The Alfa has roughly the same MSRP but is $36/month more affordable when comparing effective costs ($538 vs. $574). That sounds nice, but it may not mean a whole lot given that the GLC is a terrible lease to begin with. You could actually lease a Jaguar F-PACE diesel for $10 more than the Mercedes despite the fact that it's over $4,000 more expensive on paper ($584 vs. $574).
What's arguably more interesting is the range of more expensive vehicles that end up being cheaper to lease than the Stelvio. For example, you could lease a $43,000 Volvo XC60 T5 Inscription from $329 for 36 months with $4,009 at signing. Its effective cost of $440 is $98/month less than the Stelvio Base. Other vehicles that appear pricier on paper but are cheaper to lease include the Lexus RX 350 ($482), Infiniti QX60 ($487) and Acura MDX ($492).
That said, none of these vehicles probably look or drive quite like the Stelvio. Based on preliminary reviews, the SUV is shaping up to be a dynamic new addition to the lineup with distinctive Italian styling to boot. Just be prepared to pay a premium for being first on your block to have one in your driveway.