After analyzing over 380 of the latest leases, we've determined that the 2019 Hyundai Ioniq EV is America's cheapest lease on a car with an effective cost of just $109/month with as little as $0 down here in California. If cost was your main barrier to bringing home an EV, Hyundai just took away your reason for not buying.
According to a bulletin sent to dealers, a price cut went into effect today as part of an aggressive sell-down effort. As a result, the payment has fallen from $219/month to just $109. Given that the car has an MSRP of $31,245, this makes the 124-mile EV the single best deal at the moment on a car.
The offer in question is a 10,000 mile per year, 36-month lease at $109/month with $2,500 due at signing. If you're eligible for the $2,500 Clean Vehicle Rebate, you can essentially turn this into a $0 down lease. But you'll have to act fast— current offers are set to end October 31.
Having said all that, there are some important catches worth knowing about.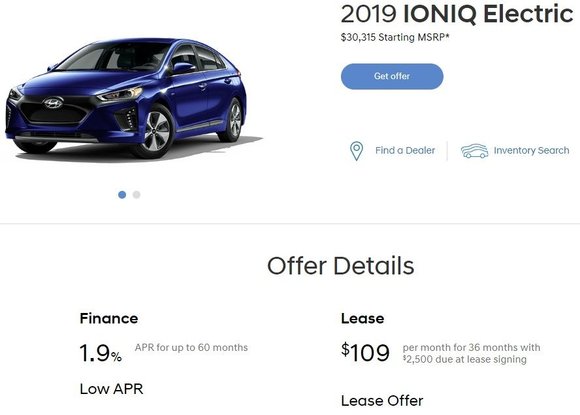 First, the car is only sold in 10 states: California, Connecticut, Maine, Maryland, Massachusetts, New Jersey, New York, Oregon, Rhode Island, and Vermont. Even then, dealers don't keep a ton in stock. One popular listing site barely shows 400 cars in stock nationally.
Calling this a $0 down lease also isn't 100% precise. You'll still have to come up with $2,500 up front and will have to apply for the Clean Vehicle Rebate after taking delivery. There's typically a 3-4 month turnaround time in receiving the rebate (you can learn more on the program's official website).
Figures also vary depending on where you live. For example, in New York, the car features a $79/month lease with $999 due at signing. That comes out to an effective cost of about $107/month, nearly identical to the deal in California after the Clean Vehicle Rebate.
This is also for a base trim and, like most advertised leases, the numbers don't include taxes & fees. If you're looking for a true out-the-door price, you'll have to contact your local dealer.
This is also a traditional lease that will require excellent credit in order to qualify. Hyundai used to offer the car with a subscription program that included things like free charging, unlimited mileage, and routine maintenance, but most of those benefits were phased out by 2018.
Looking to lease an EV on the cheap? This is probably about as good as it's going to get before the car sells out.
October 7 Update: We have confirmed that the price cut is largely the result of an increase in factory lease cash to $12,000 (up from $8,000) here in California. In addition, we now know that the better-equipped Limited trim is eligible for the same discount.