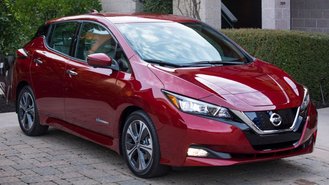 The 2018 LEAF benefits from a completely new design and boasts advanced semi-autonomous driving capability. Expected any day now at dealers, the model has just received its first lease deal starting at just $229/month.
But with nearly $4,000 required at signing, it certainly isn't cheap. So how does the lease compare to other EVs? What are some things prospective buyers should be aware of? And most importantly, is the LEAF a good deal?
Here's what you need to know.
Offer Details
Starting this week, the 2018 LEAF S is listed at $229 for 36 months with $3,979 due at signing (12,000 miles per year). That's based on an MSRP of $30,875 and equates to an effective cost of $331/month.
Bulletins from Nissan reveal that national lease discounts vary based on trim. Through February 5, the LEAF S is eligible for $9,275 in factory lease cash, while the SV and SL are eligible for $7,500 and $7,900, respectively.
Prefer to buy? All versions are eligible for 0% financing for 72 months, but there are no standard rebates to speak of. To put that in perspective, last year's LEAF is eligible for $4,000 on top of 0% APR.
As with all plug-ins, local incentives can help drive down the cost of ownership. Here in California, the Clean Vehicle Rebate offers an income-based rebate you can apply for after taking delivery that's worth $2,500 for most applicants.
So is the LEAF a good deal?
Good deal or not?
For the money, we consider the 2018 LEAF a pretty good deal if you're leasing. But it definitely isn't cheap.
Based on effective cost, our analysis shows it's $46/month more expensive than last year's LEAF ($285) and $96/month pricier than the 2018 Kia Soul EVe ($235).
The all-new LEAF boasts a range of 150 miles, a 40% improvement over last year. For comparison, the 2018 Soul EV is largely unchanged but now offers 110 miles of range, a 22% increase.
Like most Nissans, the LEAF now comes standard with automatic emergency braking. However, to get semi-autonomous driving, you'll have to step up to an SV and add the $2,200 Tech Package with ProPILOT Assist.
So how does the 2018 LEAF stack up next to a Chevy Bolt EV if you're leasing?
This month, the 2017 Bolt LT is listed at $383 for 36 months with $0 due at signing in places like California and the Northeast. That's actually a $66/month increase over last month based on our monthly analysis of green car deals.
In other areas, the Bolt is listed at $349 for 36 months with $3,039 at signing. As it stands, the redesigned LEAF has a $52/month advantage in effective cost over the Bolt in California, and is $102/month more affordable everywhere else.
Things to be aware of
We sometimes find that dealers use creative tactics to advertise EV offers. If you see an extremely cheap lease, the deal is probably factoring-in extra incentives like the Clean Vehicle Rebate or doesn't include your first payment.
It may not be immediately apparent that you'll have to come up with that money up front, often amounting to $2,500 in the case of the Clean Vehicle Rebate.
Assuming you're eligible, the money comes back to you in the form of a post-sale rebate that you'll have to apply for after taking delivery. As a result, it can be difficult to make apples-to-apples comparisons, so read any fine print.
Will better deals come along in the months ahead? That remains to be seen. Presidents' Day is coming up, but holiday promos from Nissan tend to favor mainstream vehicles like the Altima and Rogue.
Aside from waiting for dealer prices to settle, we find it unlikely that factory offers will improve considerably between now and next month's holiday. For the latest deals, see our monthly pricing insights and sign up for email alerts.