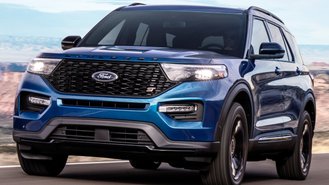 Interest-free auto loans have been very popular among consumers during the coronavirus pandemic. However, APR deals like 0% for 84 months on cars, trucks, and SUVs have some buyers wondering whether 0% financing is really worth it. We'll take you through some scenarios in which 0% APR may or may not be a good idea.
First, it's important to understand that nearly every APR offer requires above-average credit. Second, manufacturers may require you to choose between 0% APR and a cash rebate. For example, the RAM 1500 currently features up to $10,000 in discounts that you could be giving up if you opt for 0% financing for 72 months.
But what does this all mean in terms of cost and monthly payment?
On a $50,000 truck, taking the financing would cost $50,000 at $694/month before taxes & fees. With a $10,000 discount, the same truck would cost $46,382 at $644/month assuming a rate of 5%. Here, taking the rebate would cost $50 less per month and be over $3,600 more affordable over the course of the loan.
In contrast, the Ford Explorer XLT offers a choice between $3,500 in cash or 0% APR for 60 months plus $3,000 in cash. Here, a $40,000 SUV would cost $41,328 with the rebates and $37,000 with the financing. That's an over $4,300 difference in cost with an advantage of $72/month in favor of 0% financing.
So should you choose rebates or 0% APR? That depends. You may find that a lower payment trumps all for the sake of affordability. However, it's also important to look at total cost and weigh the risks of negative equity. After all, lower payments can make it very easy to buy more car than you may be able to afford normally.
To help you make an informed decision, CarsDirect's team of experts looks at hundreds of offers to find 0% APR deals that can save you money. We also look at models with the biggest rebates and cars that can be great to lease. With the right tools, consumers can put themselves in a position to get the best possible deal.