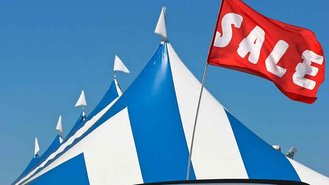 Whether or not you're in the market for a car, chances are you've seen or heard a car commercial announcing "special" offers. Automakers spend big money on advertising to get the word out about big sales around holidays. Some consistently offer extra incentives, while others play around with offers in ways you probably wouldn't expect. Are holidays really a good time to buy? Here's what you need to know.
Looking beyond clever names
Shoppers are probably used to hearing a lot of clever sale names- December to Remember (Lexus), Ax the Tax (Toyota), Spring Sales Event (Audi), etc. Some campaigns are less clever but easier to understand, like Honda's Really Big Sales Event.
The tools in an automaker's arsenal are many, but most resort to bonus cash offers. During special times of the year like holidays, we find that bonus offers typically range between $500 and $1,000. Some automakers reliably do this while others use tactics that make sales seem better than they actually are.
Browse pricing insights by model »
Different tactics
Nissan is a good example of an automaker that often uses holidays to their advantage. It's usually a sure bet that the automaker will add at least $500 in rebates before a major holiday. You may not even need to wait until a national holiday to score a deal- we've seen them add specials for Saint Patrick's Day.
Some automakers use clever tactics to give the impression of bigger savings. Around last Thanksgiving, Dodge added a $500 holiday bonus on the 2015 Dodge Grand Caravan. At the same time, the standard rebate fell by the same amount from $1,000 to $500. The total extra savings? $0.
Current models with the biggest discounts »
Subtle but important changes
Sometimes the tactics are subtle. This month Ford cut the standard rebate on the 2015 F-150 from $1,000 to $500 on Super Crew models. At the same time, a $750 bonus was added for taking out a loan through Ford Motor Credit, giving a net $250 more than last month. However, you would need to finance through Ford to achieve the greater savings.
You may not even see an increase in rebates. Lexus likes to add offers where they cover your first lease payment. Earlier this year they offered to pay up to $850 of the first payment on the 2015 GS 350, making it a top lease deal. These kinds of perks tend to come up during holidays and are worth looking out for.
The best lease deals for this month »
The right timing
If you like to take your time with test drives and have every question answered at your pace, the (unpopular) truth is that holidays are not the best time to shop but are generally a better time to buy. Holidays unfortunately tend to be hectic at dealerships, so giving yourself enough time to decide on the right car is important.
If you have the luxury of time to wait for the right deal, it may save you serious money to do your research in advance. No single strategy works for all shoppers but we feel most people love getting a great deal on exactly the car they want.
Browse all current deals by vehicle type »
Our take
Holidays may not be the best time to shop for a car, but they're generally a better time to buy. Some automakers use special incentives which may offer a better deal than what you'd normally get. We use insider knowledge to find out what each automaker is doing and determine if it constitutes an unusually good deal. For shoppers, the difference in knowing and not knowing could equate to serious money.
Below we've listed automakers that tend to offer the best deals around holidays and the types of offers you can expect to see. Feel free to explore this month's offers using the links provided and check back around holidays to look for changes and our updated insights.
Automakers that tend to have the best holiday deals:
Build and price your next car or truck »
Looking for the best way to keep track of purchase and lease deals? Check out our CarsDirect Pricing Insider and Deals Articles pages for tips and advice on picking the right time to buy or lease your favorite car or truck.
Offers listed here are based on a resident in Southern California and may be subject to change. Most lease offers are for well-qualified buyers based on available credit and exclude tax, license, title, registration, document fees and insurance. Not all buyers may qualify. Please check with your CarsDirect Trusted Dealer to confirm offer details and eligibility.