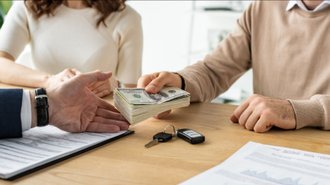 One-pay leases can be a good deal if you have the cash on hand to make it happen. The biggest draw is typically savings. Usually, borrowers who opt for one-pay contracts can save money overall by getting finance rates they wouldn't be able to get normally. Here's a look at some of the pros & cons of a one-pay lease.
What is a One-Pay Lease?
A one-pay lease is very similar to a standard lease, where you have a vehicle for two or three years, with the option to buy or turn in the vehicle at the lease's end. However, there's a key difference in a one-pay lease, and it's exactly what it sounds like – one lump sum payment to cover the entire lease, paid upfront.
One-pay leases generally involve pre-paying your lease in order to get access to lower rates. This can be appealing to buyers with cash on hand who think there's a strong likelihood that they'll buy their car at the end of their lease.
Although most standard leases give you the option to buy, one-pay contracts promise to save you money overall by offering finance rates you probably wouldn't be able to get normally. For example, Nissan one-pay leases offer lower money factor rates that amount to around a 2% lower interest rate for more savings.
Based on a dealer incentive bulletin, the 2024 Nissan Kicks currently has a standard money factor of 0.00412, for a two-year lease, which converts to around 9.9% APR. If you were to choose the same vehicle with a one-pay lease, you would be eligible for a money factor of 0.00330, which is around 7.9% APR.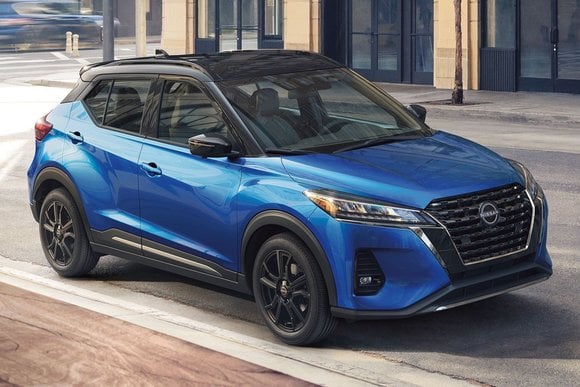 Pros and Cons of One-Pay Leases
One-pay leases aren't for everyone, and not every leasing company offers this option. And, just like with a typical lease, there are pros and cons to consider before you take on one of these contracts.
One-pay lease advantages
Approval can be easier – all other factors being equal, coming in with enough cash to make a one-pay lease an option ultimately gives you a better chance at getting the lease you want over someone without cash in hand.
Not having to worry about a monthly lease payment – Once you make your first and only payment, you're done! No worrying about the monthly bill.
Lower interest rates compared to traditional leases – With the option of a one-pay lease, typically comes a chance at saving. Usually, borrowers who have cash upfront can typically qualify for lower interest rates than a borrower who has to finance their lease. You also end up saving money in interest charges since your payment is made to cover the whole lease, you don't accrue additional interest over time.
One-pay lease disadvantages
Lump sum payment – Having to sink the full cost of a 2 or 3-year lease into a single upfront transaction can be hard to swallow for a lot of lessees. Ultimately, this is still typically a more cost-effective way to drive a new car every few years than buying it outright.
Not offered by every brand – Brands that are known for offering good savings with a one-pay lease tend to be higher-end car brands, with more expensive leases, such as Audi, Mercedes-Benz, Lexus, and Genesis. And, even if it's offered, not every model may be eligible for special rates with every company. However, Toyota, Nissan, and Kia, also have one-pay lease options for borrowers with better credit.
Money loss if the car is totaled – One additional risk is the risk of losing out if something happens to the vehicle and you've already paid for it. One way to help protect yourself is typically with GAP insurance, which pays the difference between what is owed and the value of the vehicle at the time of an accident. This is usually included in most one-pay leases.
Can I Save Money With a One-Pay Lease?
Yes. You can save money in two ways with a one-pay lease. First, you'll save money in overall interest charges since you're paying upfront. Additionally, one-pay leases typically qualify you for special incentives, like lower APR money factors than a traditional lease.
Am I Eligible for a One-Pay Lease?
To be eligible for a one-pay lease you typically need to have excellent credit and enough money on hand to pay for an entire 24- or 36-month lease all at once. If you don't meet these initial qualifications you're not going to be eligible for a one-pay lease. However, a lessor won't know upfront that you have the cash on hand unless you tell them, so be sure to ask your dealer about one-pay leases and if you're eligible for this deal.