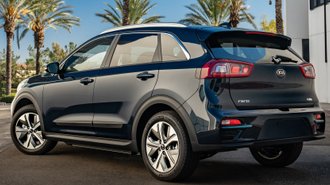 With excellent fuel economy and a variety of incentives, plug-in hybrids can be well worth the money. However, not all PHEVs offer the best range and there may be some potential drawbacks to know about before buying one. Here's a brief look at some factors that could make buying or leasing a PHEV worth the money.
According to the EPA, the Toyota Prius Prime has the best fuel economy rating of any PHEV at 133 MPGe. The downside is that the fuel-sipping car has a range of just 25 miles on EV power. Although the Prime does offer a combined range of 640 miles with the built-in gas engine, the short EV range may be a disadvantage.
Depending on a plug-in's battery capacity, it may qualify for a federal tax credit. For example, the Toyota RAV4 Prime isn't a fully-electric SUV but manages to be eligible for a $7,500 EV tax credit. Here in Southern California, the RAV4 Prime even offers a lease rate equivalent to 0% APR and could be a compelling choice.
If you're looking to avoid spending time at the gas pump and aren't ready for a 100% electric vehicle, a PHEV may be a good choice. After all, the flexibility of refueling in minutes could be a major time-saver. However, some argue that the complexity of both an electric motor and gas engine makes plug-ins a bad choice.
Depending on where you live, there may be additional benefits like HOV lane access that can save you hours of time on your commute. State plug-in rebates like the California Clean Vehicle Rebate and Clean Fuel Reward may help boost your savings on a plug-in hybrid, although eligibility varies depending on the model.
We recommend considering a variety of factors when shopping for a PHEV. Now that brands like Hyundai and Kia offer a greater selection of plug-ins than ever before, there are certainly more choices. Despite having higher MSRPs on paper, plug-in incentives and manufacturer rebates can make PHEVs a good deal.
For example, dealer leasing bulletins show the 2022 Niro PHEV is just $10/month more to lease than the standard Niro Hybrid despite a $4,900 difference in MSRP. With nearly double the amount of manufacturer lease cash largely thanks to the tax rebate, we currently consider it one of the best deals on a plug-in hybrid.