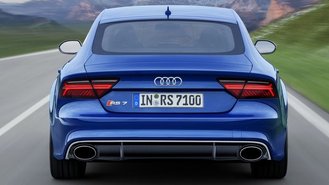 Like other luxury brands, Audi offers a slew of leasing options for prospective customers. Whether it's an entry-level A3, a well-appointed Q5 or a sleek A7, odds are you'll find a nice selection of leases from which to choose.
However, there are a number of discounts and special programs worth knowing about that you may not necessarily see advertised. Here's a look at some of the advantages and disadvantages of leasing an Audi.
Advantages of Leasing an Audi
There are benefits to staying with the same brand. The Audi Owner Loyalty Program currently offers a $1,000 discount good toward the latest new cars or SUVs.
To qualify, you'll need to show proof that you currently own or lease a 2005-or-newer Audi. You don't need to trade-in your vehicle, and the discount can be transferred to members of the same household.
If you're nearing the end of your current Audi lease, the automaker is able to waive up to 3 remaining payments. This is an easy way to get into a new car sooner than what's on your lease contract.
Even better, the offer can be combined with most loyalty discounts as well as advertised lease deals.
Bonuses for Switching Brands
The Audi Acquisition Program offers up to a $2,000 discount toward the purchase or lease of a new Audi. To qualify, you'll have to show proof that you own or lease a 2005-or-newer Acura, BMW, Infiniti, Lexus or Mercedes-Benz.
Unfortunately, Audi discontinued this program after January 2, 2018. However, given the popularity of the incentive and the fact that 2019 inventory is expected to begin arriving in the months ahead, we think it's likely the deal will return.
European Delivery Program
For a unique experience, you can actually take delivery of your Audi in Ingolstadt, Germany.
In addition to receiving a 5% discount off MSRP, customers receive a one-night stay at a Tier 1 hotel, a guided factory tour and free shipping back to the U.S including duties and fees.
You'll even get 15 days worth of local registration and insurance so that you can take your new car out on European roads immediately.
The Military Select Customer Bonus Program offers a $500 discount for military and first responders. It can even be extended to spouses and can be combined with most other incentives.
The Season of Audi Sales Event usually begins in November and can be a great time to buy or lease. Last year, the automaker offered extra discounts plus a complimentary first payment on models like the A3 and Q5.
Promotions change monthly, so be sure to check for updated offers. View current lease deals »
Disadvantages of Leasing An Audi
Audi lease specials rarely rank well in terms of value.
For example, the A3 currently has an effective cost of $480/month based on an MSRP of $33,875. At the same time, the Lexus RX 350 has an MSRP of $45,054 but has an effective cost of $482.
That's $2/month more to lease a vehicle that's $11,179 more expensive.
Offers Less Transparent Than Others
Unlike Lexus or BMW, Audi tends not to list upfront lease examples for all of its models.
For example, you won't find advertised leases on the sporty A5 Sportback or A4 allroad. You can still lease these vehicles and they're eligible for promotional rates, but you'll have to reach out to a dealer for a quote.