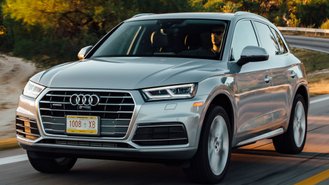 Audi's latest APR deal promises 0% financing for up to 72 months on select 2019 cars & SUVs. There's just one catch — nearly every eligible vehicle has already sold out. As a result, many of the deals that consumers will see advertised on TV and online could be for vehicles that practically don't exist.
For example, the Audi A5 is eligible for 0% APR for 72 months, the best deal we've ever seen for this model. However, national inventory listings show just over 500 cars still left in stock. Meanwhile, the more popular Q5 features interest-free financing for 66 months but is down to just over 600 SUVs.
As before, Audi is offering deferred payments for up to 60 days. That's nice, but the odds of actually being able to take advantage of the brand's best rates are extremely low. Most 2020 Audis offer 1.99% for 66 months, which translates to just over $2,800 in interest in the case of a $50,000 car.
While VW is offering one of the most attractive financing deals out of any mainstream automaker, offers from its luxury brand are clearly lacking. For reference, BMW recently cut rates to 0.9% APR for 60 months (down from 2.79%), lowering the cost of a 5-year loan for a $50,000 car by nearly $2,500.
But that's not all. BMW is also offering "APR Credits" worth between $2,500 and $7,500. Most importantly, these offers aren't limited to last year's vehicles. For example, the 2020 BMW X5 is now eligible for 0.9% APR, a $2,500 credit, plus a $500 bonus when coming from another BMW or a competing brand.
Offers end June 1.