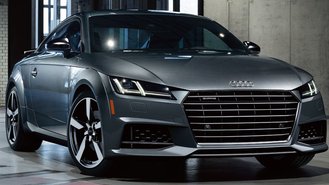 Contrary to what some might think, Costco's best deals aren't limited to their warehouses. That's because Audi is offering some spectacular discounts exclusively to members buying or leasing through the Costco Auto Program. We're even seeing double-digit savings available on some of the brand's sportiest cars & SUVs.
Starting July 1, nearly every 2020 Audi is eligible for Employee Pricing. According to a bulletin sent to dealers, the discount equates to 10% off MSRP and can be combined with most other incentives. The best part may be that the deal encompasses limited-production vehicles that can often command a premium at dealers.
For example, the 563-hp S8 super sedan has an MSRP of $131,795 and offers the potential to save $13,180. For something a little more attainable, the 349-hp SQ5 crossover (MSRP $53,895) offers the chance to save nearly $5,400. Interestingly, some models have additional incentives that can save you even more.
For example, both the A8 and S8 offer an unadvertised $4,000 dealer cash incentive plus a $1,000 loyalty discount. While you may need to shop around, we think the results could be well worth it. That said, there are some big quirks worth knowing about before you drop your $1.50 hot dog and race to the local Audi dealer.
First, none of Audi's highest-performance RS models are eligible (nor is the R8). There are also some odd exclusions, like how the promo somehow leaves out the 2020 A3, S3, and Q5. That's a bit counterintuitive considering that the SQ5 falls within the promo while the regular Q5 does not. But that's not all.
Confusingly, Audi is delaying Employee Pricing until July 25 on its largest SUVs: the Q7, SQ7, Q8, and SQ8. In addition, Audi is letting dealers opt-out of discounting the SQ7 and SQ8. As a result, those looking to buy one will likely see the best results later this month when comparing prices at multiple dealers.
As if that wasn't confusing enough, members can also get a Costco Shop Card worth up to $750 after completing a survey. However, only a handful of less-popular models are eligible and the amounts vary. The A6, A7 (and their variants) qualify for a $750 gift card while the A4 and A5 (and their variants) get $500.
So is the deal really worth it? If you can get past the odd limitations, there are clearly some impressive discounts to be had. That said, the offer lacks flexibility in that consumers are limited to dealers within Costco's network. As a result, your results may vary depending on inventory at dealers in the area in which you live.
This promo is set to end on September 30.