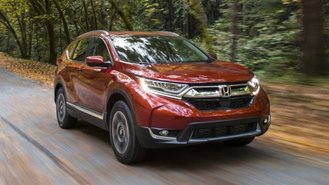 Early last week, the Federal Reserve cut interest rates by half a percentage point to help counter recent economic volatility due to the coronavirus outbreak. However, consumers expecting to immediately begin seeing lower car loan rates from manufacturers will most likely be disappointed.
The Fed's decision was announced March 3, the same day carmakers released this month's incentives. After analyzing offers from every major automaker, we've found little to no difference in monthly promotional financing rates between February and March. In some cases, current offers can leave a lot to be desired.
For example, the 2020 Toyota RAV4 has been on sale since last fall and continues to feature no special financing rates in most parts of the country. The slower-selling 2020 Camry is also holding relatively steady with 60-month rates between 0.9% and 2.9% APR based on an analysis of offers in 11 regions.
Those expecting to see better rates from brands like Honda will also be disappointed. The lowest 60-month rate advertised on most models is currently 2.9%, with almost no deals for longer terms. One of the few 72-month offers is on the 2019 CR-V, which has been on sale for over a year and is still listed at 3.9% APR.
Other brands with rates that are almost identical to last month include Audi, Cadillac, Chevy, Ford, GMC, Kia, and Volkswagen. Having said all that, incentives can substantially favor financing if you know where to look. In some instances, the best rate offers can potentially save consumers thousands in interest.
In the case of the 2020 Hyundai Santa Fe SE, buyers have a choice between a $1,000 rebate and 0% APR for 60 months plus a $500 financing bonus. In the case of a $28,000 SUV, choosing the rate offer would cost $27,500 before taxes & fees. A loan at 5% for the same vehicle would cost $30,571 with the rebate.
As we've noted before, offers from Nissan generally favor financing. In Los Angeles, the 2020 Rogue offers either $2,000 cash back or 0% APR for 60 months plus a $1,000 bonus. On a $25,000 vehicle, our analysis finds that the APR offer has an advantage of $34/month, or $2,042 over the course of the loan.