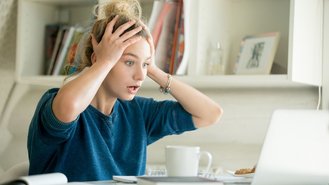 Although you'd think getting a good price on a car would be easy, there are pitfalls that can make it difficult.
In some cases, hidden catches and small differences in wording can cost you serious money when buying or leasing.
Here's an overview of what some of these look like and how to spot them.
Low-Priced Base Models
Base models can easily throw-off your search if they're for vehicles that are rarely stocked.
For example, the 2018 Chevy Malibu L starts at $21,680 excluding destination, over $1,800 less than the cheapest Toyota Camry. However, the chances of actually finding one are ridiculously slim.
Apart from being excluded from promotions, the L has just over $100 separating the invoice price and MSRP. Its key advantage is that it allows the brand to advertise a low starting price.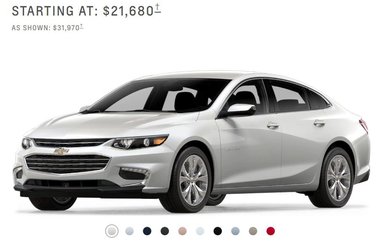 One popular listing site shows nearly 21,000 Malibus for sale across the country. However, a closer look reveals that only about 9 of them are an L model. Talk about rare.
To get around this, try figuring out which sorts of features are important to you, and have a dealer match you up with cars that are actually available. In some cases, you may find an upgrade to be a smarter choice.
Earlier this month, the Malibu LT was eligible for 20% off MSRP, a promo that translated to over $5,200 in savings. In some cases, you may find yourself spending less money on a car with more features.
Financing Offers With A Catch
Interest rates are rising and some brands are pulling back financing offers.
For example, Subaru's website says the Impreza is eligible for 0% APR, which happens to be a great rate for that model.
However, what it doesn't say is that the offer is only available with terms up to 36 months.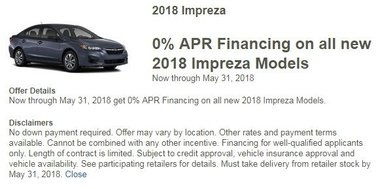 Similarly, Mazda is offering 0.9% APR on certified pre-owned cars for Memorial Day, but only for up to 36 months. Anything longer than that causes the rate to jump to 2.9%.
In a different case, Ford offers up to $6,000 off Taurus sedans, but only by taking a $2,500 finance bonus when taking out a loan through Ford Credit at non-promotional rates.
If you're considering taking manufacturer financing, be sure to check that the term you want is eligible, and what types of other incentives you may be giving up.
Discounts You Aren't Eligible For
If you see a deal that sounds too good to be true, it may include incentives that you aren't eligible for.
For example, FCA offers a $1,000 conquest bonus that you can only get when coming from a non-FCA lease. Although it's actually a nice discount, the brand's disclaimers aren't always clear about how it works.
The below lease on the Challenger SXT is listed at $189/month, but it only lists the fact that it's only available to current lessees of a competitive brand when you drill down to the fine print.
Even then, it doesn't list what the incentive is actually worth, making it impossible to even guess how much more you'll end up having to pay without contacting a dealer.
To spot this, look for asterisks and language referring to a competitive bonus or conquest incentive.
In some cases, you may find an offer targets only certain brands, like this month's $1,000 Acquisition Bonus on the Audi A4 that's only available when you have a 2005-or-newer BMW, Lexus or Mercedes.
MSRP Differences
MSRPs may seem meaningless, but they actually serve an important purpose in helping signal to you what's included.
For example, if Dealer A and Dealer B are quoting you a price and one is lower, any difference in MSRP may signal that the vehicles are coming with different equipment.
This month's factory advertised lease on the Lexus RX 450h is $20/month cheaper than April. However, the configured MSRP has fallen by over $5,000 because it no longer includes navigation and other options.
To catch this, try to have an idea of the sort of equipment you're looking for and what the MSRP is by building out the car on the manufacturer's website or by using our online configurator.
If the amount differs from what's being advertised, simply ask your local dealer to explain the reason. You may find that the package you want is hard to find or that it comes bundled with something else.
Gaming Search Results
On shopping sites that list cars by price, it isn't rare to find bizarrely high prices like the $5 million dollar Buick Enclave shown below. Although this can sometimes just be a typo, it may actually be intentional.
That's because some dealers already know there are sites that list cars by highest to lowest price. Using an artificially high number guarantees that they'll appear at the top of results.
To get around this, try changing your sort method or using filters to narrow your search.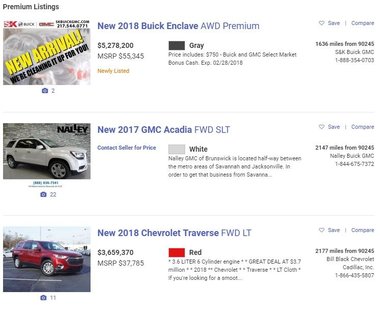 Same Price, Different Term
If you're considering a lease, changes to the lease term can result in a dramatically higher (or lower) price than you might expect.
For example, the 2019 Jeep Cherokee Latitude Plus was listed last month at $219 for 24 months with $3,649 at signing, an effective cost of $371/month before taxes & fees.
Although the payment and amount at signing are unchanged for May, the term has changed to 36 months. As a result, the effective cost of this lease has fallen to $320.
That's a $51/month difference, a big fluctuation that makes this month a much better time to lease.
To identify this, be sure to look at the effective cost of any lease by factoring both the payment amount due at signing for the advertised lease term. We've listed the effective cost of over 500 offers in our monthly lease analysis.
Mileage Differences
One of the easier things to miss is the advertised mileage allowance on a lease. Since shorter allowances generally translate to higher residual values, manufacturers sometimes use them to advertise better prices.
For example, VW changed this month's allowance on the 2018 Golf Alltrack to 12,000 miles per year. Previously, it was 10,000. Everything else is the same, meaning this month's offer gets you more for your money.
To avoid being surprised, be sure any quotes you get clearly list the mileage allowance. If you think you'll need more, your price will most likely change as a result.