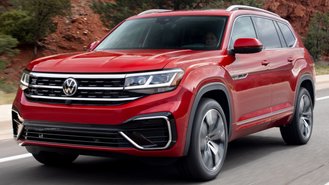 Update #2 (5/12/20): FCA has brought back 84-month financing but at a slightly higher rate. Read our full analysis.
Update #1 (5/06/20): Hyundai has canceled a loyalty discount worth up to $1,000 across most of its lineup.
Major automakers are already starting to take away some of last month's outstanding new car deals. The moves come as the coronavirus pandemic continues to affect nearly every aspect of American life. In some cases, the changes can have a material impact on the prices consumers will see when buying a car in May.
For example, dealer incentive bulletins show that FCA has canceled 0% APR for 84 months on nearly a dozen models as of today and replaced it with a shorter 72-month deal. Between yesterday and today, that seemingly small detail can equate to a $99 increase in monthly payment on a $50,000 RAM 1500 pickup truck.
Similarly, Hyundai is no longer offering 0% APR for 84 months on Elantras. Instead, the offer has been cut down to 72 months, which equates to a nearly $50/month increase in payment for a $25,000 vehicle. Meanwhile, Nissan has raised its 60-month rate from 0% APR to 0.9% on the Maxima, Murano, and Pathfinder.
Sadly, it's not just auto loan rates that have taken a turn for the worse.
Unadvertised dealer cash incentives from VW are down by as much as $500 and the brand is no longer offering $0 down Sign & Drive leases. But that's not all. Many of last month's unprecedented payment deferrals have been scaled back as well, potentially lowering the amount of flexibility available to buyers.
For example, VW's offer to give consumers 180 days to make their first month's payment has been shortened to 120 days. Similarly, Hyundai has nixed its 120-day offer and replaced it with a shorter 90-day incentive. Confusingly, GM is still offering 120-day deferrals but only from Chevy and only in some cases.
Having said all that, there are still a ton of deals to be had.
For example, GM is still offering 0% APR for 84 months on the 2020 Chevy Silverado and GMC Sierra, while Jeep is still offering Employee Pricing on Wranglers & Gladiators. Nearly every VW is still eligible for 0% APR for 72 months, and Subaru has extended an unprecedented 0% APR deal for 63 months through May.
Stay tuned for CarsDirect's ongoing coverage of the latest deals for buying & leasing.
Explore All Top Coronavirus Deals & Assistance »
Editor's Note: This article has been updated to reflect additional information about FCA.