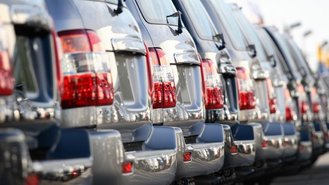 There's no denying it, leasing has become very popular in 2015. According to Experian, over 31% of new vehicles were leased in the first quarter of 2015, more than any period in the last 5 years. Behind the scenes, automakers are tinkering with leases to keep residual values up and maintain the allure of low payments. A shift is happening involving one of the most overlooked numbers- the mileage allowance. Here's what you need to know.
Banner year for leases
It's shaping up to be an outstanding year for auto leasing. Small cars are approaching a sub-$150 monthly lease payment with around $1,999 due at signing as we're seeing on the Subaru Impreza and Honda Civic.
Midsize cars aren't far off- the Toyota Camry, Honda Accord, Mazda Mazda6, Hyundai Sonata and Kia Optima can all be leased this month for around $199 per month and $1,999 due at signing. It's very much becoming a "pick your flavor" situation.
Side-by-side: midsize cars with the best lease deals>>
Trimming mileage caps
It turns out that good deals can come with a price. One of the most important factors in a lease- the residual value, is being propped up with smaller mileage allowances to keep deals attractive.
We looked at nearly 300 lease offers on a wide range of vehicles and found the average mileage allowance was 10,900 miles per year. That's actually a pretty big deal. A separate analysis by Edmunds determined that the average fell below 11,000 miles for the first time ever in the first quarter of 2015.
For example, most advertised leases from General Motors are currently based on an "ultra-low mileage lease" of 10,000 miles per year. Around this same time last year, the limit was 12,000 miles per year. The extra 2,000 miles per year would currently cost you an extra $1,500 based on a 3-year lease and overage fee of $0.25 per mile.
Have bad credit and prefer a loan? Learn more>>
Our take
Being concerned about mileage limits is in no way a new thing when it comes to leases. Shoppers should be sure to consider their unique needs and be aware of applicable fees. Overages can range from $0.15/mile (Honda) to $0.25/mile (Chevy). Like going over the data limit on your smartphone, getting the bill can be painful.
Attractive deals have been effective at appealing to shoppers wanting to keep monthly payments manageable. However, less-obvious factors like smaller mileage caps can end up costing you money you didn't expect to spend if you're not careful.
Our Picks: Best lease deals this month>>
Looking for the best way to keep track of purchase and lease deals? Check out our CarsDirect Pricing Insider and Deals Articles pages for tips and advice on picking the right time to buy or lease your favorite car or truck.
Incentives listed here assume a Southern California location and exclude tax, license, and dealer fees. Offers can be subject to change, so be sure to check with your CarsDirect Trusted Dealer to confirm eligibility.