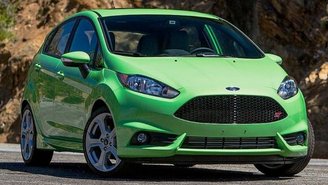 We love a good deal, and it's a good bet that Presidents' Day will feature attractive discounts and lease promotions. However, our analysis reveals that not all deals are all they're cracked up to be.
Some brands are showcasing savings worth nearly $12,000 that most buyers may not even be eligible for. In some cases, you may even be able to upgrade car that's $7,500 more expensive for less than the price of a Frappucino.
Here's what you need to know.
Cheap Leases That Aren't Cheap
The Ford Fiesta offers a nice-sounding $199 lease, but a closer look reveals it's a pretty horrible value. In California, the 2017 Fiesta SE (MSRP $17,160) is listed at $199 for 36 months with $1,499 due at signing.
That doesn't sound so bad, but it equates to an effective cost of $241/month. Believe it or not, that's $1 less than a Focus. The 2018 Focus SEL is listed at $189 for 36 months with $1,899 at signing, an effective cost of $242/month.
But your upgrade options don't end there. For $4 more than the Fiesta, you can get behind the wheel of a spacious new Fusion SE with Tech Package that has an MSRP of $24,670. It's listed at just $189 for 36 months with $1,999 at signing.
Its effective cost? $245/month. That's $4 more to lease a car that's $7,510 more expensive. The Fiesta can still be an outstanding value, but mainly when purchased with up to $3,000 in factory rebates.
For more leases under $200, see our monthly analysis.
Discounts For Packages You Won't Buy
The Nissan Rogue is one of America's bestselling crossovers. Here in LA, the automaker is touting up to $3,030 off MSRP, a huge amount given what competitors are offering. However, odds are you won't get that amount.
That's because the offer is only good with the Midnight Edition Package which has an MSRP of $28,090 and is only available in three colors: white, grey and black. It features a built-in discount worth $780.
Nissan is also assuming you'll be eligible for a $500 bonus for financing through Nissan Motor Acceptance Corp (NMAC). However, this requires taking out a loan at non-promotional rates.
Not keen on financing or spending $28,000 on a special edition? In that case, you'll only be eligible for $1,750. That's a 42% difference from the advertised savings amount.
For all top discounts, see our monthly analysis.
Discounts You May Or May Not Get
The RAM 1500 offers a confusing array of discounts. This month's Truck Month promo touts up to $11,856 in total value. If you're wondering what "total value" is, you're not alone. Here's what it means.
To get to $11,856, RAM is making a bunch of assumptions. To start, that amount only applies to 2018 Big Horn models when choosing one with a Crew Cab configuration. For reference, that's a vehicle with an MSRP over $41,000.
That said, our analysis shows that the style in question is only eligible for $5,750, even when including $1,500 in bonuses you can only get when taking out a loan through Chrysler Capital.
So what about the missing $6,106? The fine print says it's assuming an average dealer discount based on a survey of nationwide prices. So is it a guarantee that your local dealer will give you $6,106 to take a Big Horn off their lot?
Probably not.