We found the best lease deals with a payment of $199 or less. Out of 36 leases in this price range, your options in October 2021 include anything from a $17,000 Mitsubishi Mirage to a nearly $34,000 Hyundai Ioniq Electric.
While low monthly payments may sound like a good deal, shoppers should be sure to look at the amount due at signing. That's why we've listed the effective cost of every lease under $199 a month further down this page.
Best Car Leases Under $199 A Month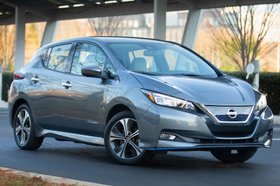 Payment: $119 for 36 months
Amount Due at Signing: $4,969
Annual Mileage: 10,000 miles
Effective Monthly Cost: $257
MSRP: $28,350
What's Hot: The Nissan LEAF may look unchanged for 2022, but a price cut and stellar incentives result in a $119/month lease deal in New York. While that doesn't come close to last month's ultra-cheap $89 lease incentive, it's a killer deal for an EV.
Worth Knowing: Nissan incentives vary by region, and the pricing in question doesn't include applicable state & local plug-in rebates. Given that there's an inventory shortage, be sure to check with local dealers to find prices near you. Get Your Custom LEAF Quote »
Best SUV Leases Under $199 A Month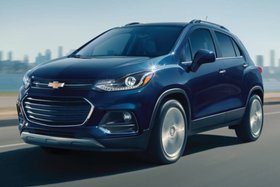 Payment: $169 for 39 months
Amount Due at Signing: $2,129
Annual Mileage: 10,000 miles
Effective Monthly Cost: $224
MSRP: $25,015
What's Hot: The 2021 Chevy Trax is a bargain when you take advantage of a $1,500 discount for coming from another lease. With an effective cost of $224/month, this is now one of the cheapest vehicles you can lease in America if you qualify for the bonus.
Worth Knowing: If you aren't eligible for the extra discount, expect to make up for it with a higher amount at signing. If that's the case, you may find alternatives like the Hyundai Venue to be a better overall value when leasing. Get Your Custom Trax Quote »
Every $199 Lease Deal
Wondering if a lease is any good but not sure whether the payment and amount due at signing equate to a good deal?
We did the math and reduced every lease deal to an effective monthly cost, and ranked them from cheapest to most expensive.
| | | | | | | |
| --- | --- | --- | --- | --- | --- | --- |
| Effective Cost | Model | Monthly Payment | Term | Due at Signing | Region | Customize Offer |
| $224 | 2021 Chevrolet Trax LT AWD (Current GM/Non-GM Lessees) | $169 | 39 | $2,129 | National | Customize Offer |
| $226 | 2021 Hyundai Venue SE with Automatic | $159 | 36 | $2,399 | Southern California | Customize Offer |
| $229 | 2021 Hyundai Ioniq Electric Base EV | $179 | 36 | $1,799 | Southern California | Customize Offer |
| $235 | 2021 Hyundai Accent SE with Automatic | $179 | 36 | $1,999 | Southern California | Customize Offer |
| $237 | 2021 Kia Forte LXS | $159 | 36 | $2,799 | CA, CO, DE, FL, HI, IL, IN, ME, MI, MN, ND, NE, OH, PA, UT, VT, WI, WY | Customize Offer |
| $240 | 2021 Hyundai Elantra SE with Automatic | $159 | 36 | $2,899 | Southern California | Customize Offer |
| $244 | 2022 Chevrolet Trax LT AWD (Current GM/Non-GM Lessees) | $189 | 39 | $2,139 | National | Customize Offer |
| $247 | 2021 Kia Forte GT-Line | $169 | 36 | $2,799 | CA, CO, DE, FL, HI, IL, IN, ME, MI, MN, ND, NE, OH, PA, UT, VT, WI, WY | Customize Offer |
| $250 | 2022 Hyundai Elantra SE | $169 | 36 | $2,899 | Southern California | Customize Offer |
| $250 | 2021 Hyundai Sonata 2.4L SE | $169 | 36 | $2,899 | Southern California | Customize Offer |
| $252 | 2021 Honda Civic 2.0 LX Sedan | $169 | 36 | $2,999 | AZ, CA, CT, CO, FL, IA, IL, IN, MA, NJ, NM, NY, OH, PA, WI & More | Customize Offer |
| $257 | 2022 Nissan LEAF S 40 kWh (New York) | $119 | 36 | $4,969 | New York City | Customize Offer |
| $260 | 2021 Hyundai Elantra Hybrid SE Hybrid with Automatic | $179 | 36 | $2,899 | Southern California | Customize Offer |
| $263 | 2022 Buick Encore Preferred 1SB (GM/Non-GM Lessees) | $185 | 39 | $3,045 | National | Customize Offer |
| $263 | 2021 Chevrolet Trailblazer LT FWD (Current GM/Non-GM Lessees) | $199 | 39 | $2,499 | National | Customize Offer |
| $263 | 2021 Buick Encore Preferred 1SB (GM/Non-GM Lessees) | $186 | 39 | $3,016 | National | Customize Offer |
| $265 | 2022 Chevrolet Trailblazer LT FWD (Current GM/Non-GM Lessees) | $199 | 39 | $2,559 | National | Customize Offer |
| $267 | 2022 Kia Soul LX with CVT | $189 | 36 | $2,799 | CA, CO, DE, FL, HI, IL, IN, ME, MI, MN, ND, NE, OH, PA, UT, VT, WI, WY | Customize Offer |
| $268 | 2021 Honda Civic 1.5T LX Hatchback | $179 | 36 | $3,199 | AZ, CA, CT, CO, FL, IA, IL, IN, MA, NJ, NM, NY, OH, PA, WI & More | Customize Offer |
| $270 | 2022 Hyundai Elantra Blue Hybrid | $189 | 36 | $2,899 | Southern California | Customize Offer |
| $270 | 2021 Hyundai Sonata Hybrid Base Hybrid Sedan | $189 | 36 | $2,899 | Southern California | Customize Offer |
| $270 | 2022 Hyundai Sonata SE | $189 | 36 | $2,899 | Southern California | Customize Offer |
| $271 | 2021 Nissan Sentra SV | $179 | 36 | $3,329 | Los Angeles, CA | Customize Offer |
| $273 | 2021 Mitsubishi Mirage ES CVT | $179 | 36 | $3,378 | National | Customize Offer |
| $276 | 2021 Volkswagen Jetta S 1.4T with Automatic | $199 | 39 | $2,999 | California | Customize Offer |
| $280 | 2022 Honda HR-V LX | $199 | 36 | $2,899 | National | Customize Offer |
| $282 | 2022 Kia Niro LX Hybrid | $199 | 36 | $2,999 | CA, CO, DE, FL, HI, IL, IN, ME, MI, MN, ND, NE, OH, PA, UT, VT, WI, WY | Customize Offer |
| $282 | 2022 Kia Seltos LX AWD | $199 | 36 | $2,999 | CA, CO, DE, FL, HI, IL, IN, ME, MI, MN, ND, NE, OH, PA, UT, VT, WI, WY | Customize Offer |
| $285 | 2022 Kia Seltos S FWD | $199 | 36 | $3,099 | CA, CO, DE, FL, HI, IL, IN, ME, MI, MN, ND, NE, OH, PA, UT, VT, WI, WY | Customize Offer |
| $286 | 2022 Kia Sportage LX | $189 | 36 | $3,499 | CA, CO, DE, FL, HI, IL, IN, ME, MI, MN, ND, NE, OH, PA, UT, VT, WI, WY | Customize Offer |
| $291 | 2022 Honda Civic LX Sedan | $199 | 36 | $3,299 | National | Customize Offer |
| $293 | 2022 Honda HR-V LX AWD | $199 | 36 | $3,399 | National | Customize Offer |
| $296 | 2022 Kia Sportage LX AWD | $199 | 36 | $3,499 | CA, CO, DE, FL, HI, IL, IN, ME, MI, MN, ND, NE, OH, PA, UT, VT, WI, WY | Customize Offer |
| $299 | 2022 Hyundai Kona SE | $199 | 36 | $3,599 | Southern California | Customize Offer |
| $332 | 2022 Chevrolet Equinox LT (Current GM/Non-GM Lessees) | $199 | 24 | $3,189 | National | Customize Offer |
| $332 | 2021 Chevrolet Equinox LT (Current GM/Non-GM Lessees) | $199 | 24 | $3,199 | National | Customize Offer |