Black Friday truck deals started off slow but have finally started to ramp up. Despite a major inventory shortage, our ongoing coverage has uncovered holiday truck sales like a $500 Amazon gift card, Employee Pricing, and no payments for 90 days. We're even seeing great deals on some of the latest 2021 truck models.
That said, buyers should beware of deals for trucks that have already sold out. For example, the GMC Canyon features 0% APR for 84 months but is limited to 2020 inventory that is largely gone. That's why we're choosing to showcase trucks you're actually going to find at dealers.
We'll be updating this page with the latest incentives as they're announced. Be sure to also see our special coverage of the best Black Friday car & SUV deals.
Updated November 24, 4:07 pm
Nissan is now offering 0% APR for 84 months on 2021 Titans

Best Black Friday Truck Deals
Between November 21-30, all 2021 Titans are now eligible for zero-interest financing for 7 years. That's a massive price cut from the previous rate of 2.9%. On a $40,000 truck, that can equate to a savings of over $4,200 in interest, with an over $50/month advantage in terms of monthly payment.
That said, the 2020 Titan continues to rank among the best 0% APR deals on a truck. The outgoing model features a nearly identical offer but has the added benefit of a $2,000 APR Bonus. Nissan's Black Friday sale offers a great chance to choose between two outstanding deals on a full-sized truck.
Offer ends November 30. Check Titan Prices Near You »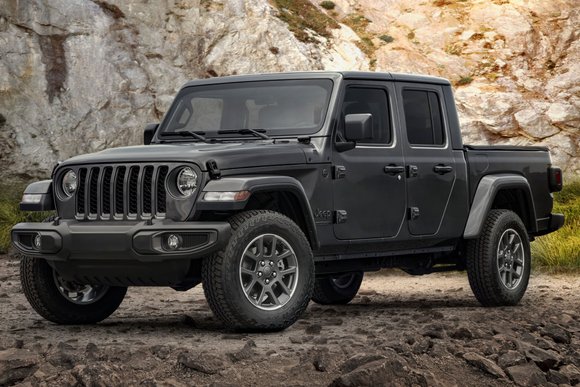 As of November 17, the 2021 Gladiator is eligible for Chrysler Employee Pricing for the first time ever. Although the 2020 Gladiator has featured this offer for months, buyers can now get the same great deal on the latest version. In the case of a well-equipped High Altitude trim, that's worth up to $5,211 off MSRP.
That said, shoppers should be aware that the discount is based on 5% less than the dealer's invoice price plus a $200 fee. As a result, the potential savings on a base Gladiator Sport is limited to roughly $2,000. Unlike a rebate, Employee Pricing gets you haggle-free pricing on all styles except the Rubicon and Mojave.
Offer ends November 30. Check Gladiator Prices Near You »
Between November 13-30, F-150 shoppers can get a $500 Amazon gift card in places like Arizona and California. You can also stack the offer with an impressive variety of incentives. Here in California, that includes 0% APR for 60 months, a $2,000 trade-in assistance bonus, and deferred payments for 90 days.
What's really surprising is that those looking to buy a 2021 F-150 can get the gift card, too. The all-new truck is expected to begin arriving any day now, and is also eligible for low APR financing plus the 90-day payment deferral. Here, shoppers could find upgrading to the latest model to be an appealing option.
Offer ends November 30. Check F-150 Prices Near You »
RAM is offering Employee Pricing on the full-size 1500 pickup in a month-long sale. In the case of a loaded Limited Crew Cab with HEMI V8, the automaker says that's worth up to $8,671 in savings. Unlike a rebate, Chrysler Employee Pricing offers the chance to save 5% below the dealer's invoice price with a $200 fee.
Rather than a flat rebate, the amount you save with the employee discount will vary based on configuration. It's also worth noting that the discount can't be combined with a separate offer of 0% APR for 72 months. For added savings, there's also a $1,000 conquest bonus to shoppers with a non-FCA truck.
Offer ends November 30. Check RAM 1500 Prices Near You »
Tips For Black Friday Truck Buyers
Black Friday deals on trucks aren't a myth. Under normal circumstances, manufacturers sometimes offer a combination of month-long sales as well as targeted enhancements closer to major holidays. For example, Ford often introduces a $1,000 trade-in assistance bonus on popular models, including the F-150.
That said, early offers show little to no advantage over previous incentives. That could change, but truck shoppers may find themselves at a disadvantage considering inventory is continuing to be a challenge for dealers. Interruptions due to COVID-19 hampered supply and factories are struggling to meet demand.
A mix of low supply and strong demand is keeping prices high at dealers. Now that 2020 inventory is starting to sell out, buyers may have no choice but to buy a 2021 truck. Fortunately, vehicles like the 2021 F-150 already feature some surprisingly good deals, as well as hidden discounts that can save you money.
Sadly, the best Black Friday deals appear to favor SUVs over trucks. For example, GMC is offering 0% APR for 84 months on 2020 Terrains & Acadias but no such deals on the Sierra. Even though 2020 Canyons qualify for the deal, the truck has already sold out and 2021 Canyons aren't eligible for 0% financing.
Watch out for deals that factor-in incentives that aren't available to everyone. Trucks often tout discounts including a mix of rebates and equipment discounts that may not be available on all configurations. For example, the best 2020 F-150 deals often involve XLT Crew Cab styles with the Chrome Appearance Package.