For April, BMW has once again raised their lease prices, and some models have lost a bit of APR cash. Financing deals involving low APR on vehicles like the 3-Series sedan and X1 SUV are gone, and you can now find rates of 2.99% APR for 60 months across the 2022 BMW lineup. For those looking for the latest vehicles, the 2023 BMW X2 is now available to order and sees its first lease deal.
APR Credits are gone, and the $500 Conquest Bonus on the 2022 2-Series Gran Coupe has switched to a Loyalty Bonus. Most vehicles still qualify for a rebate for customers taking out a loan through BMW Financial, but this amount is also dropping. There are loyalty bonuses up for grabs, but returning BMW owners only get $1,000 or more on select models.
Lease prices have ticked up slightly from last month on many models in the BMW lineup, and there have been a number of changes to the amount due at signing. Most of the amounts now due upfront on BMW leases have increased modestly, but some models see significant jumps. BMW leases tend to be expensive, and this latest price increase in signing cash isn't helping. However, BMW has increased the mileage allowance to 10,000 miles for some models. This is up from its standard 7,500-mile range on lease vehicles.
Current offers are available through April 17, 2022, and can vary by region. The examples listed here are for California. We update this page each month based on the latest deals, so check back for possible changes.
Must-Know Advice For BMW Buyers
SUVs are easier to find. BMW's cars tend to be rarely stocked and SUVs can be a lot easier to find. Ordering your BMW from the factory can be a great way to get the exact model & options you want, although you'll generally have to wait up to 2-3 months. Check with your local dealer for details on how the process works.
Discounts favor financing. BMW rebates generally aren't advertised in the same way as other brands. For example, the best deals currently involve an APR Credit that you can only get when taking out a loan through BMW Financial Services. If you're paying in cash or via an outside loan, you could miss out on a ton of savings.
High lease prices. BMW may have a reputation for being an excellent brand to lease, but that's not always the case. Our analysis finds that BMW luxury sedans and SUVs can often be some of the most expensive to lease. In some cases, lease prices can include incentives you may not be eligible for.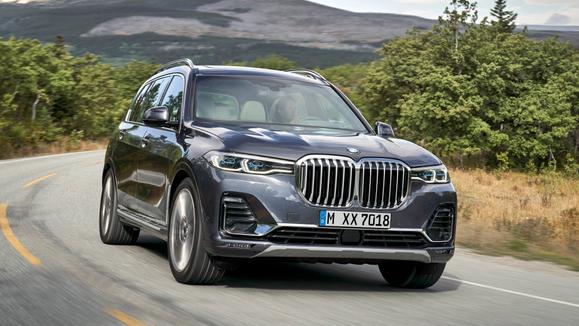 Discounts for returning customers. BMW leases include up to $3,000 in loyalty discount. The conquest bonus is virtually non-existent for this month's incentives. If you don't qualify for the loyalty discount, that could translate to a pricier lease.
BMW financing rates generally aren't the lowest out there, although certain models like the X1, X2, and 2-Series tend to feature the lowest rates. If you're leasing, low residual values can make sedans like the 7-Series very expensive. BMW hides this by using a shorter mileage allowance of just 7,500 miles per year.
College grad discounts. Recent grads may qualify for an extra $1,000 off as part of the BMW College Graduate Program when financing or leasing.
Used car deals. For added value, the BMW Certified Pre-Owned Program offers special benefits and access to low financing rates. Check out our monthly CPO deal analysis for the best used car offers.