We've uncovered the best EV lease deals, hybrid car discounts and rebates on plug-in hybrids for green car shoppers in June. Apart from often being great to lease, environmentally-conscious vehicles can offer additional incentives like federal tax credits and both state & local plug-in rebates.
Although rates on gas-guzzling trucks and SUVs have gone up, deals on plug-ins have remained relatively stable ahead of the upcoming 4th of July holiday. Since EV and plug-in discounts generally favor leases, we've also listed every lease at the bottom of this page.
For additional insights, read our analysis of what coronavirus means for car buyers as well as our comprehensive of all manufacturers offering incentives in the wake of COVID-19.
Best Electric Car Deals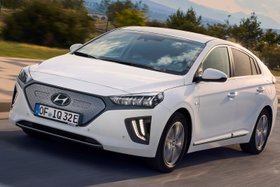 Best Deal: Lease from $249 for 36 months
Due at Signing: $2,500
Mileage: 10,000 miles/yr
MSRP: $34,000
Fuel Economy: 133 MPGe
Range: 170 miles
What's Hot: The Ioniq Electric continues to feature the cheapest lease on an EV, with an effective cost that comes in $50/month less than the Chevy Bolt LT. With a $2,000 Clean Vehicle Rebate here in California, you can reduce your costs considerably.
Worth Knowing: The deal in question is available in California. Prices elsewhere may be more expensive. The featured offer reflects $8,000 in factory lease cash, an amount that already includes a $7,500 federal tax credit. Customize Offer »
Best Plug-in Hybrid Deals
Best Deal: Lease from $289 for 36 months
Due at Signing: $1,999
Mileage: 12,000 miles/year
MSRP: $28,964
Fuel Economy: 133 MPGe
Range: 25 mi (EV), 640 mi (EV + Gas)
What's Hot: The Prius Prime may not be the cheapest plug-in but it's a surprisingly good deal compared to the standard Prius. With an effective cost of $345/month, it actually has the same price as a Prius Eco here in Southern California.
Worth Knowing: In addition to featuring a lease rate equivalent to 0% APR, the Prime can be cheaper if you qualify for a $1,000 Clean Vehicle Rebate. Those coming from another Toyota lease may be eligible for a $1,000 loyalty discount when leasing. Customize Offer »
Best Hybrid Deals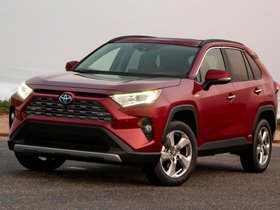 Best Deal: 0% APR for 60 months
MSRP: From $29,470
Fuel Economy: Up to 40 mpg overall
What's Hot: For some reason, RAV4 Hybrids actually feature better rates than the regular RAV4 in many parts of the country. That's great news that can save you money over the course of a 5-year loan when you consider that the gas RAV4 is listed at 1.9% APR for 60 months.
On a $30,000 SUV, the difference in cost between 1.9% APR and 0% translates to nearly $1,500 in savings. For some buyers, this may justify upgrading to the hybrid given that the difference in MSRP is about $1,000 compared to an all-wheel-drive RAV4.
Worth Knowing: The deal in question also doesn't apply to the RAV4 Prime, a new plug-in hybrid that's eligible for some compelling PHEV incentives. Offers may vary by region and the examples here are for Southern California. Customize Offer »
All Green Car Leases Ranked By Effective Cost
Leases for many green cars are often heavily subsidized by manufacturers. As a result, shoppers can often find attractive offers.
If you aren't interested in one of our top picks ranked by value for the money, feel free to browse all leases we track for each type of vehicle, ranked by effective lease cost.
Unless specified otherwise, these offers exclude special incentives like college grad programs, conquest and loyalty discounts sometimes factored in dealer advertisements.
Browse the following segments in order of price:
All Electric Car Lease Deals
| | | | | | | |
| --- | --- | --- | --- | --- | --- | --- |
| Effective Cost | Model | Monthly Payment | Term | Due at Signing | Region | Customize Offer |
| $318 | 2020 Hyundai Ioniq Electric Base EV (California) | $249 | 36 | $2,500 | California | Customize Offer |
| $325 | 2020 Nissan LEAF S 40 kWh | $229 | 36 | $3,449 | Los Angeles | Customize Offer |
| $368 | 2020 Chevrolet Bolt EV 2LT | $249 | 36 | $4,269 | National | Customize Offer |
| $420 | 2020 BMW i3 Base | $309 | 36 | $3,999 | California | Customize Offer |
| $440 | 2020 Hyundai Kona Electric SEL | $329 | 36 | $3,999 | Los Angeles | Customize Offer |
| $450 | 2020 Kia Niro EV EX | $339 | 36 | $3,999 | CA & Select States | Customize Offer |
| $458 | 2019 Toyota Mirai Base | $389 | 36 | $2,499 | California | Customize Offer |
| $1,116 | 2020 Jaguar I-PACE HSE | $949 | 36 | $5,995 | National | Customize Offer |
All Plug-in Hybrid Lease Deals
| | | | | | | |
| --- | --- | --- | --- | --- | --- | --- |
| Effective Cost | Model | Monthly Payment | Term | Due at Signing | Region | Customize Offer |
| $301 | 2019 Hyundai Sonata Plug-In-Hybrid Base | $229 | 36 | $2,599 | Los Angeles | Customize Offer |
| $333 | 2020 Hyundai Ioniq Plug-In Hybrid SE PHEV | $269 | 36 | $2,299 | Los Angeles | Customize Offer |
| $345 | 2020 Toyota Prius Prime LE | $289 | 36 | $1,999 | Southern California | Customize Offer |
| $352 | 2020 Kia Niro Plug-In Hybrid LX | $269 | 36 | $2,999 | CA & Select States | Customize Offer |
| $392 | 2020 Kia Optima Plug-In-Hybrid EX | $309 | 36 | $2,999 | CA, UT, HI | Customize Offer |
| $394 | 2020 Mitsubishi Outlander PHEV SEL AWD | $289 | 36 | $3,788 | National | Customize Offer |
| $472 | 2020 Honda Clarity Plug-In Hybrid Base (CA, CT, MA, MD, ME, NJ, NY, OR, RI, VT) | $389 | 36 | $2,999 | Select States | Customize Offer |
| $535 | 2020 Honda Clarity Plug-In Hybrid Touring (CA, CT, MA, MD, ME, NJ, NY, OR, RI, VT) | $429 | 36 | $3,799 | Select States | Customize Offer |
| $605 | 2020 Volvo S60 T8 R-Design AWD | $499 | 36 | $3,799 | Los Angeles | Customize Offer |
| $648 | 2020 Volvo XC60 T8 Momentum AWD | $529 | 36 | $4,279 | Los Angeles | Customize Offer |
| $806 | 2020 Volvo XC90 T8 Momentum AWD | $665 | 36 | $5,065 | Los Angeles | Customize Offer |
All Hybrid Lease Deals
| | | | | | | |
| --- | --- | --- | --- | --- | --- | --- |
| Effective Cost | Model | Monthly Payment | Term | Due at Signing | Region | Customize Offer |
| $288 | 2020 Hyundai Ioniq Hybrid Blue | $219 | 36 | $2,499 | Los Angeles | Customize Offer |
| $302 | 2020 Kia Niro LX | $219 | 36 | $2,999 | CA & Select States | Customize Offer |
| $314 | 2019 Hyundai Sonata Hybrid Base | $239 | 36 | $2,699 | Los Angeles | Customize Offer |
| $324 | 2020 Honda Accord Hybrid Base | $249 | 36 | $2,699 | National | Customize Offer |
| $324 | 2020 Hyundai Sonata Hybrid Base | $249 | 36 | $2,699 | Los Angeles | Customize Offer |
| $325 | 2020 Toyota Corolla Hybrid LE | $269 | 36 | $1,999 | Southern California | Customize Offer |
| $335 | 2020 Toyota Camry Hybrid LE | $279 | 36 | $1,999 | Southern California | Customize Offer |
| $345 | 2020 Toyota Prius L Eco (Southern California) | $289 | 36 | $1,999 | Southern California | Customize Offer |
| $362 | 2020 Kia Optima Hybrid EX | $279 | 36 | $2,999 | CA, UT, HI | Customize Offer |
| $377 | 2020 Honda Accord Hybrid EX | $299 | 36 | $2,799 | National | Customize Offer |
| $385 | 2020 Toyota RAV4 Hybrid LE | $329 | 36 | $1,999 | Southern California | Customize Offer |
| $422 | 2020 Lexus UX UX 250h Premium AWD | $339 | 36 | $2,999 | Western States | Customize Offer |
| $424 | 2020 Honda Accord Hybrid EX-L | $349 | 36 | $2,699 | National | Customize Offer |
| $462 | 2020 Lexus NX NX 300h AWD | $379 | 36 | $2,999 | Western States | Customize Offer |
| $473 | 2020 Honda Accord Hybrid Touring | $379 | 36 | $3,399 | National | Customize Offer |
| $485 | 2020 Toyota Highlander Hybrid LE | $429 | 36 | $1,999 | Southern California | Customize Offer |
| $510 | 2020 Lexus ES ES 300h Base Hybrid | $399 | 36 | $3,999 | Western States | Customize Offer |
| $660 | 2020 Lexus RX RX 450hL Premium with Blind Spot & Heated Seats | $549 | 36 | $3,999 | Western States | Customize Offer |
| $665 | 2020 Toyota Avalon Hybrid XLE (Estimated Payment) | $575 | 36 | $3,225 | Southern California | Customize Offer |
| $670 | 2020 Lexus RX RX 450h with Blind Spot, Sunroof & Heated Seats | $559 | 36 | $3,999 | Western States | Customize Offer |