We've uncovered the best EV lease deals in July, plus plug-in rebates and hybrid car deals worth knowing about. Despite having high prices on paper, manufacturer incentives can make zero-emissions vehicles substantially more affordable than their gasoline counterparts.
0% financing, lease deals, and EV tax credits can make it a great time to buy. You may even be eligible for plug-in rebates. For example, those in California can take advantage of the Clean Vehicle Rebate worth up to $2,000 plus the Clean Fuel Reward worth as much as $1,500.
Editor's Note: Due to a funding issue, the CVRP is putting new rebate applications on a waitlist.
Best EV Leases & Deals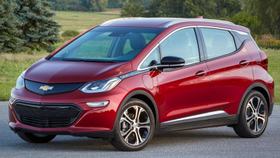 Best Deal: Lease from $166/month
Due at Signing: $166
Mileage: 10,000 miles/year
MSRP: $38,245
Fuel Economy: 118 MPGe
Range: 259 miles
What's Hot: Once again, there isn't a better deal than the 2021 Chevy Bolt if you're planning to lease. In San Francisco, you can lease a Bolt LT with Fast Charge from as little as $166/month. Elsewhere, the price is $205 with $205 at signing. That's a remarkable deal for an extended-range EV like the Bolt.
Worth Knowing: The deal includes a $1,500 bonus for coming from a competitive lease (or another Chevy lease) plus a $3,000 Costco member discount. The price doesn't factor in state incentives like the Clean Vehicle Rebate or Clean Fuel Reward, so your actual savings could be greater. Customize Offer »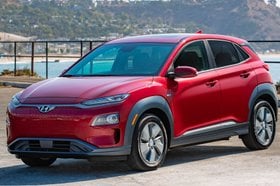 Best Deal: Lease from $199/month
Due at Signing: $1,999
Mileage: 10,000 miles/year
MSRP: $38,575
Fuel Economy: 120 MPGe
Range: 258 miles
What's Hot: An effective cost of $255/month makes the Kona Electric SEL just $2 more expensive than the regular Kona ($253) despite a $15,000 difference in MSRP. Better incentives make it an absolute steal by comparison, and that's before factoring in local plug-in rebates.
Worth Knowing: The featured offer is based on offers here in Southern California, but expect to see great deals elsewhere too. Customize Offer »
Best Deal: 0% APR + $6,000 Cash
MSRP: From $32,620
Fuel Economy: Up to 111 MPGe
Range: Up to 226 miles
What's Hot: The LEAF has some of the best financing incentives out of any Nissan. In addition to 0% APR for 72 months, NMAC is offering $6,000 in Special APR Cash. Previously, the best deal was 0% for 60 months plus $2,000.
Worth Knowing: While leasing can get you access to discounts of over $10,000, Nissan tends to advertise deals for the 40 kWh LEAF. If you're looking to drive more than 200 miles, you may need to consider one of the 62kWh PLUS models. Customize Offer »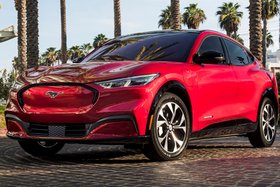 What's Hot: While there isn't a rebate from Ford, you can actually get as much as a $2,500 discount when you choose Ford Options Plan. This is a new buying option involving balloon financing and can potentially save you a good deal of money versus leasing.
In addition, a $7,500 tax credit can bring your savings to $10,000. Beyond that, those in California may qualify for a $2,000 Clean Vehicle Rebate and $1,500 Clean Fuel Reward. Altogether, that's $13,500 in offers available for the taking.
Worth Knowing: Unlike other new EVs like the VW ID.4, Ford isn't passing the tax credit along to lessees in the form of lease cash. Ford Options Plan may be affordable, but you'll probably want to ensure you're eligible for the full credit. Customize Offer »
Best Plug-In Hybrid (PHEV) Leases & Deals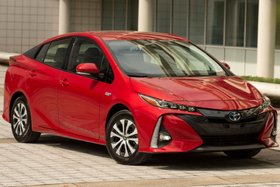 Best Deal: 0% APR for 72 months
MSRP: From $30,610
Fuel Economy: 105 MPGe
Range: 26 mi (EV), 560 mi (EV + Gas)
What's Hot: The Toyota Prius Prime features one of the brand's best APR deals with 0% financing for 72 months. To sweeten the deal, Toyota is offering $500 in bonus cash in Southern California. Alternatively, buyers in places like Boston will find up to a whopping $5,500 in manufacturer rebates.
Worth Knowing: Although the Prime remains eligible for a $900 California Clean Fuel Reward, a recent change has disqualified the model from the Clean Vehicle Rebate. Be sure to check your local state plug-in rebates to learn about your options. Customize Offer »
Best Hybrid Leases & Deals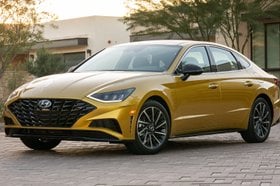 What's Hot: With an effective cost of $270/month, the latest deal on the Sonata Hybrid is $65 cheaper than the lowest advertised price on the Honda Accord Hybrid ($335). As a result, we consider this a superior value for the money.
Worth Knowing: The Sonata Hybrid is stocked by dealers far less than the regular Sonata and may be hard to find. We recommend shopping around for the best results. Example based on Southern California. Customize Offer »
All EV Lease Deals
| | | | | | | |
| --- | --- | --- | --- | --- | --- | --- |
| Effective Cost | Model | Monthly Payment | Term | Due at Signing | Region | Customize Offer |
| $171 | 2021 Chevrolet Bolt EV LT with Fast Charge (San Francisco, GM/Non-GM Lessees + Costco Bonus) | $166 | 36 | $166 | National | Customize Offer |
| $211 | 2021 Chevrolet Bolt EV LT with Fast Charge (GM/Non-GM Lessees + Costco Bonus) | $205 | 36 | $205 | National | Customize Offer |
| $231 | 2021 Nissan LEAF S | $199 | 36 | $1,149 | Los Angeles, CA | Customize Offer |
| $245 | 2021 Hyundai Ioniq Electric Base EV | $189 | 36 | $1,999 | Southern California | Customize Offer |
| $255 | 2021 Hyundai Kona Electric SEL | $199 | 36 | $1,999 | Southern California | Customize Offer |
| $257 | 2021 Chevrolet Bolt EV LT with Fast Charge (San Francisco, GM/Non-GM Lessees) | $250 | 36 | $250 | National | Customize Offer |
| $296 | 2021 Chevrolet Bolt EV LT with Fast Charge (GM/Non-GM Lessees) | $288 | 36 | $288 | National | Customize Offer |
| $380 | 2022 Chevrolet Bolt EV 1LT (GM/Non-GM Lessees + Costco Bonus) | $269 | 36 | $3,979 | National | Customize Offer |
| $407 | 2022 Chevrolet Bolt EV 1LT (GM/Non-GM Lessees) | $269 | 36 | $4,979 | National | Customize Offer |
| $411 | 2022 Chevrolet Bolt EUV 2LT (GM/Non-GM Lessees + Costco Bonus) | $299 | 36 | $4,039 | National | Customize Offer |
| $439 | 2022 Chevrolet Bolt EUV 2LT (GM/Non-GM Lessees) | $299 | 36 | $5,039 | National | Customize Offer |
| $478 | 2021 Volkswagen ID.4 PRO Electric SUV | $379 | 36 | $3,573 | California | Customize Offer |
| $618 | 2021 Toyota Mirai XLE Fuel Cell EV Sedan (CA Only) | $549 | 36 | $2,499 | Southern California | Customize Offer |
| $684 | 2021 Ford Mustang Mach-E Select Standard Range EV (Balloon Finance Estimate) | $565 | 36 | $4,290 | California | Customize Offer |
| $713 | 2021 Volvo XC40 Recharge EV | $599 | 36 | $4,099 | Los Angeles, CA | Customize Offer |
| $822 | 2021 Audi e-tron Quattro Premium | $589 | 36 | $8,383 | Los Angeles, CA | Customize Offer |
All Plug-In Hybrid (PHEV) Lease Deals
| | | | | | | |
| --- | --- | --- | --- | --- | --- | --- |
| Effective Cost | Model | Monthly Payment | Term | Due at Signing | Region | Customize Offer |
| $245 | 2021 Hyundai Ioniq Plug-In Hybrid SE PHEV | $189 | 36 | $1,999 | Southern California | Customize Offer |
| $282 | 2021 Kia Niro Plug-In Hybrid LX PHEV | $199 | 36 | $2,999 | CA, CO, DE, FL, HI, IL, IN, ME, MI, MN, ND, NE, OH, PA, UT, VT, WI, WY | Customize Offer |
| $297 | 2021 Honda Clarity Plug-In Hybrid Base | $219 | 36 | $2,799 | CA, CT, MA, MD, ME, NJ, NY, OR, RI, VT | Customize Offer |
| $350 | 2021 Mitsubishi Outlander PHEV SEL | $239 | 36 | $3,988 | National | Customize Offer |
| $395 | 2021 Toyota Prius Prime LE Plug-In Hybrid (Estimated Payment) | $313 | 36 | $2,963 | Southern California | Customize Offer |
| $530 | 2021 Toyota RAV4 Prime SE AWD (Estimated Payment) | $444 | 36 | $3,094 | Southern California | Customize Offer |
| $553 | 2021 Volvo S60 T8 Recharge R-Design | $449 | 36 | $3,749 | Los Angeles, CA | Customize Offer |
| $668 | 2021 Volvo XC60 T8 Recharge Inscription Expression | $549 | 36 | $4,299 | Los Angeles, CA | Customize Offer |
| $806 | 2021 Volvo XC90 T8 Recharge Inscription Expression | $665 | 36 | $5,065 | Los Angeles, CA | Customize Offer |
All Hybrid Lease Deals
| | | | | | | |
| --- | --- | --- | --- | --- | --- | --- |
| Effective Cost | Model | Monthly Payment | Term | Due at Signing | Region | Customize Offer |
| $245 | 2021 Hyundai Ioniq Hybrid Blue | $189 | 36 | $1,999 | Southern California | Customize Offer |
| $260 | 2021 Hyundai Elantra Hybrid SE Hybrid with Automatic | $179 | 36 | $2,899 | Southern California | Customize Offer |
| $270 | 2021 Hyundai Sonata Hybrid Base Hybrid Sedan | $189 | 36 | $2,899 | Southern California | Customize Offer |
| $272 | 2021 Kia Niro LX Hybrid | $189 | 36 | $2,999 | CA, CO, DE, FL, HI, IL, IN, ME, MI, MN, ND, NE, OH, PA, UT, VT, WI, WY | Customize Offer |
| $335 | 2021 Honda Accord Hybrid Base Hybrid Sedan | $249 | 36 | $3,099 | National | Customize Offer |
| $348 | 2021 Toyota Corolla Hybrid LE Hybrid Sedan (Estimated Payment) | $267 | 36 | $2,917 | Southern California | Customize Offer |
| $355 | 2022 Hyundai Tucson Blue Hybrid | $255 | 36 | $3,599 | Southern California | Customize Offer |
| $371 | 2021 Honda CR-V Hybrid EX Hybrid | $279 | 36 | $3,299 | National | Customize Offer |
| $396 | 2021 Toyota Prius L Eco Hybrid (Estimated Payment) | $314 | 36 | $2,964 | Southern California | Customize Offer |
| $399 | 2022 Hyundai Santa Fe SE | $299 | 36 | $3,599 | Southern California | Customize Offer |
| $409 | 2021 Hyundai Santa Fe Blue Hybrid | $309 | 36 | $3,599 | Southern California | Customize Offer |
| $409 | 2022 Hyundai Santa Fe SEL | $309 | 36 | $3,599 | Southern California | Customize Offer |
| $416 | 2021 Kia Sorento Hybrid S 1.6T Hybrid FWD | $319 | 36 | $3,499 | CA, CO, DE, FL, HI, IL, IN, ME, MI, MN, ND, NE, OH, PA, UT, VT, WI, WY | Customize Offer |
| $422 | 2021 Lexus UX UX 250h | $339 | 36 | $2,999 | CA, CO, NM, OR, WA & More | Customize Offer |
| $437 | 2021 Toyota Camry Hybrid LE Hybrid Sedan (Estimated Payment) | $354 | 36 | $3,004 | Southern California | Customize Offer |
| $439 | 2021 Honda Insight LX Hybrid (Estimated Payment) | $411 | 36 | $1,006 | National | Customize Offer |
| $450 | 2021 Toyota RAV4 Hybrid LE AWD (Estimated Payment) | $366 | 36 | $3,016 | Southern California | Customize Offer |
| $460 | 2021 Lexus ES ES 300h Base Hybrid | $349 | 36 | $3,999 | CA, CO, NM, OR, WA & More | Customize Offer |
| $461 | 2022 Honda Insight EX Hybrid (Estimated Payment) | $432 | 36 | $1,027 | National | Customize Offer |
| $469 | 2021 Toyota Venza LE Hybrid (Estimated Payment) | $385 | 36 | $3,035 | Southern California | Customize Offer |
| $482 | 2021 Lexus NX NX 300h AWD | $399 | 36 | $2,999 | CA, CO, NM, OR, WA & More | Customize Offer |
| $543 | 2021 Toyota Sienna LE FWD Hybrid (Estimated Payment) | $457 | 36 | $3,107 | Southern California | Customize Offer |
| $592 | 2021 Toyota Highlander Hybrid LE (Estimated Payment) | $504 | 36 | $3,154 | Southern California | Customize Offer |
| $620 | 2021 Lexus RX RX 450h Premium | $509 | 36 | $3,999 | CA, CO, NM, OR, WA & More | Customize Offer |
| $660 | 2021 Lexus RX RX 450hL Premium | $549 | 36 | $3,999 | CA, CO, NM, OR, WA & More | Customize Offer |