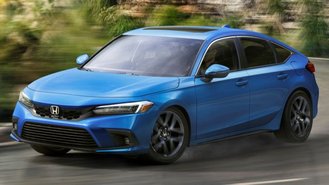 Honda deals to end the year offer no advantages compared to last month. With most of the brand's 2021 lineup sold out at this point, your best bet for finding one in stock will be to search for a 2022 model. Having said that, SUVs like the 2022 Pilot continue to offer financing rates as low as 0% APR.
Leasing a Honda can be a good deal thanks to high residual values. In the case of the redesigned Civic, we consider the all-new hatchback one of the best cars to lease. Just be aware that Honda doesn't tend to offer rebates and your odds of getting a discount may be limited due to an inventory shortage.
Most offers listed here are scheduled to end on January 3rd and are available nationally unless noted otherwise.
Explore the full Honda lineup »
Must-Know Advice For Honda Buyers
No rebates. Honda is one of the few major brands to not offer rebates on most of its vehicles. That said, the automaker does use unadvertised dealer cash incentives to help discount certain models. For example, SUVs like the Honda Pilot tend to offer some great chances to save, especially when it comes to leasing.
No 0% APR (until now). Declining sales have also resulted in good deals on sedans. That said, 0% APR offers are practically unheard-of for Honda, with the best rates bottoming out at around 0.9% APR. However, in an unexpected turn of events, Honda rolled out a 0% APR for the first time back in January.
Longer loans. Thinking of lowering your monthly payment? 72-month and even 84-month loan options are increasingly common, although shoppers may experience higher interest rates. In contrast, brands like Hyundai tend to offer 0% financing for up to 72 months plus cash incentives.
Getting the lowest price. Shoppers should be aware that Honda has strict rules for advertising prices below invoice. As a result, you may not see the lowest price without contacting a dealer first. That said, models like the HR-V are often stocked in fewer numbers and rarely see deep discounts.
Grad discounts. If you're a recent college grad, be sure to ask about the Honda Graduate Program because it offers an extra $500 that can be combined with other incentives. The catch is that you'll have to finance or lease through Honda Financial Services (HFS).
Savings on used cars. Looking to buy used vs. new? The Honda Certified Pre-Owned Program offers the added value of a warranty plus special rates as low as 1.99% APR for buying. Offers vary month to month, so check our coverage of the latest CPO deals for the latest info.