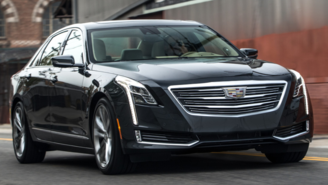 2018 was a year in which we saw no shortage of outstanding discounts for buying & leasing a car. It also saw significant changes related to interest rate increases, with a broad shift away from 0% financing promotions. However, patient buyers could score some impressive deals by buying at the right time.
One of the craziest leases was the 2018 Chevy Volt LT at $210 for 36 months with $0 due at signing. That's right, you could lease the nearly $34,000 plug-in for less than most cars under $20,000. The secret to that was a massive $2,500 bonus for people coming from an Asian brand.
Even better, that was before a $1,500 Clean Vehicle Rebate ($2,500 for low-income applicants). We haven't seen a deal that good ever since on any other car, even when taking into account holiday deals and Black Friday specials. Fuel misers weren't the only ones to benefit from deals.
Sports car shoppers saw particularly good deals. In April, Jaguar introduced an $11,000 discount on certain versions of the F-TYPE. Unlike other offers, this was a deal you could only get when buying. In July, Mazda introduced a never-before-seen $4,500 in potential savings on the MX-5 Miata plus 0.9% APR for 72 months.
Some of the best deals of the year weren't always advertised.
In May, luxury car buyers were treated to huge savings on the Cadillac CT6 under the right circumstances. Apart from a $2,000 rebate, buyers could get up to $7,000 in bonuses on specially tagged vehicles. If you qualified for a $3,000 incentive for switching brands, you could find up to $12,000 in combined savings.
Just last month, Audi unveiled nearly $18,000 in dealer cash incentives to help clear away the last remaining 2018 inventory for the recently-redesigned A6 and A7. If you were buying the range-topping RS 7, you could get as much as $17,500 in potential savings.
In some instances, membership had its privileges. BMW ran a promo back in March for Costco warehouse members involving up to $10,000 in savings. Although amounts varied and the deal was only offered in California, models like the flagship 7-Series benefited from $2,000 in savings you couldn't get otherwise.
We also found cases in which it was smarter to upgrade to a newer or more expensive vehicle. In February, leases for the redesigned Wrangler JL ended up being cheaper than the old JK style. In fact, our analysis found the effective cost of the new Wrangler Unlimited Sport to be $1 cheaper than the outgoing version.
With an effective cost of $352/month, the JL had a surprising advantage over the $353/month cost of the older style. Although our analysis found that both vehicles benefited from some of the highest residual values of any new vehicle, the JL Unlimited Sport featured an almost unbelievable 75% residual.
Those looking to save by buying used saw no shortage of deals for certified pre-owned cars. In some cases, rates from brands like Mazda as low as 0.9% were lower than the new car rate of 1.9% on models like the Mazda3, Mazda6 and MX-5 Miata. One important catch is that CPO offers are often limited to terms of up to 36 months.
With rates set to continue to rise in 2019 and no end in sight for high transaction prices, shoppers may find it more important than ever to shop wisely. Although it can be tough to do so when everything seems to be on sale all the time, our findings show there can clearly be great times to buy if you can make an informed decision.