We found 64 SUV leases in June with a payment under $300 per month. At that price, options range from a $20,000 Hyundai Venue to an over $40,000 Kia Niro EV.
However, not all offers are great deals because of differences in the amounts due at signing. That's why we've calculated the effective cost of every SUV under $300 further down this page.
Best SUV Lease Under $300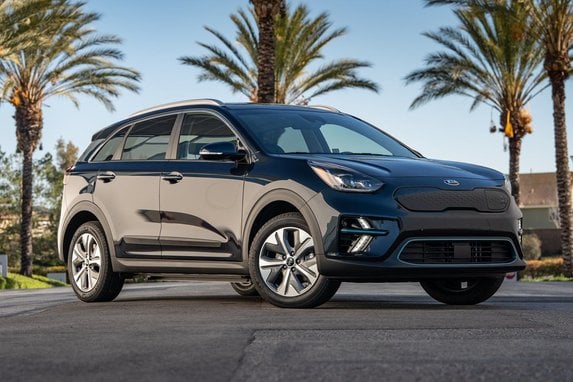 Despite topping the list this month in terms of MSRP, the Niro EV presents one of the best lease deals on SUVs under $300. With an effective monthly cost of $306, the all-electric Niro undercuts gasoline models like the Mitsubishi Outlander ($357) and Jeep Compass ($359). It's even cheaper than some hybrid options like the Honda CR-V Hybrid ($361) and Mitsubishi Outlander PHEV ($370).
This offer is available in the following states: CA, CO, DE, FL, HI, IL, IN, ME, MI, MN, ND, NE, OH, PA, UT, VT, WI, WY. Expect prices to be higher in other states.
Cheapest SUV Under $300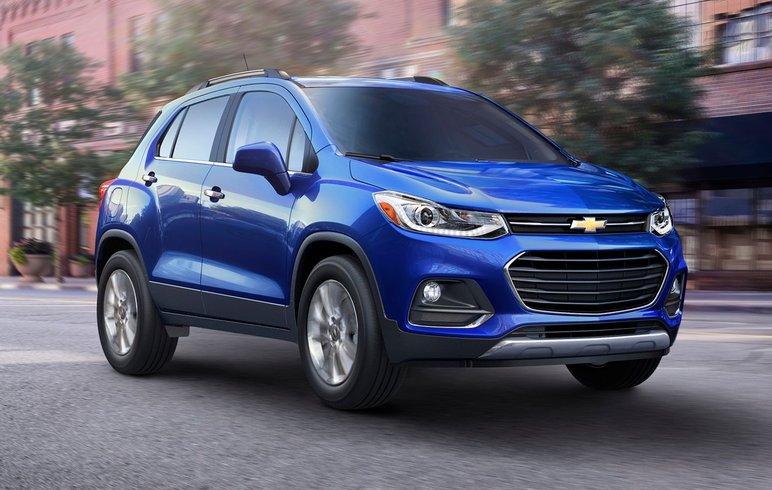 With the 2020 Trax is now sold out, the 2021 Trax takes its place as the cheapest SUV lease under $300. The combination of a low due at signing amount and a 39-month lease term allows the Trax to continue to be a great deal with an effective monthly cost of $223. That makes it cheaper than similarly priced options like the Buick Encore ($230), Chevy Trailblazer ($241), and Hyundai Kona ($253).
Note that this offer is available nationally for current GM and Non-GM lessees.
View All Cheapest SUV Leases »
Every SUV Lease Under $300
Here's every SUV lease we found with a payment under $300/month.
| | | | | | | |
| --- | --- | --- | --- | --- | --- | --- |
| Effective Cost | Model | Monthly Payment | Term | Due at Signing | Region | Customize Offer |
| $223 | 2021 Chevrolet Trax LT AWD (Current GM/Non-GM Lessees) | $189 | 39 | $1,309 | National | Customize Offer |
| $226 | 2021 Hyundai Venue SE with Automatic | $159 | 36 | $2,399 | Southern California | Customize Offer |
| $226 | 2021 Buick Encore GX Preferred (GM/Non-GM Lessees) | $219 | 39 | $269 | National | Customize Offer |
| $230 | 2021 Buick Encore Preferred 1SB (GM/Non-GM Lessees) | $199 | 39 | $1,209 | National | Customize Offer |
| $234 | 2021 Honda HR-V LX | $159 | 36 | $2,699 | National | Customize Offer |
| $241 | 2021 Chevrolet Trailblazer LT FWD (Current GM/Non-GM Lessees) | $199 | 39 | $1,629 | National | Customize Offer |
| $248 | 2021 Honda HR-V LX AWD | $159 | 36 | $3,199 | National | Customize Offer |
| $253 | 2021 Hyundai Kona SEL | $189 | 36 | $2,299 | Southern California | Customize Offer |
| $254 | 2021 Hyundai Tucson SE | $179 | 36 | $2,699 | Southern California | Customize Offer |
| $255 | 2021 Hyundai Kona Electric SEL | $199 | 36 | $1,999 | Southern California | Customize Offer |
| $257 | 2021 Chevrolet Equinox LT (Current GM/Non-GM Lessees) | $199 | 39 | $2,249 | National | Customize Offer |
| $268 | 2021 GMC Terrain SLE (GM/Non-GM Lessees) | $249 | 39 | $759 | National | Customize Offer |
| $270 | 2021 Kia Seltos LX AWD | $189 | 36 | $2,899 | CA, CO, DE, FL, HI, IL, IN, ME, MI, MN, ND, NE, OH, PA, UT, VT, WI, WY | Customize Offer |
| $270 | 2021 Kia Seltos S FWD | $189 | 36 | $2,899 | CA, CO, DE, FL, HI, IL, IN, ME, MI, MN, ND, NE, OH, PA, UT, VT, WI, WY | Customize Offer |
| $271 | 2021 Kia Sportage LX | $179 | 36 | $3,299 | CA, CO, DE, FL, HI, IL, IN, ME, MI, MN, ND, NE, OH, PA, UT, VT, WI, WY | Customize Offer |
| $272 | 2021 Mazda CX-30 Base | $189 | 36 | $2,999 | Los Angeles, CA | Customize Offer |
| $279 | 2022 Hyundai Kona SEL | $179 | 36 | $3,599 | Southern California | Customize Offer |
| $281 | 2021 Kia Sportage LX AWD | $189 | 36 | $3,299 | CA, CO, DE, FL, HI, IL, IN, ME, MI, MN, ND, NE, OH, PA, UT, VT, WI, WY | Customize Offer |
| $281 | 2022 Kia Sportage LX FWD | $189 | 36 | $3,299 | CA, CO, DE, FL, HI, IL, IN, ME, MI, MN, ND, NE, OH, PA, UT, VT, WI, WY | Customize Offer |
| $282 | 2021 Kia Niro LX Hybrid | $199 | 36 | $2,999 | CA, CO, DE, FL, HI, IL, IN, ME, MI, MN, ND, NE, OH, PA, UT, VT, WI, WY | Customize Offer |
| $282 | 2020 Kia Niro Plug-In Hybrid LX PHEV | $199 | 36 | $2,999 | CA, CO, DE, FL, HI, IL, IN, ME, MI, MN, ND, NE, OH, PA, UT, VT, WI, WY | Customize Offer |
| $286 | 2021 Subaru Crosstrek Base with CVT | $219 | 36 | $2,419 | Los Angeles, CA | Customize Offer |
| $290 | 2022 Mitsubishi Eclipse Cross ES 1.5T 2WD | $209 | 36 | $2,933 | National | Customize Offer |
| $291 | 2022 Kia Sportage LX AWD | $199 | 36 | $3,299 | CA, CO, DE, FL, HI, IL, IN, ME, MI, MN, ND, NE, OH, PA, UT, VT, WI, WY | Customize Offer |
| $292 | 2021 Kia Niro Plug-In Hybrid LX | $209 | 36 | $2,999 | CA, CO, DE, FL, HI, IL, IN, ME, MI, MN, ND, NE, OH, PA, UT, VT, WI, WY | Customize Offer |
| $295 | 2021 Toyota C-HR LE | $239 | 36 | $1,999 | Southern California | Customize Offer |
| $297 | 2021 Chevrolet Blazer 2LT V6 (GM/Non-GM Lessees) | $229 | 36 | $2,459 | National | Customize Offer |
| $298 | 2021 Subaru Forester 2.5i Base | $229 | 36 | $2,489 | Los Angeles, CA | Customize Offer |
| $299 | 2021 Chevrolet Blazer 1LT (GM/Non-GM Lessees) | $229 | 36 | $2,509 | National | Customize Offer |
| $299 | 2021 Hyundai Santa Fe SE | $199 | 36 | $3,599 | Southern California | Customize Offer |
| $299 | 2022 Hyundai Tucson SEL | $199 | 36 | $3,599 | Southern California | Customize Offer |
| $306 | 2020 Kia Niro EV EX | $209 | 36 | $3,499 | CA, CO, DE, FL, HI, IL, IN, ME, MI, MN, ND, NE, OH, PA, UT, VT, WI, WY | Customize Offer |
| $312 | 2021 Volkswagen Tiguan S | $229 | 36 | $2,999 | California | Customize Offer |
| $315 | 2021 Nissan Rogue Sport S AWD | $219 | 36 | $3,449 | Los Angeles, CA | Customize Offer |
| $315 | 2021 Mazda CX-5 Sport | $232 | 36 | $2,999 | Los Angeles, CA | Customize Offer |
| $318 | 2021 Subaru Outback Base | $249 | 36 | $2,499 | Los Angeles, CA | Customize Offer |
| $326 | 2021 Mitsubishi Outlander Sport ES 2.0 FWD | $249 | 39 | $2,998 | National | Customize Offer |
| $330 | 2021 Honda CR-V LX FWD | $249 | 36 | $2,899 | National | Customize Offer |
| $332 | 2021 Jeep Renegade Latitude 4x4 (Returning FCA Lessees) | $225 | 36 | $3,865 | California | Customize Offer |
| $335 | 2022 Hyundai Tucson Blue Hybrid | $235 | 36 | $3,599 | Southern California | Customize Offer |
| $337 | 2021 Nissan Kicks SV FWD | $275 | 36 | $2,249 | Los Angeles, CA | Customize Offer |
| $346 | 2021 Honda CR-V LX AWD | $249 | 36 | $3,499 | National | Customize Offer |
| $351 | 2021 Nissan Rogue S AWD | $219 | 36 | $4,739 | Los Angeles, CA | Customize Offer |
| $352 | 2021 Jeep Grand Cherokee Laredo E 4x2 (Returning FCA Lessees) | $245 | 36 | $3,855 | California | Customize Offer |
| $352 | 2021 Honda Passport Sport | $269 | 36 | $2,999 | National | Customize Offer |
| $356 | 2021 Kia Sorento LX 2.5L FWD | $259 | 36 | $3,499 | CA, CO, DE, FL, HI, IL, IN, ME, MI, MN, ND, NE, OH, PA, UT, VT, WI, WY | Customize Offer |
| $357 | 2022 Mitsubishi Outlander ES 2.5 2WD | $239 | 36 | $4,238 | National | Customize Offer |
| $359 | 2021 Jeep Compass Latitude 4x2 (Returning FCA Lessees) | $249 | 36 | $3,975 | California | Customize Offer |
| $361 | 2021 Honda CR-V Hybrid EX | $269 | 36 | $3,299 | National | Customize Offer |
| $366 | 2021 Jeep Cherokee Latitude Lux 4x2 (Returning FCA Lessees) | $255 | 36 | $3,980 | California | Customize Offer |
| $367 | 2021 Subaru Ascent Base 8-Passenger | $279 | 36 | $3,179 | Los Angeles, CA | Customize Offer |
| $370 | 2021 Mitsubishi Outlander PHEV SEL | $265 | 36 | $3,789 | National | Customize Offer |
| $372 | 2021 Honda Passport Sport AWD | $269 | 36 | $3,699 | National | Customize Offer |
| $372 | 2021 Mazda CX-9 Sport | $289 | 36 | $2,999 | Los Angeles, CA | Customize Offer |
| $374 | 2021 Honda Pilot EX | $299 | 36 | $2,699 | National | Customize Offer |
| $376 | 2021 Volkswagen Atlas Cross Sport S | $299 | 39 | $2,999 | California | Customize Offer |
| $376 | 2021 Kia Sorento LX 2.5L AWD | $279 | 36 | $3,499 | CA, CO, DE, FL, HI, IL, IN, ME, MI, MN, ND, NE, OH, PA, UT, VT, WI, WY | Customize Offer |
| $383 | 2021 Jeep Wrangler Unlimited Sport 4dr | $272 | 36 | $3,995 | California | Customize Offer |
| $386 | 2021 Kia Sorento S 2.5L FWD | $289 | 36 | $3,499 | CA, CO, DE, FL, HI, IL, IN, ME, MI, MN, ND, NE, OH, PA, UT, VT, WI, WY | Customize Offer |
| $388 | 2021 Nissan Murano S | $289 | 36 | $3,579 | Los Angeles, CA | Customize Offer |
| $389 | 2021 Hyundai Santa Fe Blue Hybrid | $289 | 36 | $3,599 | Southern California | Customize Offer |
| $391 | 2022 Chevrolet Bolt EUV 2LT (GM/Non-GM Lessees + Costco Bonus) | $299 | 36 | $3,299 | National | Customize Offer |
| $393 | 2021 Honda Pilot EX AWD | $299 | 36 | $3,399 | National | Customize Offer |
| $418 | 2022 Chevrolet Bolt EUV 2LT (GM/Non-GM Lessees) | $299 | 36 | $4,299 | National | Customize Offer |