This month, we found 64 SUVs with a lease payment under $300/month. At this price, your options range from a $21,000 Nissan Kicks SV to a nearly $38,000 Ford Flex SEL.
However, not all deals are great deals because of the amount due at signing. That's why we've calculated the effective cost of every SUV under $300 in the table at the bottom of this page.
Updated 11:32 am
Best SUV Lease Under $300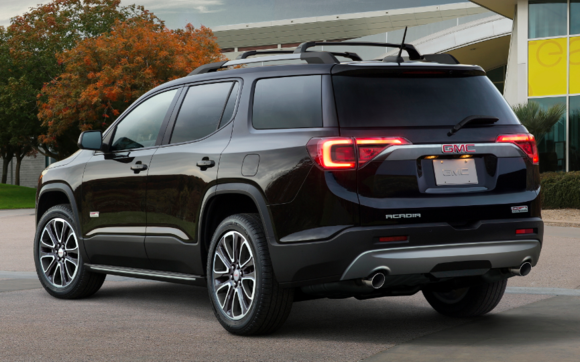 Coming from a 2012 or newer GM vehicle? You may be eligible for a $1,500 bonus that brings the amount due at signing down to just $291. As a result, this nearly $34,000 SUV can end up being cheaper to lease than a Honda CR-V LX despite a difference in MSRP of over $8,500.
Without the bonus, the amount at signing is $1,791 here in California, bringing the effective cost of the Acadia to $341/month. Even at that price, the Acadia is $1/month more affordable than the less-equipped 2019 Kia Sorento LX ($342).
Honorable Mentions
The Flex continues to feature very deep discounts when leasing. Although it has an MSRP approaching $38,000, its effective cost to lease is just $361/month here in California. At that price, it ends up being $1/month cheaper than a MINI Clubman ($362) despite an over $10,000 difference in MSRP.
Cheapest SUV Under $300
At nearly $25,000, the Rogue Sport S doesn't look like one of the cheapest leases on an SUV. But with an effective cost of just $250/month, it's $14 cheaper to lease than a Mazda CX-3 ($264) and $26 more affordable than the Hyundai Kona ($276) here in Los Angeles.
It may not make a lot of sense, but it's even $41 cheaper to lease than the new Nissan Kicks. Bigger discounts and a lower lease rate help offset the nearly $3,800 difference in MSRP prices for these vehicles.
View All Cheapest SUV Leases »
Every SUV Lease Under $300
We're currently tracking 64 offers with a monthly payment under $300.
| | | | | | | |
| --- | --- | --- | --- | --- | --- | --- |
| Effective Cost | Model | Monthly Payment | Term | Due at Signing | Region | More Info |
| $250 | 2018 Nissan Rogue Sport S AWD | $199 | 36 | $1,849 | Los Angeles | Get Details |
| $252 | 2018 Hyundai Tucson SE | $199 | 36 | $1,899 | Los Angeles | Get Details |
| $261 | 2019 Chevrolet Equinox LT (Non-GM Lessees) | $199 | 39 | $2,399 | CA & Select States | Get Details |
| $264 | 2018 Ford EcoSport SE 200A w/Convenience Pkg | $189 | 36 | $2,689 | California | Get Details |
| $264 | 2019 Mazda CX-3 Sport FWD | $195 | 36 | $2,489 | Los Angeles | Get Details |
| $272 | 2018 Volkswagen Tiguan Limited 2.0T Limited | $189 | 36 | $2,999 | Western States | Get Details |
| $275 | 2019 Toyota C-HR LE | $219 | 36 | $1,999 | Southern California | Get Details |
| $276 | 2018 Hyundai Kona SEL | $209 | 36 | $2,399 | Los Angeles | Get Details |
| $283 | 2018 Chevrolet Trax LT (CA & Select States) | $169 | 39 | $4,439 | CA & Select States | Get Details |
| $284 | 2018 Mazda CX-5 Sport FWD | $215 | 36 | $2,489 | Los Angeles | Get Details |
| $287 | 2018 Hyundai Santa Fe Sport 2.4L Base | $229 | 36 | $2,099 | Los Angeles | Get Details |
| $290 | 2019 Subaru Crosstrek 2.0i with Manual | $235 | 36 | $1,989 | Los Angeles | Get Details |
| $291 | 2018 Nissan Kicks SV with Two-Tone Roof | $235 | 36 | $1,999 | Los Angeles | Get Details |
| $291 | 2018 Nissan Rogue S AWD | $199 | 36 | $3,299 | Los Angeles | Get Details |
| $292 | 2019 Kia Sportage LX 2.4 FWD | $209 | 36 | $2,999 | California | Get Details |
| $295 | 2018 Toyota RAV4 LE FWD | $239 | 36 | $1,999 | Southern California | Get Details |
| $296 | 2019 Hyundai Kona SEL | $229 | 36 | $2,399 | Los Angeles | Get Details |
| $296 | 2018 Volkswagen Tiguan 2.0T S FWD | $199 | 36 | $3,499 | Western States | Get Details |
| $299 | 2019 Chevrolet Equinox LT (CA & Select States) | $199 | 39 | $3,899 | CA & Select States | Get Details |
| $299 | 2019 GMC Acadia SLE-1 2WD (Non-GM Lessees) | $291 | 36 | $291 | California | Get Details |
| $302 | 2019 Kia Sportage LX 2.4 AWD | $219 | 36 | $2,999 | California | Get Details |
| $304 | 2019 Subaru Forester 2.5i Base | $255 | 36 | $1,755 | Los Angeles | Get Details |
| $309 | 2019 GMC Terrain SLE 2WD | $249 | 39 | $2,349 | California | Get Details |
| $311 | 2018 Jeep Compass Latitude 4x2 | $139 | 24 | $4,119 | California | Get Details |
| $311 | 2019 Hyundai Tucson SE | $239 | 36 | $2,599 | Los Angeles | Get Details |
| $315 | 2018 Honda CR-V LX 2WD | $259 | 36 | $1,999 | National | Get Details |
| $316 | 2018 Volkswagen Atlas S 2.0T FWD | $219 | 36 | $3,499 | Western States | Get Details |
| $317 | 2019 Hyundai Santa Fe SE (fmr Santa Fe Sport) | $239 | 36 | $2,799 | Los Angeles | Get Details |
| $319 | 2018 Ford Edge SE | $229 | 36 | $3,229 | California | Get Details |
| $320 | 2018 Ford Escape SE 200A | $239 | 36 | $2,919 | California | Get Details |
| $321 | 2018 Mitsubishi Outlander Sport 2.0 ES | $244 | 39 | $2,993 | National | Get Details |
| $322 | 2019 Kia Sorento LX 4-cylinder FWD | $239 | 36 | $2,999 | California | Get Details |
| $324 | 2019 Chevrolet Trax LT (CA & Select States) | $199 | 39 | $4,859 | CA & Select States | Get Details |
| $329 | 2018 Jeep Renegade Latitude 4x2 | $229 | 39 | $3,899 | California | Get Details |
| $330 | 2018 Honda CR-V LX AWD | $269 | 36 | $2,199 | National | Get Details |
| $330 | 2019 Subaru Outback 2.5i with CVT | $275 | 36 | $1,989 | Los Angeles | Get Details |
| $332 | 2018 Volkswagen Golf SportWagen 1.8T S with Automatic | $249 | 36 | $2,999 | Western States | Get Details |
| $332 | 2018 Mitsubishi Outlander 2.4 ES | $269 | 48 | $3,043 | National | Get Details |
| $339 | 2019 Chevrolet Trax LT (National) | $239 | 39 | $3,909 | National | Get Details |
| $341 | 2019 GMC Acadia SLE-1 2WD | $291 | 36 | $1,791 | California | Get Details |
| $342 | 2019 Kia Sorento LX 4-cylinder AWD | $259 | 36 | $2,999 | California | Get Details |
| $344 | 2018 Hyundai Santa Fe SE | $269 | 36 | $2,699 | Los Angeles | Get Details |
| $352 | 2019 Mitsubishi Outlander Sport 2.0 ES | $274 | 39 | $3,048 | National | Get Details |
| $355 | 2018 Toyota RAV4 Hybrid XLE AWD | $299 | 36 | $1,999 | Southern California | Get Details |
| $361 | 2018 Ford Flex SEL with Appearance Package 202A | $199 | 24 | $3,879 | California | Get Details |
| $362 | 2019 Kia Sorento LX V6 FWD | $279 | 36 | $2,999 | California | Get Details |
| $362 | 2019 MINI Clubman Cooper | $279 | 36 | $2,999 | California | Get Details |
| $364 | 2019 Mitsubishi Outlander 2.4 ES | $299 | 48 | $3,098 | National | Get Details |
| $365 | 2018 Nissan Pathfinder S AWD (Plus $1,250 Bonus) | $279 | 36 | $3,099 | Los Angeles | Get Details |
| $366 | 2019 Jeep Cherokee Limited 4x2 (Current FCA Lessees) | $199 | 24 | $3,999 | California | Get Details |
| $368 | 2019 Hyundai Santa Fe XL 3.3L SE | $279 | 36 | $3,199 | Los Angeles | Get Details |
| $372 | 2018 Volkswagen Golf Alltrack S with Automatic | $289 | 36 | $2,999 | Western States | Get Details |
| $373 | 2018 Mazda CX-9 Sport FWD | $299 | 36 | $2,679 | Los Angeles | Get Details |
| $373 | 2018 Nissan Murano S FWD (Plus $2,000 Bonus) | $279 | 36 | $3,399 | Los Angeles | Get Details |
| $374 | 2018 Mitsubishi Eclipse Cross ES AWD | $249 | 36 | $4,498 | National | Get Details |
| $375 | 2018 Buick Encore Preferred 1SB | $199 | 24 | $4,218 | California | Get Details |
| $378 | 2018 Dodge Durango SXT (Non-FCA Lessees) | $269 | 36 | $3,939 | California | Get Details |
| $382 | 2019 Jeep Compass Latitude 4x2 | $289 | 42 | $3,899 | California | Get Details |
| $382 | 2019 Kia Sorento LX V6 AWD | $299 | 36 | $2,999 | California | Get Details |
| $383 | 2018 Jeep Grand Cherokee Laredo 4x2 (Non-Chrysler lessees) | $219 | 24 | $3,939 | California | Get Details |
| $395 | 2019 Mitsubishi Eclipse Cross ES AWD | $269 | 36 | $4,543 | National | Get Details |
| $397 | 2019 Ford Flex SEL with Appearance Package 202A | $229 | 24 | $4,039 | California | Get Details |
| $403 | 2018 Mitsubishi Outlander PHEV SEL AWD | $289 | 36 | $4,088 | National | Get Details |
| $419 | 2018 Ford Explorer XLT 4x2 201A | $299 | 36 | $4,309 | California | Get Details |