We found 98 SUV leases under $300. At this price, shoppers can choose anything from the affordable Honda HR-V to the well-equipped Lexus NX 200t. However, costs can quickly get out of hand if you're not careful.
For example, the Jeep Renegade Latitude starts at $219/month but requires $3,999 at lease signing. As a result, it actually has a higher effective cost than a $30,000 Jeep Cherokee Limited.
Along with our top picks, we've listed every $300-and-under SUV lease in order of effective cost. Offers can sometimes vary by region and assume a California location unless noted.
Updated October 11
Top SUV Leases Under $300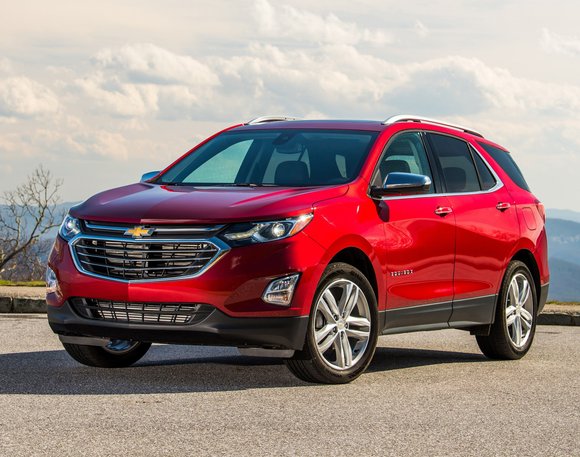 Our Top Pick: The 2018 Chevy Equinox LT is the best SUV lease under $300. If you're coming from a competitive lease, GM is offering an outstanding $199/month deal requiring just $1,219 due at lease signing.
With an effective cost of $250, it'll cost you just $7/month more than the Honda HR-V LX ($243) despite a $6,490 difference in sticker price. This is a regional deal available in places like California, Florida, New York, Michigan.
Runner-Up: The 2018 Jeep Cherokee is a surprisingly good value nationally when opting for the well-equipped Limited. Don't be scared off by its $30,890 MSRP. At $219 for 42 months with $3,499 at signing, its effective cost is just $302.
To put that in perspective, that's $3/month less than a 2018 Toyota C-HR here in Los Angeles ($305) despite a $6,841 difference in MSRP. That's also less than the 2018 Chevy Trax LT ($310). More Top SUV Leases »
Cheapest SUV Leases Under $300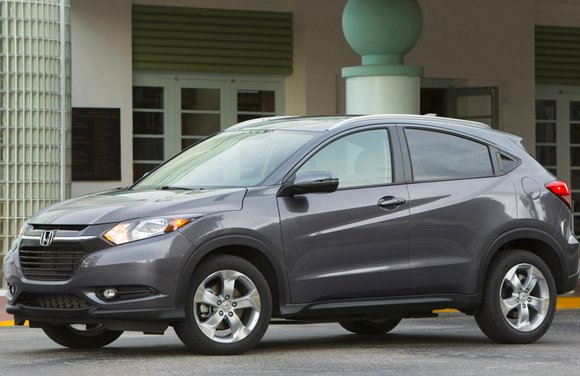 Cheapest Under $300: Based on effective cost, the 2017 Honda HR-V LX is the cheapest SUV lease under $300. At $179 for 36 months with $2,299 at signing, it comes in at just $243/month.
However, our analysis shows that the difference in price between the latest subcompact SUVs and larger vehicles is extremely slim when you lease.
Consider An Upgrade: The Toyota RAV4 is currently listed at $199 for 36 months with $1,999 at signing here in Los Angeles. Its effective cost is $255, just $12 more than the HR-V despite a $4,869 difference in MSRP.
Price is important, but don't assume that the cheapest model will necessarily save you a lot more than one with a higher MSRP. More Cheap SUV Leases »
All SUV Leases Under $300
We're currently tracking 98 offers with a monthly payment under $300.
| | | | | | | | |
| --- | --- | --- | --- | --- | --- | --- | --- |
| Effective Lease Cost | Year/Make/Model/Trim | MSRP | Pmt | Term | Mileage | Due at Signing | More Info |
| $243 | 2017 Honda HR-V LX 2WD | $21,205 | $179 | 36 | 12k | $2,299 | Get Details |
| $244 | 2017 Subaru Crosstrek 2.0i Standard Manual (Los Angeles) | $22,570 | $189 | 36 | 12k | $1,979 | Get Details |
| $245 | 2017 Mazda CX-3 Sport FWD | $20,860 | $189 | 36 | 12k | $1,999 | Get Details |
| $245 | 2018 Mazda CX-3 Sport FWD | $21,050 | $189 | 36 | 12k | $1,999 | Get Details |
| $250 | 2018 Chevrolet Equinox [CA and Select Regions] LT 2WD Conquest | $27,695 | $199 | 24 | 10k | $1,219 | Get Details |
| $254 | 2018 Subaru Crosstrek 2.0i Standard Manual (Los Angeles) | $22,710 | $199 | 36 | 12k | $1,979 | Get Details |
| $255 | 2017 Mazda CX-5 Sport FWD Automatic | $24,985 | $199 | 36 | 12k | $1,999 | Get Details |
| $255 | 2017 Toyota RAV4 LE FWD | $26,074 | $199 | 36 | 12k | $1,999 | Get Details |
| $258 | 2017 Honda HR-V LX AWD | $22,505 | $189 | 36 | 12k | $2,499 | Get Details |
| $265 | 2017 Subaru Crosstrek 2.0i Standard Manual (National) | $22,570 | $209 | 36 | 12k | $1,999 | Get Details |
| $266 | 2017 Kia Sportage LX FWD 2.4L I-4 AT | $24,095 | $199 | 36 | 12k | $2,399 | Get Details |
| $268 | 2017 Honda HR-V EX 2WD | $23,255 | $199 | 36 | 12k | $2,499 | Get Details |
| $268 | 2017 Hyundai Tucson SE FWD | $23,650 | $199 | 36 | 12k | $2,499 | Get Details |
| $270 | 2017 Nissan Rogue Sport S FWD | $23,245 | $159 | 36 | 12k | $3,999 | Get Details |
| $274 | 2017 Nissan Rogue S FWD | $25,780 | $199 | 36 | 12k | $2,709 | Get Details |
| $275 | 2018 Subaru Crosstrek 2.0i Standard Manual (National) | $22,710 | $219 | 36 | 12k | $1,999 | Get Details |
| $275 | 2017 Chevrolet Trax [CA and Select Regions] 1LT FWD | $23,795 | $169 | 39 | 10k | $4,129 | Get Details |
| $277 | 2018 Kia Sportage LX FWD 2.4L I-4 AT | $24,395 | $199 | 36 | 12k | $2,799 | Get Details |
| $280 | 2017 Mitsubishi Outlander Sport 2.0 ES CVT 2WD | $21,890 | $199 | 36 | 12k | $2,898 | Get Details |
| $281 | 2017 Honda HR-V EX AWD | $24,555 | $209 | 36 | 12k | $2,599 | Get Details |
| $281 | 2017 Kia Sorento LX 2.4L 4-cyl FWD AT | $27,795 | $209 | 36 | 12k | $2,599 | Get Details |
| $286 | 2017 Mitsubishi Outlander 2.4 ES CVT 2WD | $24,390 | $229 | 48 | 12k | $2,728 | Get Details |
| $291 | 2018 Chevrolet Trax [CA and Select Regions] 1LT FWD | $23,845 | $209 | 39 | 10k | $3,179 | Get Details |
| $295 | 2017 Chevrolet Trax [National] 1LT FWD | $23,795 | $189 | 39 | 10k | $4,139 | Get Details |
| $297 | 2018 Kia Sorento LX 2.4L 4-cyl FWD AT | $28,040 | $219 | 36 | 12k | $2,799 | Get Details |
| $298 | 2017 Hyundai Santa Fe Sport 2.4L Base FWD | $26,245 | $249 | 36 | 12k | $1,749 | Get Details |
| $302 | 2017 Jeep New Compass Latitude 4x2 | $25,390 | $205 | 36 | 12k | $3,499 | Get Details |
| $302 | 2018 Jeep Cherokee Limited 4x2 | $30,890 | $219 | 42 | 10k | $3,499 | Get Details |
| $302 | 2018 Jeep Cherokee Latitude 4x4 | $28,890 | $219 | 42 | 10k | $3,499 | Get Details |
| $302 | 2017 Jeep Renegade Limited 4x2 | $26,290 | $219 | 42 | 10k | $3,499 | Get Details |
| $302 | 2017 Jeep Renegade Limited 4x4 | $28,290 | $219 | 42 | 10k | $3,499 | Get Details |
| $302 | 2017 Jeep Renegade Trailhawk 4x4 | $29,595 | $219 | 42 | 10k | $3,499 | Get Details |
| $305 | 2018 Toyota C-HR XLE (Los Angeles) | $24,049 | $249 | 36 | 12k | $1,999 | Get Details |
| $306 | 2017 FIAT 500X Pop Automatic | $22,490 | $229 | 48 | 10k | $3,699 | Get Details |
| $306 | 2017 Ford Escape SE FWD 200A | $25,995 | $229 | 36 | 10.5k | $2,779 | Get Details |
| $307 | 2017 Honda HR-V EX-L Navi 2WD | $25,880 | $229 | 36 | 12k | $2,799 | Get Details |
| $307 | 2017 Jeep Renegade Latitude 4x4 | $26,120 | $219 | 42 | 10k | $3,699 | Get Details |
| $310 | 2018 Chevrolet Trax [National] 1LT FWD | $23,845 | $209 | 39 | 10k | $3,929 | Get Details |
| $312 | 2017 Jeep New Compass Latitude 4x4 | $26,890 | $215 | 36 | 12k | $3,499 | Get Details |
| $312 | 2018 Chevrolet Equinox [CA and Select Regions] LT 2WD | $27,695 | $199 | 24 | 10k | $2,719 | Get Details |
| $312 | 2018 Jeep Cherokee Limited 4x4 | $32,390 | $229 | 42 | 10k | $3,499 | Get Details |
| $312 | 2018 Jeep Cherokee Trailhawk 4x4 | $32,090 | $229 | 42 | 10k | $3,499 | Get Details |
| $313 | 2017 Buick Encore Base FWD 1SB | $25,290 | $199 | 39 | 10k | $4,439 | Get Details |
| $314 | 2017 Jeep Renegade Latitude 4x2 | $24,120 | $219 | 42 | 10k | $3,999 | Get Details |
| $316 | 2017 Jeep Cherokee Latitude 4x4 | $28,740 | $230 | 42 | 10k | $3,599 | Get Details |
| $322 | 2017 Honda HR-V EX-L Navi 4WD | $27,180 | $239 | 36 | 12k | $2,999 | Get Details |
| $323 | 2017 Jeep Cherokee Limited 4x4 | $32,590 | $240 | 42 | 10k | $3,499 | Get Details |
| $323 | 2017 Jeep Cherokee Trailhawk 4x4 | $32,290 | $240 | 42 | 10k | $3,499 | Get Details |
| $324 | 2017 Jeep Cherokee Limited 4x2 | $30,590 | $241 | 42 | 10k | $3,499 | Get Details |
| $326 | 2018 Jeep Compass Latitude FWD | $25,390 | $229 | 36 | 12k | $3,499 | Get Details |
| $327 | 2018 Hyundai Santa Fe Sport 2.4L Base FWD | $25,900 | $249 | 36 | 12k | $2,799 | Get Details |
| $334 | 2017 Toyota Highlander LE (NYC) | $35,305 | $259 | 36 | 12k | $2,699 | Get Details |
| $335 | 2018 Toyota RAV4 LE FWD | $25,629 | $279 | 36 | 12k | $1,999 | Get Details |
| $335 | 2017 Toyota RAV4 Hybrid XLE AWD | $31,224 | $279 | 36 | 12k | $1,999 | Get Details |
| $335 | 2017 FIAT 500X Lounge AWD | $28,030 | $273 | 48 | 10k | $2,999 | Get Details |
| $336 | 2017 Ford Edge SE FWD | $29,845 | $249 | 36 | 10.5k | $3,129 | Get Details |
| $336 | 2018 Jeep Compass Latitude 4x4 | $26,890 | $239 | 36 | 12k | $3,499 | Get Details |
| $337 | 2018 Buick Encore Base FWD 1SB | $25,340 | $199 | 39 | 10k | $5,364 | Get Details |
| $337 | 2017 Jeep Cherokee Latitude 4x2 | $26,740 | $237 | 42 | 10k | $4,199 | Get Details |
| $337 | 2017 MINI Countryman Cooper Automatic | $28,450 | $279 | 36 | 10k | $2,104 | Get Details |
| $338 | 2017 Hyundai Santa Fe SE FWD | $31,695 | $289 | 36 | 12k | $1,749 | Get Details |
| $341 | 2017 Dodge Journey Crossroad FWD | $28,090 | $258 | 36 | 12k | $2,999 | Get Details |
| $342 | 2017 Jeep New Compass Trailhawk 4x4 | $29,690 | $245 | 36 | 12k | $3,499 | Get Details |
| $342 | 2017 Jeep New Compass Limited 4x4 | $30,090 | $245 | 36 | 12k | $3,499 | Get Details |
| $344 | 2018 Chevrolet Equinox [National] LT 2WD | $27,695 | $199 | 24 | 10k | $3,469 | Get Details |
| $348 | 2017 Infiniti QX30 Base FWD | $30,945 | $279 | 39 | 10k | $2,699 | Get Details |
| $349 | 2017 GMC Terrain SLE-1 2WD | $28,225 | $199 | 36 | 10k | $5,408 | Get Details |
| $352 | 2017 Chevrolet Traverse [National] LT FWD | $34,995 | $279 | 39 | 10k | $2,859 | Get Details |
| $356 | 2018 Jeep Compass Limited FWD | $28,690 | $259 | 36 | 12k | $3,499 | Get Details |
| $358 | 2017 Infiniti QX30 Luxury FWD | $33,595 | $289 | 39 | 10k | $2,699 | Get Details |
| $359 | 2017 Nissan Murano S FWD | $31,100 | $259 | 36 | 12k | $3,599 | Get Details |
| $361 | 2017 MINI Countryman Cooper ALL4 Automatic | $30,450 | $299 | 36 | 10k | $2,224 | Get Details |
| $362 | 2017 Nissan Pathfinder S 4x4 | $33,010 | $279 | 36 | 12k | $2,999 | Get Details |
| $363 | 2017 Dodge Journey Crossroad AWD | $31,590 | $280 | 36 | 12k | $2,999 | Get Details |
| $364 | 2017 Dodge Journey G/T FWD | $33,090 | $281 | 36 | 12k | $2,999 | Get Details |
| $366 | 2018 Jeep Compass Trailhawk 4x4 | $29,790 | $269 | 36 | 12k | $3,499 | Get Details |
| $366 | 2018 Jeep Compass Limited 4x4 | $30,190 | $269 | 36 | 12k | $3,499 | Get Details |
| $368 | 2018 GMC Terrain SLE 2WD | $28,795 | $249 | 39 | 10k | $4,648 | Get Details |
| $368 | 2017 Infiniti QX30 Premium FWD w/Nav | $38,145 | $299 | 39 | 10k | $2,699 | Get Details |
| $369 | 2017 Jeep Grand Cherokee Laredo 4x2 | $31,490 | $274 | 39 | 12k | $3,699 | Get Details |
| $371 | 2018 Jeep Compass Sport FWD | $23,590 | $274 | 36 | 12k | $3,499 | Get Details |
| $374 | 2017 Chevrolet Traverse [CA and Select Regions] LT FWD | $34,995 | $259 | 24 | 10k | $2,749 | Get Details |
| $374 | 2017 Jeep Grand Cherokee Laredo 4x4 | $33,790 | $279 | 39 | 12k | $3,699 | Get Details |
| $380 | 2017 Jeep New Compass Sport 4x2 | $23,590 | $283 | 36 | 12k | $3,499 | Get Details |
| $381 | 2017 GMC Acadia SLE-1 2WD | $33,375 | $299 | 36 | 10k | $2,949 | Get Details |
| $381 | 2018 Infiniti QX30 Base | $30,945 | $299 | 39 | 10k | $3,199 | Get Details |
| $382 | 2017 Toyota Highlander LE (Southeast) | $35,305 | $299 | 36 | 12k | $2,999 | Get Details |
| $382 | 2017 Jeep Cherokee Overland 4x2 | $35,990 | $299 | 42 | 10k | $3,499 | Get Details |
| $382 | 2018 Jeep Cherokee Overland 4x2 | $35,190 | $299 | 42 | 10k | $3,499 | Get Details |
| $385 | 2018 Jeep Compass Sport 4x4 | $25,090 | $288 | 36 | 12k | $3,499 | Get Details |
| $388 | 2018 Hyundai Santa Fe SE FWD | $31,800 | $299 | 36 | 12k | $3,199 | Get Details |
| $389 | 2017 Jeep New Compass Sport 4x4 | $25,090 | $292 | 36 | 12k | $3,499 | Get Details |
| $400 | 2017 Lincoln MKC 2.0 Select Plus | $33,805 | $299 | 36 | 10.5k | $3,624 | Get Details |
| $402 | 2017 Ford Explorer XLT 4x2 202A | $38,450 | $299 | 36 | 10.5k | $3,699 | Get Details |
| $406 | 2018 GMC Acadia SLE 2WD | $33,535 | $299 | 36 | 10k | $3,869 | Get Details |
| $407 | 2017 Infiniti QX50 Premium FWD | $36,545 | $299 | 39 | 10k | $4,199 | Get Details |
| $410 | 2017 Lexus NX 200t Base 4x2 | $37,528 | $299 | 36 | 10k | $3,999 | Get Details |
| $423 | 2017 Buick Envision Preferred | $36,795 | $299 | 39 | 10k | $4,849 | Get Details |