This month, we found 88 SUV leases under $300 per month. In this range, your options range from a $21,000 Honda HR-V to a $38,000 Acura RDX. However, not all deals are great deals when factoring-in the amount due at signing.
We found the best SUVs under $300 both in terms of overall value and effective monthly cost. As a result, we've uncovered cases in which you can actually pay less to lease a vehicle that's up to $16,170 more expensive.
Updated January 10
Best Value Under $300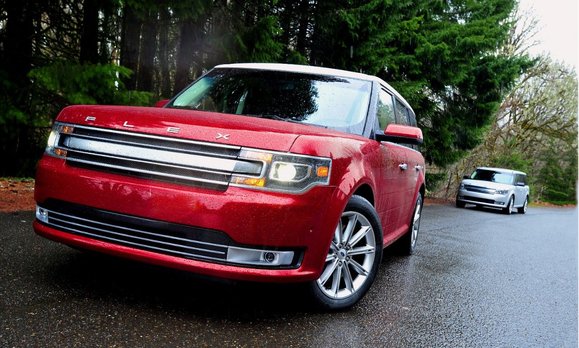 Based on our analysis, the 2018 Ford Flex is the best value SUV lease under $300. This month, you can lease a well-equipped SEL with Appearance Package from just $229 for 36 months with $2,869 due at signing here in California.
With an effective cost of $309, it's an unbelievable value given its rather steep $37,790 MSRP. To put that in perspective, that's actually $23/month less than a Mitsubishi Outlander Sport ES despite a $16,170 difference in MSRP.
Along with a powerful 290 hp V6 and spacious cabin, the Flex comes equipped with features like leather, voice-activated navigation, 18" alloy wheels and a unique design that doesn't look every other SUV on the road.
Honorable Mentions
In places like Los Angeles, there's a brutal fight going on between the Toyota RAV4 and Mazda CX-5. Following a huge $50 cut in price, the RAV4 LE now has the exact same $199 lease as the CX-5 Sport.
Both now start at just $199 for 36 months with $1,999 due at signing. With an effective cost of $255, these are incredible values given their sticker prices of over $25,000.
In addition to attractive pricing, both offer advanced safety features like collision prevention at no extra charge. This is technology you'd normally have to pay substantially more for when considering a competitor. All Best Value SUVs »
Cheapest Under $300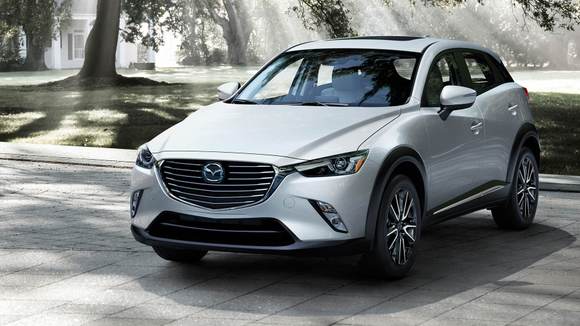 This month, it's a tie between the Mazda CX-3 and Toyota C-HR for the cheapest SUV under $300. Both now offer the same lease of $189 for 36 months with $1,999 due at signing here in Los Angeles.
With an effective cost of $245, the C-HR is $8/month more affordable than the Honda HR-V despite having a sticker price that's $2,309 more expensive. Like the C-HR, the CX-3 boasts collision mitigation for 2018 at no extra charge.
Honorable Mention
As always, the Honda HR-V is one of the most affordable alternatives at just $189/month. However, with an effective cost of $253 and no standard driver assistance tech, it's not a particularly good value. At that price, you could upgrade to a RAV4 or CX-5 for an extra $2/month. All Cheapest SUV Leases »
All SUVs Under $300
We're currently tracking 88 offers with a monthly payment under $300.
| | | | | | | |
| --- | --- | --- | --- | --- | --- | --- |
| Effective Cost | Model | Monthly Payment | Term | Due at Signing | Region | More Info |
| $218 | 2017 Buick Encore [CA and Select Regions] Base FWD (GM Lessees) | $199 | 39 | $724 | National | Get Details |
| $238 | 2017 Volkswagen Tiguan Limited 2.0T S FWD | $169 | 36 | $2,499 | California | Get Details |
| $245 | 2018 Mazda CX-3 Sport FWD | $189 | 36 | $1,999 | Los Angeles | Get Details |
| $245 | 2018 Toyota C-HR XLE (Los Angeles) | $189 | 36 | $1,999 | Southern California | Get Details |
| $253 | 2018 Honda HR-V LX 2WD | $189 | 36 | $2,299 | National | Get Details |
| $254 | 2018 Subaru Crosstrek 2.0i Manual (Los Angeles) | $199 | 36 | $1,979 | Los Angeles | Get Details |
| $255 | 2017 Mazda CX-5 Sport FWD Automatic | $199 | 36 | $1,999 | Los Angeles | Get Details |
| $255 | 2018 Toyota RAV4 LE FWD | $199 | 36 | $1,999 | Southern California | Get Details |
| $264 | 2018 Chevrolet Trax [CA and Select Regions] 1LT FWD | $159 | 39 | $4,109 | Select Regions | Get Details |
| $265 | 2018 Mazda CX-5 Sport FWD Automatic | $209 | 36 | $1,999 | Los Angeles | Get Details |
| $268 | 2017 Hyundai Tucson SE FWD | $199 | 36 | $2,499 | Los Angeles | Get Details |
| $268 | 2017 Buick Encore [National] Base FWD 1SB | $199 | 39 | $2,709 | National | Get Details |
| $270 | 2017 Mitsubishi Outlander Sport 2.0 ES CVT 2WD | $203 | 36 | $2,427 | National | Get Details |
| $272 | 2018 Honda HR-V LX AWD | $189 | 36 | $2,999 | National | Get Details |
| $272 | 2018 Kia Sportage LX 2.4 FWD | $189 | 36 | $2,999 | California | Get Details |
| $275 | 2018 Subaru Crosstrek 2.0i Manual (National) | $219 | 36 | $1,999 | National | Get Details |
| $276 | 2018 Buick Encore Base FWD 1SB | $199 | 39 | $2,989 | National | Get Details |
| $277 | 2018 Kia Sorento L 2.4 FWD | $199 | 36 | $2,799 | California | Get Details |
| $281 | 2018 Honda HR-V EX 2WD | $209 | 36 | $2,599 | National | Get Details |
| $282 | 2018 Kia Sportage LX 2.4 AWD | $199 | 36 | $2,999 | California | Get Details |
| $282 | 2018 Chevrolet Trax [National] 1LT FWD | $179 | 39 | $4,029 | National | Get Details |
| $284 | 2017 Nissan Rogue S AWD | $199 | 36 | $3,049 | Los Angeles | Get Details |
| $284 | 2017 Nissan Rogue Sport S AWD | $159 | 36 | $4,499 | Los Angeles | Get Details |
| $298 | 2017 Volkswagen Tiguan 2.0T S | $229 | 36 | $2,499 | California | Get Details |
| $299 | 2018 Volkswagen Tiguan 2.0T S FWD (Sign & Drive) | $299 | 36 | $0 | California | Get Details |
| $301 | 2018 Honda HR-V EX AWD | $229 | 36 | $2,599 | National | Get Details |
| $302 | 2018 Kia Sorento LX 2.4 FWD | $219 | 36 | $2,999 | California | Get Details |
| $305 | 2018 Toyota RAV4 Hybrid XLE AWD | $249 | 36 | $1,999 | Southern California | Get Details |
| $306 | 2017 FIAT 500X Pop Automatic | $229 | 48 | $3,699 | National | Get Details |
| $306 | 2017 Jeep Renegade Limited 4x2 | $219 | 48 | $4,199 | National | Get Details |
| $306 | 2017 Jeep Renegade Limited 4x4 | $219 | 48 | $4,199 | National | Get Details |
| $309 | 2017 Jeep Renegade Latitude 4x4 | $219 | 48 | $4,299 | National | Get Details |
| $309 | 2017 Jeep Renegade Trailhawk 4x4 | $219 | 48 | $4,299 | National | Get Details |
| $309 | 2018 Ford Flex SEL FWD 202A | $229 | 36 | $2,869 | California | Get Details |
| $314 | 2018 Chevrolet Equinox [National] LT 2WD | $229 | 39 | $3,299 | National | Get Details |
| $316 | 2018 Jeep Cherokee Limited 4x2 | $219 | 36 | $3,499 | National | Get Details |
| $316 | 2018 Ford Escape SE FWD 200A | $239 | 36 | $2,789 | California | Get Details |
| $317 | 2018 Hyundai Tucson SE FWD | $239 | 36 | $2,799 | Los Angeles | Get Details |
| $317 | 2018 GMC Terrain SLE 2WD | $249 | 39 | $2,659 | National | Get Details |
| $321 | 2017 Jeep Renegade Latitude 4x2 | $219 | 48 | $4,899 | National | Get Details |
| $322 | 2018 Honda HR-V EX-L Navi 2WD | $239 | 36 | $2,999 | National | Get Details |
| $324 | 2018 Toyota Highlander LE Plus (NYC) | $249 | 36 | $2,699 | New York | Get Details |
| $326 | 2018 Jeep Cherokee Limited 4x4 | $229 | 36 | $3,499 | National | Get Details |
| $326 | 2018 Jeep Cherokee Trailhawk 4x4 | $229 | 36 | $3,499 | National | Get Details |
| $326 | 2018 Jeep Compass Latitude FWD | $229 | 36 | $3,499 | National | Get Details |
| $327 | 2018 Hyundai Santa Fe Sport 2.4L Base FWD | $249 | 36 | $2,799 | Los Angeles | Get Details |
| $327 | 2018 Kia Sorento LX 2.4 AWD | $244 | 36 | $2,999 | California | Get Details |
| $332 | 2018 Mitsubishi Outlander Sport 2.0 ES CVT 2WD | $249 | 36 | $2,998 | National | Get Details |
| $332 | 2018 Mitsubishi Outlander 2.4 ES CVT 2WD | $269 | 48 | $3,043 | National | Get Details |
| $333 | 2018 Jeep Cherokee Latitude 4x4 | $219 | 36 | $4,099 | National | Get Details |
| $334 | 2017 FIAT 500X Lounge AWD | $272 | 48 | $2,999 | National | Get Details |
| $336 | 2018 Jeep Compass Latitude 4x4 | $239 | 36 | $3,499 | National | Get Details |
| $340 | 2018 Honda HR-V EX-L Navi AWD | $259 | 36 | $2,899 | National | Get Details |
| $343 | 2017 Buick Envision Preferred (Non-GM Lessees) | $299 | 36 | $1,589 | National | Get Details |
| $345 | 2017 Honda Pilot LX 2WD | $259 | 36 | $3,099 | Southern California | Get Details |
| $349 | 2018 Chevrolet Equinox [CA and Select Regions] LT 2WD | $199 | 24 | $3,599 | Select Regions | Get Details |
| $353 | 2018 Jeep Wrangler Unlimited JK Sport 4dr 24C | $284 | 36 | $2,499 | National | Get Details |
| $356 | 2018 Jeep Compass Limited FWD | $259 | 36 | $3,499 | National | Get Details |
| $357 | 2017 Jeep Renegade Sport FWD | $284 | 48 | $3,499 | National | Get Details |
| $359 | 2017 Nissan Murano S FWD (Plus $1,000 Bonus) | $259 | 36 | $3,599 | Los Angeles | Get Details |
| $359 | 2018 GMC Acadia SLE-1 2WD (Current GM Lessees) | $299 | 36 | $2,169 | National | Get Details |
| $362 | 2017 Nissan Pathfinder S 4x4 (Plus $500 Bonus) | $279 | 36 | $2,999 | Los Angeles | Get Details |
| $364 | 2017 Jeep Wrangler Unlimited Sport 4dr 24C | $295 | 36 | $2,499 | National | Get Details |
| $366 | 2018 Jeep Compass Trailhawk 4x4 | $269 | 36 | $3,499 | National | Get Details |
| $366 | 2018 Jeep Compass Limited 4x4 | $269 | 36 | $3,499 | National | Get Details |
| $377 | 2018 Acura RDX Base 2WD | $299 | 36 | $2,799 | National | Get Details |
| $378 | 2017 Infiniti QX50 Premium FWD | $299 | 39 | $3,099 | California | Get Details |
| $382 | 2018 Ford Edge SE FWD | $299 | 36 | $2,999 | California | Get Details |
| $383 | 2018 Jeep Compass Sport FWD | $286 | 36 | $3,499 | National | Get Details |
| $384 | 2018 Dodge Journey Crossroad FWD | $259 | 24 | $2,999 | National | Get Details |
| $385 | 2017 Buick Envision Preferred | $299 | 36 | $3,089 | National | Get Details |
| $385 | 2017 Honda Pilot LX AWD | $299 | 36 | $3,099 | Southern California | Get Details |
| $388 | 2018 Hyundai Santa Fe SE FWD | $299 | 36 | $3,199 | Los Angeles | Get Details |
| $389 | 2018 Chevrolet Traverse [CA And Select Regions] LT FWD | $279 | 36 | $3,969 | Select Regions | Get Details |
| $391 | 2018 Acura RDX Base AWD | $299 | 36 | $3,299 | National | Get Details |
| $391 | 2017 Dodge Journey G/T FWD | $266 | 24 | $2,999 | National | Get Details |
| $393 | 2018 Nissan Pathfinder S 4x4 | $299 | 36 | $3,389 | Los Angeles | Get Details |
| $396 | 2018 Jeep Cherokee Overland 4x2 | $299 | 36 | $3,499 | National | Get Details |
| $401 | 2018 GMC Acadia SLE-1 2WD | $299 | 36 | $3,669 | National | Get Details |
| $403 | 2018 Mitsubishi Outlander PHEV | $289 | 36 | $4,088 | National | Get Details |
| $404 | 2018 Dodge Journey G/T FWD | $279 | 24 | $2,999 | National | Get Details |
| $404 | 2018 Dodge Journey Crossroad AWD | $279 | 24 | $2,999 | National | Get Details |
| $411 | 2018 Chevrolet Traverse [National] LT FWD | $299 | 36 | $4,039 | National | Get Details |
| $424 | 2018 Dodge Journey G/T AWD | $299 | 24 | $2,999 | National | Get Details |
| $430 | 2017 Dodge Journey Crossroad AWD | $284 | 24 | $3,499 | National | Get Details |
| $431 | 2017 Dodge Journey G/T AWD | $285 | 24 | $3,499 | National | Get Details |
| $435 | 2017 Dodge Journey Crossroad FWD | $285 | 24 | $3,599 | National | Get Details |
| $447 | 2018 Buick Envision Preferred 1SD | $299 | 39 | $5,759 | National | Get Details |