We found 79 SUV leases with a payment under $300 per month. In this price range, your options range from a $21,000 Mazda CX-3 to an over-$40,000 BMW X2.
That said, not all deals are great deals because of differences like the amount due at signing. That's why we've calculated the effective cost of every SUV under $300 toward the bottom of this page.
Best SUV Lease Under $300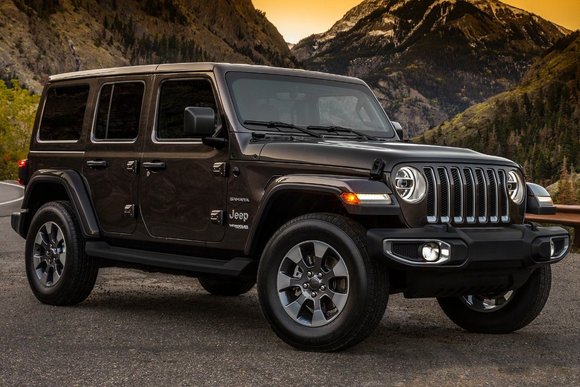 The 4-door Wrangler can be an exceptional value when leased thanks to strong residual values. With an effective cost of $342/month here in California, it's $20 cheaper to lease than a 2019 Honda Pilot LX ($362) despite having a higher MSRP.
As we reported last month, the 2020 model can actually be cheaper to lease than the 2019 version. This continues to be the case in October, with a $62/month advantage in favor of the 2020 model when comparing advertised offers.
Cheapest SUV Under $300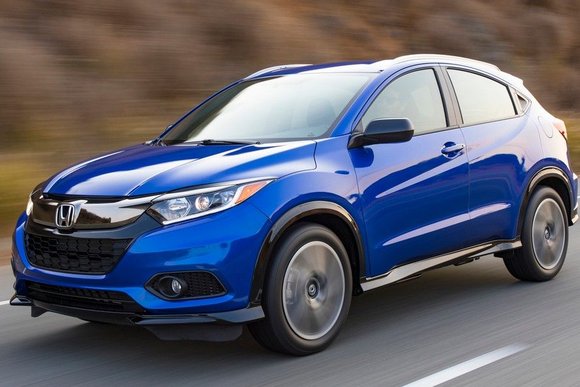 With an effective cost of $261/month, the HR-V is the cheapest SUV you can lease without a bunch of strings attached. However, competitors like the Mazda CX-3 Sport ($263), Toyota C-HR LE ($275) are all within a very similar price range.
In addition, compact SUVs can offer an even greater value because of better incentives. For example, the Volkswagen Tiguan S is over $2,500 more expensive in terms of MSRP but has an effective cost of $276/month, making it one of the best leases on an SUV.
View All Cheapest SUV Leases »
Every SUV Lease Under $300
Here's every SUV lease we found with a payment under $300/month.
| | | | | | | |
| --- | --- | --- | --- | --- | --- | --- |
| Effective Cost | Model | Monthly Payment | Term | Due at Signing | Region | More Info |
| $247 | 2019 Jeep Compass Latitude 4x2 with 28J Package (Returning FCA Lessees) | $159 | 42 | $3,675 | California | Get Details |
| $261 | 2019 Honda HR-V LX | $189 | 36 | $2,599 | National | Get Details |
| $263 | 2019 Mazda CX-3 Sport | $180 | 36 | $2,999 | Los Angeles | Get Details |
| $275 | 2019 Toyota C-HR LE | $219 | 36 | $1,999 | Southern California | Get Details |
| $276 | 2019 Volkswagen Tiguan S 2.0T | $199 | 39 | $2,999 | California | Get Details |
| $278 | 2019 Hyundai Kona SEL | $209 | 36 | $2,499 | Los Angeles | Get Details |
| $281 | 2019 Honda HR-V LX AWD | $189 | 36 | $3,299 | National | Get Details |
| $281 | 2019 Hyundai Tucson SE | $209 | 36 | $2,599 | Los Angeles | Get Details |
| $282 | 2020 Kia Sportage LX | $199 | 36 | $2,999 | CA & Select States | Get Details |
| $284 | 2019 Honda HR-V Sport | $209 | 36 | $2,699 | National | Get Details |
| $287 | 2019 Jeep Grand Cherokee Laredo E 4x2 with 2BE Package (Returning FCA Lessees) | $179 | 36 | $3,899 | California | Get Details |
| $288 | 2020 Hyundai Kona SEL FWD | $219 | 36 | $2,499 | Los Angeles | Get Details |
| $290 | 2019 Subaru Crosstrek 2.0i with Manual | $235 | 36 | $1,989 | Los Angeles | Get Details |
| $291 | 2019 Ford Escape SE 200A (Select Stock After $1,500 Trade-In Bonus) | $209 | 36 | $2,959 | California | Get Details |
| $291 | 2020 Hyundai Tucson SE | $219 | 36 | $2,599 | Los Angeles | Get Details |
| $292 | 2019 Kia Niro LX | $209 | 36 | $2,999 | CA & Select States | Get Details |
| $292 | 2020 Kia Sportage LX AWD | $209 | 36 | $2,999 | CA & Select States | Get Details |
| $293 | 2019 Nissan Rogue Sport S AWD (Incl. $500 Loyalty Bonus) | $209 | 36 | $3,029 | Los Angeles | Get Details |
| $294 | 2019 Mazda CX-5 Sport | $211 | 36 | $2,999 | Los Angeles | Get Details |
| $296 | 2019 Ford EcoSport SE 200A w/Conv. Pkg (Select Stock) | $219 | 36 | $2,769 | California | Get Details |
| $297 | 2019 Hyundai Santa Fe SE (fmr Santa Fe Sport) | $219 | 36 | $2,799 | Los Angeles | Get Details |
| $297 | 2020 Hyundai Santa Fe SE | $219 | 36 | $2,799 | Los Angeles | Get Details |
| $301 | 2019 Chevrolet Trax LT (National) | $199 | 39 | $3,959 | National | Get Details |
| $301 | 2019 Subaru Outback 2.5i with CVT | $239 | 36 | $2,239 | Los Angeles | Get Details |
| $304 | 2019 Honda HR-V EX | $229 | 36 | $2,699 | National | Get Details |
| $312 | 2019 Subaru Forester 2.5i Base | $255 | 36 | $2,055 | Los Angeles | Get Details |
| $313 | 2019 Buick Encore Preferred 1SB | $199 | 39 | $4,429 | California | Get Details |
| $313 | 2019 Chevrolet Equinox LT (National) | $239 | 39 | $2,869 | National | Get Details |
| $313 | 2020 Chevrolet Trax LT (National) | $199 | 39 | $4,459 | National | Get Details |
| $314 | 2019 Ford Flex SEL w/Pkg 202A (Select Stock) | $209 | 36 | $3,779 | California | Get Details |
| $314 | 2020 Chevrolet Equinox LT (National) | $239 | 39 | $2,939 | National | Get Details |
| $322 | 2019 Honda HR-V EX AWD | $239 | 36 | $2,999 | National | Get Details |
| $324 | 2019 Honda CR-V LX | $249 | 36 | $2,699 | National | Get Details |
| $325 | 2019 GMC Terrain SLE | $259 | 39 | $2,579 | California | Get Details |
| $326 | 2019 Nissan Kicks SV with Two-Tone Roof (Incl. $500 Loyalty Bonus) | $275 | 36 | $1,829 | Los Angeles | Get Details |
| $326 | 2020 GMC Terrain SLE | $259 | 39 | $2,609 | California | Get Details |
| $326 | 2019 Kia Sorento LX 4-cylinder FWD | $229 | 36 | $3,499 | CA & Select States | Get Details |
| $327 | 2019 Mitsubishi Outlander Sport ES 2.0 FWD | $274 | 39 | $2,048 | National | Get Details |
| $328 | 2019 Nissan Rogue S AWD (Incl. $500 Loyalty Bonus) | $219 | 36 | $3,929 | Los Angeles | Get Details |
| $332 | 2019 Honda HR-V EX-L | $249 | 36 | $2,999 | National | Get Details |
| $332 | 2019 Kia Niro Plug-In Hybrid LX | $249 | 36 | $2,999 | CA & Select States | Get Details |
| $333 | 2020 Subaru Outback Base | $265 | 36 | $2,465 | Los Angeles | Get Details |
| $337 | 2019 Honda CR-V EX | $259 | 36 | $2,799 | National | Get Details |
| $337 | 2019 Nissan Murano S (Incl. $750 Loyalty Bonus) | $269 | 36 | $2,439 | Los Angeles | Get Details |
| $338 | 2020 Nissan Rogue S AWD (Incl. $500 Loyalty Bonus) | $229 | 36 | $3,939 | Los Angeles | Get Details |
| $340 | 2019 Honda CR-V LX AWD | $259 | 36 | $2,899 | National | Get Details |
| $340 | 2020 Buick Encore Preferred 1SB | $199 | 39 | $5,499 | California | Get Details |
| $342 | 2020 Jeep Wrangler Unlimited Sport 4dr with Package 22B | $231 | 36 | $3,995 | California | Get Details |
| $342 | 2020 Subaru Forester 2.5i Base | $279 | 36 | $2,279 | Los Angeles | Get Details |
| $346 | 2019 Kia Sorento LX 4-cylinder AWD | $249 | 36 | $3,499 | CA & Select States | Get Details |
| $346 | 2020 Kia Sorento LX 4-cylinder FWD | $249 | 36 | $3,499 | CA & Select States | Get Details |
| $349 | 2020 Jeep Compass Latitude 4x2 with 28J Package | $266 | 42 | $3,499 | California | Get Details |
| $350 | 2019 Honda CR-V EX AWD | $269 | 36 | $2,899 | National | Get Details |
| $351 | 2019 Honda HR-V EX-L AWD | $259 | 36 | $3,299 | National | Get Details |
| $351 | 2020 Nissan Murano S | $269 | 36 | $2,939 | Los Angeles | Get Details |
| $352 | 2020 Mitsubishi Outlander Sport ES 2.0 FWD | $274 | 39 | $3,048 | National | Get Details |
| $353 | 2019 Dodge Journey Crossroad with 22S Package | $259 | 42 | $3,949 | California | Get Details |
| $355 | 2019 Toyota RAV4 LE | $299 | 36 | $1,999 | Southern California | Get Details |
| $358 | 2019 Mitsubishi Outlander 2.4 ES | $299 | 48 | $2,848 | National | Get Details |
| $362 | 2019 Honda CR-V EX-L | $279 | 36 | $2,999 | National | Get Details |
| $362 | 2019 Honda Pilot LX | $279 | 36 | $2,999 | National | Get Details |
| $364 | 2020 Mitsubishi Eclipse Cross ES 1.5T FWD | $239 | 36 | $4,488 | National | Get Details |
| $365 | 2019 Nissan Pathfinder S AWD (Incl. $750 Loyalty Bonus) | $269 | 36 | $3,459 | Los Angeles | Get Details |
| $366 | 2019 Volkswagen Golf Alltrack S with Automatic | $289 | 39 | $2,999 | CA, AZ, NV, OR, AK | Get Details |
| $366 | 2019 Kia Sorento LX V6 FWD | $269 | 36 | $3,499 | CA & Select States | Get Details |
| $366 | 2020 Kia Sorento LX 4-cylinder AWD | $269 | 36 | $3,499 | CA & Select States | Get Details |
| $367 | 2019 Mitsubishi Eclipse Cross ES 1.5T AWD | $269 | 36 | $3,543 | National | Get Details |
| $369 | 2019 Chevrolet Blazer 1LT 2.5L with Cloth (National, Current GM Lessees) | $289 | 36 | $2,879 | National | Get Details |
| $373 | 2019 Mazda CX-9 Sport | $290 | 36 | $2,999 | Los Angeles | Get Details |
| $378 | 2019 Honda CR-V EX-L AWD | $289 | 36 | $3,199 | National | Get Details |
| $379 | 2019 Volkswagen Atlas SE V6 | $289 | 39 | $3,499 | California | Get Details |
| $382 | 2019 Ford Edge SEL 201A w/Conv. Pkg (Select Stock After $1,500 Trade-In Bonus) | $269 | 36 | $4,079 | California | Get Details |
| $385 | 2019 Honda Pilot LX AWD | $299 | 36 | $3,099 | National | Get Details |
| $386 | 2019 Kia Sorento LX V6 AWD | $289 | 36 | $3,499 | CA & Select States | Get Details |
| $389 | 2019 Volkswagen Golf SportWagen SE with Automatic | $299 | 39 | $3,499 | CA, AZ, NV, OR, AK | Get Details |
| $390 | 2019 Chevrolet Blazer 1LT 2.5L with Cloth (National) | $289 | 36 | $3,629 | National | Get Details |
| $404 | 2019 Jeep Wrangler Unlimited Sport 4dr with Package 24B (Returning FCA Lessees) | $279 | 36 | $4,499 | California | Get Details |
| $416 | 2019 BMW X1 sDrive28i (Incl $750 Conquest/Loyalty) | $299 | 36 | $4,224 | California | Get Details |
| $416 | 2019 BMW X2 sDrive28i (Incl $750 Conquest/Loyalty) | $299 | 36 | $4,224 | California | Get Details |