We found 51 SUV leases with a payment under $300 per month in November. At this price, your vehicle choices can range from a $20,000 Hyundai Venue to a $41,000 Kia Niro EV.
However, not all offers are great deals because of differences in the amounts due at signing. That's why we've calculated the effective cost of every SUV under $300 to help you find the best deals possible.
Best SUV Lease Under $300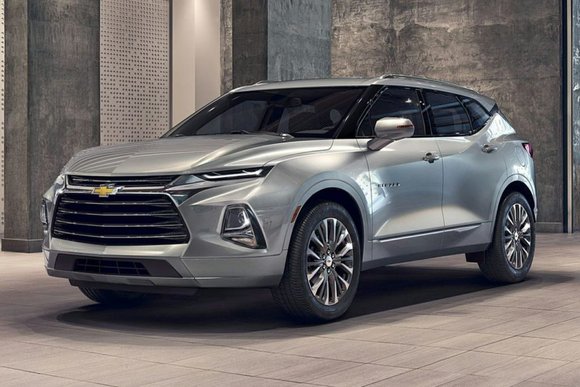 You'll be hard-pressed to find a better lease on a midsize SUV than the Chevy Blazer 2LT. With an effective cost of $324/month, it's a true bargain despite having an MSRP of over $34,000. Current GM and Non-GM lessees who claim Chevy Cyber Cash can take advantage of this special deal ahead of Black Friday.
Although GMC has a Terrain lease deal that comes out to a $292 effective cost, the deal on the Blazer is based on a sticker price of $5,500 higher and a more lenient loyalty/conquest incentive.
View All Top SUV Lease Deals »
Cheapest SUV Under $300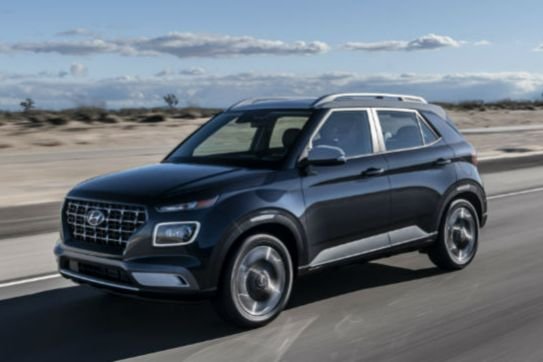 With an effective cost of $231/month, the Hyundai Venue SE remains one of the cheapest SUVs you can lease. Sure, there may be cheaper leases on models like the Chevy Trax, but nearly every one of them includes a discount you may not be eligible for.
Good lease incentives on the Venue are rare, so this could be a deal worth snatching up. Alternatively, qualified buyers will find 0% APR for 48 months, with the option to defer their first payment until 2022. Be sure to consider all your options.
Hyundai's leases may vary slightly depending on where you live. This is based on an offer in Southern California.
View All Cheapest SUV Leases »
Every SUV Lease Under $300
Here's every SUV lease we found with a payment under $300/month.
| | | | | | | |
| --- | --- | --- | --- | --- | --- | --- |
| Effective Cost | Model | Monthly Payment | Term | Due at Signing | Region | Customize Offer |
| $223 | 2022 Chevrolet Trax LS AWD (Current GM/Non-GM Lessees + Cyber Cash) | $169 | 39 | $2,119 | National | Customize Offer |
| $231 | 2022 Hyundai Venue SE | $159 | 36 | $2,599 | Southern California | Customize Offer |
| $257 | 2022 Buick Encore GX Preferred 1SB (Current Buick/GMC Lessees) | $219 | 39 | $1,489 | National | Customize Offer |
| $265 | 2022 Chevrolet Trailblazer LT FWD (Current GM/Non-GM Lessees + Cyber Cash) | $199 | 39 | $2,559 | National | Customize Offer |
| $266 | 2022 Buick Encore Preferred 1SB Current Buick/GMC Lessees | $199 | 39 | $2,609 | National | Customize Offer |
| $280 | 2022 Honda HR-V LX | $199 | 36 | $2,899 | National | Customize Offer |
| $282 | 2022 Kia Niro LX Hybrid | $199 | 36 | $2,999 | CA, CO, DE, FL, HI, IL, IN, ME, MI, MN, ND, NE, OH, PA, UT, VT, WI, WY | Customize Offer |
| $282 | 2022 Kia Seltos LX AWD | $199 | 36 | $2,999 | CA, CO, DE, FL, HI, IL, IN, ME, MI, MN, ND, NE, OH, PA, UT, VT, WI, WY | Customize Offer |
| $285 | 2022 Kia Seltos S FWD | $199 | 36 | $3,099 | CA, CO, DE, FL, HI, IL, IN, ME, MI, MN, ND, NE, OH, PA, UT, VT, WI, WY | Customize Offer |
| $286 | 2022 Kia Sportage LX | $189 | 36 | $3,499 | CA, CO, DE, FL, HI, IL, IN, ME, MI, MN, ND, NE, OH, PA, UT, VT, WI, WY | Customize Offer |
| $286 | 2021 Subaru Crosstrek Base with CVT | $219 | 36 | $2,419 | Los Angeles, CA | Customize Offer |
| $289 | 2022 Hyundai Kona SE (Sign & Drive) | $289 | 36 | $0 | Southern California | Customize Offer |
| $292 | 2022 Kia Niro Plug-In Hybrid LX PHEV | $209 | 36 | $2,999 | CA, CO, DE, FL, HI, IL, IN, ME, MI, MN, ND, NE, OH, PA, UT, VT, WI, WY | Customize Offer |
| $292 | 2022 GMC Terrain SLE-1 (Current Buick/GMC Lessees) | $249 | 39 | $1,689 | National | Customize Offer |
| $296 | 2022 Kia Sportage LX AWD | $199 | 36 | $3,499 | CA, CO, DE, FL, HI, IL, IN, ME, MI, MN, ND, NE, OH, PA, UT, VT, WI, WY | Customize Offer |
| $298 | 2021 Subaru Forester 2.5i Base | $229 | 36 | $2,489 | Los Angeles, CA | Customize Offer |
| $299 | 2022 Honda HR-V LX AWD | $199 | 36 | $3,599 | National | Customize Offer |
| $310 | 2022 Mitsubishi Eclipse Cross ES 1.5T 2WD | $209 | 39 | $3,933 | National | Customize Offer |
| $316 | 2022 Kia Niro EV EX EV | $219 | 36 | $3,499 | CA, CO, DE, FL, HI, IL, IN, ME, MI, MN, ND, NE, OH, PA, UT, VT, WI, WY | Customize Offer |
| $316 | 2021 Mazda CX-30 Select AWD w/ Automatic | $219 | 36 | $3,499 | Los Angeles, CA | Customize Offer |
| $324 | 2022 Chevrolet Blazer 2LT (GM/Non-GM Lessees + Cyber Cash) | $229 | 36 | $3,419 | National | Customize Offer |
| $325 | 2022 Subaru Forester 2.5i Base | $255 | 36 | $2,515 | Los Angeles, CA | Customize Offer |
| $330 | 2021 Chevrolet Blazer 2LT V6 (GM/Non-GM Lessees + Cyber Cash) | $229 | 36 | $3,629 | National | Customize Offer |
| $330 | 2021 Chevrolet Blazer 1LT (GM/Non-GM Lessees + Cyber Cash) | $229 | 36 | $3,649 | National | Customize Offer |
| $335 | 2022 Chevrolet Bolt EUV 2LT (GM/Non-GM Lessees, San Francisco) | $269 | 36 | $2,359 | San Francisco | Customize Offer |
| $337 | 2022 Chevrolet Equinox LT (Current GM/Non-GM Lessees + Cyber Cash) | $199 | 24 | $3,309 | National | Customize Offer |
| $339 | 2021 Mitsubishi Outlander Sport ES 2.0 2WD | $249 | 39 | $3,498 | National | Customize Offer |
| $343 | 2021 Nissan Rogue Sport S AWD | $219 | 36 | $4,469 | Los Angeles, CA | Customize Offer |
| $346 | 2022 Subaru Outback Base | $265 | 36 | $2,899 | Los Angeles, CA | Customize Offer |
| $349 | 2021 Toyota C-HR LE (Estimated Payment) | $268 | 36 | $2,918 | Southern California | Customize Offer |
| $351 | 2021 Honda CR-V LX FWD | $259 | 36 | $3,299 | National | Customize Offer |
| $355 | 2022 Hyundai Tucson Blue Hybrid | $255 | 36 | $3,599 | Southern California | Customize Offer |
| $355 | 2022 Chevrolet Bolt EUV 2LT (GM/Non-GM Lessees) | $269 | 36 | $3,109 | National | Customize Offer |
| $359 | 2022 Hyundai Kona SEL EV | $259 | 36 | $3,599 | Southern California | Customize Offer |
| $362 | 2022 Honda CR-V LX FWD | $279 | 36 | $2,999 | National | Customize Offer |
| $364 | 2022 Mitsubishi Outlander ES 2.5 2WD | $239 | 36 | $4,488 | National | Customize Offer |
| $367 | 2021 Subaru Ascent Base 8-Passenger | $279 | 36 | $3,179 | Los Angeles, CA | Customize Offer |
| $369 | 2022 Toyota Corolla Cross L (Estimated Payment) | $287 | 36 | $2,937 | Southern California | Customize Offer |
| $370 | 2021 Honda CR-V LX AWD | $259 | 36 | $3,999 | National | Customize Offer |
| $371 | 2021 Nissan Rogue S AWD | $219 | 36 | $5,489 | Los Angeles, CA | Customize Offer |
| $376 | 2022 Kia Sorento LX 2.5L FWD | $279 | 36 | $3,499 | CA, CO, DE, FL, HI, IL, IN, ME, MI, MN, ND, NE, OH, PA, UT, VT, WI, WY | Customize Offer |
| $376 | 2021 Mazda CX-5 Touring AWD w/ Automatic | $279 | 36 | $3,499 | Los Angeles, CA | Customize Offer |
| $379 | 2022 Honda CR-V LX AWD | $279 | 36 | $3,599 | National | Customize Offer |
| $381 | 2021 Honda Passport Sport | $289 | 36 | $3,299 | National | Customize Offer |
| $384 | 2022 Mitsubishi Outlander PHEV SEL | $269 | 36 | $4,133 | National | Customize Offer |
| $389 | 2022 Jeep Compass Latitude FWD with Pkg 28J | $299 | 42 | $3,799 | California | Customize Offer |
| $390 | 2021 Honda CR-V Hybrid EX Hybrid | $279 | 36 | $3,999 | National | Customize Offer |
| $393 | 2021 Jeep Wrangler Unlimited Sport 4dr 4x4 with Pkg 22B | $298 | 42 | $3,995 | California | Customize Offer |
| $394 | 2021 Nissan Murano S FWD | $289 | 36 | $3,779 | Los Angeles, CA | Customize Offer |
| $400 | 2021 Honda Passport Sport AWD | $289 | 36 | $3,999 | National | Customize Offer |
| $405 | 2022 Honda CR-V Hybrid EX Hybrid | $299 | 36 | $3,799 | National | Customize Offer |