This month, we found 109 SUVs with a lease payment under $300/month. At this price, your options range from a $21,000 Mazda CX-3 Sport to the $37,790 Ford Flex SEL.
However, not all deals are great deals when factoring the amount due at signing. We've identified the best deals both in terms of overall value and cheapest effective monthly cost.
Updated 11:05 am March 9
Leases With The Best Value
The 2018 Terrain can be an unbelievably good value if you're eligible for every possible discount. This month's featured deal here in California is $216 for 36 months with $3,216 at signing.
While that isn't particularly good in and of itself, you can get a $3,000 bonus simply for being a lessee of a non-GM vehicle. If you qualify, the amount due at signing falls to just $216.
With an effective cost of just $222 when factoring the payment and amount due, this equates to an incredible deal for a vehicle with an MSRP of $28,895. That's cheaper than a Ford Fiesta!
Honorable Mentions
In places like Los Angeles, there continues to be a brutal fight going on between the 2018 RAV4 and 2017 CX-5, with both featuring the exact same lease.
To top it off, both come with advanced safety features like active collision prevention. This is technology you'd normally have to pay big bucks for elsewhere.
Leases With The Cheapest Price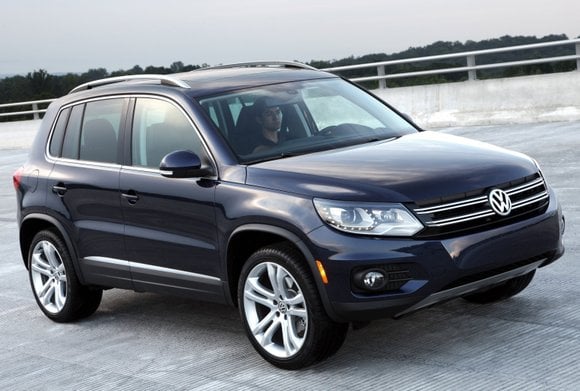 There's no topping the Tiguan Limited if you're interested in paying the least amount of money. With an effective cost of just $208/month, this nearly $23,000 SUV is cheaper to lease than many small cars.
That's actually $10 more affordable than it was in February, making it $7/month less than a 2018 Toyota Corolla LE here in Los Angeles ($215).
Honorable Mentions
Both the 2018 Mazda CX-3 and Toyota C-HR are very affordable alternatives. Each also comes with the added benefit of a standard low-speed collision system.
In Southern California, both feature the same lease, with an effective cost of just $245/month. That said, we consider the larger CX-5 and RAV4 smart upgrades for just $10/month more.
Every SUV Lease Under $300
We're currently tracking 109 offers with a monthly payment under $300.
| | | | | | | |
| --- | --- | --- | --- | --- | --- | --- |
| Effective Cost | Model | Monthly Payment | Term | Due at Signing | Region | More Info |
| $208 | 2017 Volkswagen Tiguan Limited 2.0T S FWD | $139 | 36 | $2,499 | Western States | Get Details |
| $222 | 2018 GMC Terrain SLE 2WD (Non-GM Lessees) | $216 | 36 | $216 | California | Get Details |
| $245 | 2018 Mazda CX-3 Sport FWD | $189 | 36 | $1,999 | Los Angeles | Get Details |
| $245 | 2018 Toyota C-HR XLE | $189 | 36 | $1,999 | Southern California | Get Details |
| $253 | 2018 Honda HR-V LX 2WD | $189 | 36 | $2,299 | National | Get Details |
| $254 | 2018 Subaru Crosstrek 2.0i Manual (Los Angeles) | $199 | 36 | $1,979 | Los Angeles | Get Details |
| $255 | 2017 Mazda CX-5 Sport FWD Automatic | $199 | 36 | $1,999 | Los Angeles | Get Details |
| $255 | 2018 Toyota RAV4 LE FWD | $199 | 36 | $1,999 | Southern California | Get Details |
| $255 | 2017 Volkswagen Golf SportWagen 1.8T S w/Manual | $199 | 36 | $1,999 | Western States | Get Details |
| $265 | 2018 Mazda CX-5 Sport FWD Automatic | $209 | 36 | $1,999 | Los Angeles | Get Details |
| $266 | 2018 Hyundai Kona SEL FWD | $199 | 36 | $2,399 | National | Get Details |
| $267 | 2018 Subaru Forester 2.5i Manual (Los Angeles) | $219 | 36 | $1,719 | Los Angeles | Get Details |
| $268 | 2017 Hyundai Tucson SE FWD | $199 | 36 | $2,499 | Los Angeles | Get Details |
| $272 | 2018 Honda HR-V LX AWD | $189 | 36 | $2,999 | National | Get Details |
| $275 | 2018 Subaru Crosstrek 2.0i Manual (National) | $219 | 36 | $1,999 | National | Get Details |
| $275 | 2017 Volkswagen Golf SportWagen 1.8T S w/Automatic | $219 | 36 | $1,999 | Western States | Get Details |
| $275 | 2018 Chevrolet Trax [CA and Select Regions] 1LT FWD | $169 | 39 | $4,129 | Select Regions | Get Details |
| $275 | 2018 Ford EcoSport SE FWD 200A w/Convenience Pkg | $199 | 36 | $2,749 | California | Get Details |
| $277 | 2018 Kia Sorento L 2.4 FWD | $199 | 36 | $2,799 | California | Get Details |
| $280 | 2017 Mitsubishi Outlander Sport 2.0 ES CVT 2WD | $199 | 36 | $2,898 | National | Get Details |
| $281 | 2018 Honda HR-V EX 2WD | $209 | 36 | $2,599 | National | Get Details |
| $282 | 2018 Buick Encore Base FWD 1SB | $199 | 39 | $3,239 | National | Get Details |
| $282 | 2018 Kia Sportage LX 2.4 FWD | $199 | 36 | $2,999 | California | Get Details |
| $282 | 2018 Volkswagen Tiguan 2.0T S FWD | $199 | 36 | $2,999 | Western States | Get Details |
| $284 | 2017 Ford Edge SE FWD | $229 | 36 | $1,979 | California | Get Details |
| $284 | 2017 Nissan Rogue Sport S AWD | $159 | 36 | $4,499 | Los Angeles | Get Details |
| $287 | 2018 Subaru Forester 2.5i Manual (National) | $239 | 36 | $1,739 | National | Get Details |
| $287 | 2018 Subaru Outback 2.5i CVT (Los Angeles) | $239 | 36 | $1,739 | Los Angeles | Get Details |
| $292 | 2018 Kia Sportage LX 2.4 AWD | $209 | 36 | $2,999 | California | Get Details |
| $296 | 2018 Chevrolet Trax [National] 1LT FWD | $199 | 39 | $3,769 | National | Get Details |
| $301 | 2018 Honda HR-V EX AWD | $229 | 36 | $2,599 | National | Get Details |
| $301 | 2018 Hyundai Tucson SE FWD | $229 | 36 | $2,599 | Los Angeles | Get Details |
| $302 | 2018 Kia Sorento LX 2.4 FWD | $219 | 36 | $2,999 | California | Get Details |
| $305 | 2018 Toyota RAV4 Hybrid XLE AWD | $249 | 36 | $1,999 | Southern California | Get Details |
| $305 | 2018 FIAT 500X Trekking FWD | $239 | 48 | $3,149 | National | Get Details |
| $305 | 2018 GMC Terrain SLE 2WD | $216 | 36 | $3,216 | California | Get Details |
| $306 | 2018 Nissan Rogue S AWD | $209 | 36 | $3,499 | Los Angeles | Get Details |
| $308 | 2018 Subaru Outback 2.5i CVT (National) | $259 | 36 | $1,759 | National | Get Details |
| $309 | 2017 FIAT 500X Pop Automatic | $229 | 48 | $3,849 | National | Get Details |
| $310 | 2018 Ford Flex SEL FWD 202A | $239 | 36 | $2,539 | California | Get Details |
| $316 | 2018 Ford Escape SE FWD 200A | $239 | 36 | $2,789 | California | Get Details |
| $322 | 2018 Chevrolet Equinox [National] LT 2WD | $239 | 39 | $3,219 | National | Get Details |
| $322 | 2018 Mitsubishi Outlander 2.4 ES CVT 2WD | $259 | 48 | $3,033 | National | Get Details |
| $322 | 2018 Honda HR-V EX-L Navi 2WD | $239 | 36 | $2,999 | National | Get Details |
| $323 | 2017 Jeep Renegade Limited 4x2 | $219 | 42 | $4,349 | National | Get Details |
| $323 | 2017 Jeep Renegade Limited 4x4 | $219 | 42 | $4,349 | National | Get Details |
| $324 | 2018 Toyota Highlander LE (NYC) | $249 | 36 | $2,699 | New York | Get Details |
| $325 | 2017 Volkswagen Golf Alltrack S w/Manual | $269 | 36 | $1,999 | Western States | Get Details |
| $325 | 2017 Jeep Renegade Latitude 4x4 | $219 | 42 | $4,449 | National | Get Details |
| $325 | 2017 Jeep Renegade Trailhawk 4x4 | $219 | 42 | $4,449 | National | Get Details |
| $325 | 2018 Jeep All-New Wrangler Unlimited JL Sport 4dr 24B | $256 | 36 | $2,499 | National | Get Details |
| $327 | 2018 Hyundai Santa Fe Sport 2.4L Base FWD | $249 | 36 | $2,799 | Los Angeles | Get Details |
| $327 | 2018 Kia Sorento LX 2.4 AWD | $244 | 36 | $2,999 | California | Get Details |
| $330 | 2018 Jeep Cherokee Trailhawk 4x4 | $229 | 36 | $3,649 | National | Get Details |
| $330 | 2018 Jeep Compass Latitude FWD | $229 | 36 | $3,649 | National | Get Details |
| $330 | 2018 Jeep Renegade Latitude 4x4 | $229 | 36 | $3,649 | National | Get Details |
| $331 | 2018 Jeep Cherokee Limited 4x2 | $219 | 36 | $4,049 | National | Get Details |
| $332 | 2018 Mitsubishi Outlander Sport 2.0 ES CVT 2WD | $249 | 36 | $2,998 | National | Get Details |
| $332 | 2018 Volkswagen Golf SportWagen 1.8T S w/Automatic | $249 | 36 | $2,999 | Western States | Get Details |
| $335 | 2017 Volkswagen Golf Alltrack S w/Automatic | $279 | 36 | $1,999 | Western States | Get Details |
| $336 | 2018 Jeep Cherokee Limited 4x4 | $229 | 36 | $3,849 | National | Get Details |
| $338 | 2017 FIAT 500X Lounge AWD | $272 | 48 | $3,149 | National | Get Details |
| $338 | 2018 Jeep Wrangler Unlimited JK Sport 4dr 24C | $269 | 36 | $2,499 | National | Get Details |
| $339 | 2017 Jeep Renegade Latitude 4x2 | $219 | 42 | $5,049 | National | Get Details |
| $340 | 2018 Honda HR-V EX-L Navi AWD | $259 | 36 | $2,899 | National | Get Details |
| $340 | 2018 Jeep Compass Latitude 4x4 | $239 | 36 | $3,649 | National | Get Details |
| $340 | 2018 Jeep Renegade Limited 4x2 | $239 | 36 | $3,649 | National | Get Details |
| $340 | 2018 Jeep Renegade Limited 4x4 | $239 | 36 | $3,649 | National | Get Details |
| $340 | 2018 Jeep Renegade Trailhawk 4x4 | $239 | 36 | $3,649 | National | Get Details |
| $343 | 2018 Jeep Cherokee Latitude + 4x4 | $219 | 36 | $4,449 | National | Get Details |
| $344 | 2018 Jeep Renegade Latitude 4x2 | $229 | 36 | $4,149 | National | Get Details |
| $345 | 2018 MINI Clubman Cooper | $289 | 36 | $1,999 | California | Get Details |
| $345 | 2018 MINI Countryman Cooper | $289 | 36 | $1,999 | California | Get Details |
| $345 | 2018 FIAT 500X Lounge AWD | $279 | 48 | $3,149 | National | Get Details |
| $345 | 2017 Honda Pilot LX 2WD | $259 | 36 | $3,099 | Southern California | Get Details |
| $355 | 2018 Ford Edge SE FWD | $299 | 36 | $1,999 | California | Get Details |
| $355 | 2018 MINI Clubman Cooper S | $299 | 36 | $1,999 | California | Get Details |
| $355 | 2018 MINI Countryman Cooper S | $299 | 36 | $1,999 | California | Get Details |
| $356 | 2018 Chevrolet Equinox [CA and Select Regions] LT 2WD | $199 | 24 | $3,779 | Select Regions | Get Details |
| $359 | 2017 Nissan Murano S FWD (Plus $500 Bonus) | $259 | 36 | $3,599 | Los Angeles | Get Details |
| $360 | 2018 Jeep Compass Limited FWD | $259 | 36 | $3,649 | National | Get Details |
| $362 | 2017 Nissan Pathfinder S 4x4 (Plus $500 Bonus) | $279 | 36 | $2,999 | Los Angeles | Get Details |
| $362 | 2018 Volkswagen Tiguan 2.0T SE 4MOTION | $279 | 36 | $2,999 | Western States | Get Details |
| $362 | 2018 Jeep Wrangler JK Sport 2dr 24B w/Air | $293 | 36 | $2,499 | National | Get Details |
| $363 | 2018 Jeep Wrangler Unlimited JK Sport 4dr 24S | $294 | 36 | $2,499 | National | Get Details |
| $368 | 2018 Acura RDX Base 2WD | $299 | 36 | $2,499 | National | Get Details |
| $370 | 2018 Jeep Compass Trailhawk 4x4 | $269 | 36 | $3,649 | National | Get Details |
| $370 | 2018 Jeep Compass Limited 4x4 | $269 | 36 | $3,649 | National | Get Details |
| $374 | 2018 Hyundai Santa Fe SE FWD | $299 | 36 | $2,699 | Los Angeles | Get Details |
| $378 | 2017 Infiniti QX50 Premium FWD | $299 | 39 | $3,099 | California | Get Details |
| $382 | 2018 Acura RDX Base AWD | $299 | 36 | $2,999 | National | Get Details |
| $385 | 2017 Honda Pilot LX AWD | $299 | 36 | $3,099 | Southern California | Get Details |
| $390 | 2018 GMC Acadia SLE-1 2WD | $299 | 36 | $3,279 | National | Get Details |
| $390 | 2018 Dodge Journey Crossroad FWD | $259 | 24 | $3,149 | National | Get Details |
| $391 | 2018 Jeep Compass Sport FWD | $290 | 36 | $3,649 | National | Get Details |
| $393 | 2018 Nissan Pathfinder S 4x4 | $299 | 36 | $3,389 | Los Angeles | Get Details |
| $397 | 2018 Buick Envision Preferred 1SD | $299 | 36 | $3,519 | National | Get Details |
| $399 | 2018 Chevrolet Traverse [CA And Select Regions] LT FWD | $289 | 36 | $3,969 | Select Regions | Get Details |
| $400 | 2018 Jeep Cherokee Overland 4x2 | $299 | 36 | $3,649 | National | Get Details |
| $401 | 2019 Jeep Cherokee Latitude Plus 4x2 | $249 | 24 | $3,649 | National | Get Details |
| $401 | 2019 Jeep Cherokee Latitude Plus 4x4 | $249 | 24 | $3,649 | National | Get Details |
| $403 | 2018 Mitsubishi Outlander PHEV | $289 | 36 | $4,088 | National | Get Details |
| $410 | 2018 Dodge Journey G/T FWD | $279 | 24 | $3,149 | National | Get Details |
| $410 | 2018 Dodge Journey Crossroad AWD | $279 | 24 | $3,149 | National | Get Details |
| $411 | 2019 Jeep Cherokee Limited 4x2 | $259 | 24 | $3,649 | National | Get Details |
| $430 | 2018 Dodge Journey G/T AWD | $299 | 24 | $3,149 | National | Get Details |
| $431 | 2019 Jeep Cherokee Limited 4x4 | $279 | 24 | $3,649 | National | Get Details |
| $431 | 2019 Jeep Cherokee Trailhawk 4x4 | $279 | 24 | $3,649 | National | Get Details |
| $437 | 2018 Buick Regal TourX Preferred Wagon 1SB | $299 | 36 | $4,985 | National | Get Details |