This month, we found 68 SUVs with a lease payment under $300 per month. At this price, your options range from a $21,000 Nissan Kicks SV to the over $36,000 Chevrolet Traverse LT.
However, not all deals are great deals because of the amounts due at signing. That's why we've calculated the effective cost of every SUV under $300 in the table at the bottom of this page.
Updated 3:12 pm
Best SUV Lease Under $300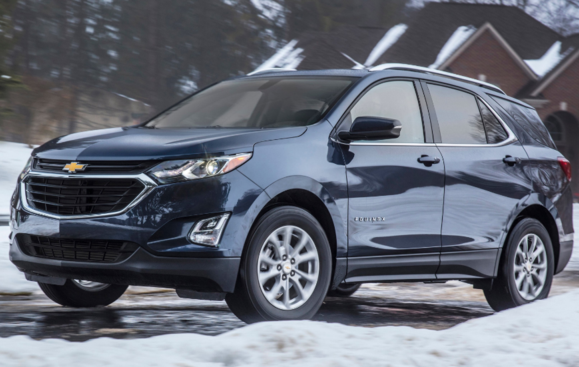 Steep discounts make the Equinox one of the best SUVs you can lease for under $300. As we discovered in our monthly analysis of over 300 leases, we learned the model actually came out to be less expensive to lease than a Chevy Trax in places like California.
With an effective cost of $253, the Equinox LT is $32/month cheaper to lease than a 2018 Honda CR-V LX and $42/month more affordable than a 2018 Toyota RAV4 LE. You'll have a hard time finding a better value under $300.
Cheapest SUV Under $300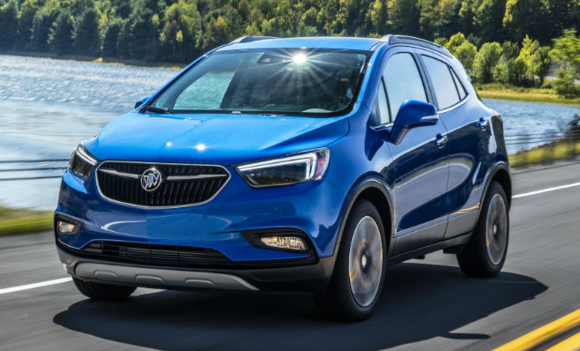 If you're a current GM lessee, the Encore Preferred can be an extremely cheap SUV to lease. With a $1,500 loyalty discount, its effective lease cost in places like California can be as low as $230/month. Without the bonus, the cost rises to $268.
Even at $268, the Encore comes in $8/month cheaper than a 2019 Honda HR-V LX, a model with an MSRP that's $4,030 less expensive. If you're looking to lease a more expensive SUV for less money, add the Encore to your shopping list.
View All Cheapest SUV Leases »
Every SUV Lease Under $300
Here's every SUV lease we found with a payment under $300/month.
| | | | | | | |
| --- | --- | --- | --- | --- | --- | --- |
| Effective Cost | Model | Monthly Payment | Term | Due at Signing | Region | More Info |
| $230 | 2019 Buick Encore Preferred 1SB (Current GM Lessees) | $199 | 39 | $1,199 | California | Get Details |
| $253 | 2019 Chevrolet Equinox LT (CA & Select States) [Non-GM Lessees] | $199 | 39 | $2,119 | CA & Select States | Get Details |
| $264 | 2018 Ford EcoSport SE 200A w/Convenience Pkg (Select Inventory) | $189 | 36 | $2,689 | California | Get Details |
| $268 | 2019 Buick Encore Preferred 1SB | $199 | 39 | $2,699 | California | Get Details |
| $274 | 2019 Mazda CX-3 Sport | $205 | 36 | $2,489 | Los Angeles | Get Details |
| $275 | 2019 Toyota C-HR LE | $219 | 36 | $1,999 | Southern California | Get Details |
| $276 | 2019 Honda HR-V LX | $209 | 36 | $2,399 | National | Get Details |
| $276 | 2019 Kia Sportage LX 2.4 FWD | $199 | 39 | $2,999 | California | Get Details |
| $284 | 2018 Mazda CX-5 Sport | $215 | 36 | $2,489 | Los Angeles | Get Details |
| $285 | 2018 Honda CR-V 2.4 LX | $229 | 36 | $1,999 | National | Get Details |
| $286 | 2019 Kia Sportage LX 2.4 AWD | $209 | 39 | $2,999 | California | Get Details |
| $286 | 2019 Volkswagen Tiguan 2.0T S | $189 | 36 | $3,499 | CA, AZ, NV, OR, AK | Get Details |
| $290 | 2019 Subaru Crosstrek 2.0i with Manual | $235 | 36 | $1,989 | Los Angeles | Get Details |
| $291 | 2018 Nissan Kicks SV with Two-Tone Roof (Plus $500 Bonus) | $235 | 36 | $1,999 | Los Angeles | Get Details |
| $292 | 2019 Chevrolet Equinox LT (CA & Select States) | $199 | 39 | $3,619 | CA & Select States | Get Details |
| $293 | 2018 Honda CR-V 1.5T EX | $229 | 36 | $2,299 | National | Get Details |
| $295 | 2018 Toyota RAV4 LE | $239 | 36 | $1,999 | Southern California | Get Details |
| $295 | 2019 Honda HR-V LX AWD | $209 | 36 | $3,099 | National | Get Details |
| $296 | 2019 Hyundai Kona SEL | $229 | 36 | $2,399 | Los Angeles | Get Details |
| $297 | 2019 Ford EcoSport SE 200A w/Convenience Pkg (Select Inventory) | $219 | 36 | $2,819 | California | Get Details |
| $298 | 2019 Honda HR-V Sport | $229 | 36 | $2,499 | National | Get Details |
| $300 | 2018 Honda CR-V 2.4 LX AWD | $239 | 36 | $2,199 | National | Get Details |
| $301 | 2019 GMC Terrain SLE 2WD (Current Non-GM Lessees) | $259 | 39 | $1,629 | California | Get Details |
| $304 | 2019 Subaru Forester 2.5i Base | $255 | 36 | $1,755 | Los Angeles | Get Details |
| $304 | 2019 Mazda CX-5 Sport | $235 | 36 | $2,489 | Los Angeles | Get Details |
| $306 | 2019 Kia Sorento LX 4-cylinder FWD | $229 | 39 | $2,999 | California | Get Details |
| $307 | 2018 Nissan Rogue Sport S AWD | $199 | 36 | $3,899 | Los Angeles | Get Details |
| $308 | 2019 Ford Flex SEL w/Appearance Pkg 202A (Select Inventory) | $219 | 36 | $3,219 | California | Get Details |
| $308 | 2018 Honda CR-V 1.5T EX AWD | $239 | 36 | $2,499 | National | Get Details |
| $310 | 2018 Ford Escape SE 200A (Select Inventory) | $229 | 36 | $2,909 | California | Get Details |
| $316 | 2019 Honda CR-V 2.4 LX | $249 | 36 | $2,399 | National | Get Details |
| $317 | 2019 Hyundai Santa Fe SE (fmr Santa Fe Sport) | $239 | 36 | $2,799 | Los Angeles | Get Details |
| $321 | 2018 Mitsubishi Outlander Sport 2.0 ES | $244 | 39 | $2,993 | National | Get Details |
| $321 | 2018 Honda CR-V 1.5T EX-L | $249 | 36 | $2,599 | National | Get Details |
| $321 | 2019 Honda HR-V EX | $249 | 36 | $2,599 | National | Get Details |
| $321 | 2019 Hyundai Tucson SE | $249 | 36 | $2,599 | Los Angeles | Get Details |
| $322 | 2019 Ford Escape SE 200A (Select Inventory) | $239 | 36 | $2,989 | California | Get Details |
| $324 | 2019 Jeep Cherokee Latitude 4x4 | $219 | 42 | $4,399 | California | Get Details |
| $326 | 2019 Kia Sorento LX 4-cylinder AWD | $249 | 39 | $2,999 | California | Get Details |
| $330 | 2019 Subaru Outback 2.5i with CVT | $275 | 36 | $1,989 | Los Angeles | Get Details |
| $331 | 2019 Nissan Rogue S AWD | $239 | 36 | $3,299 | Los Angeles | Get Details |
| $331 | 2019 Honda CR-V 2.4 LX AWD | $259 | 36 | $2,599 | National | Get Details |
| $332 | 2018 Mitsubishi Outlander 2.4 ES | $269 | 48 | $3,043 | National | Get Details |
| $335 | 2018 Jeep Renegade Latitude 4x2 | $229 | 39 | $4,149 | California | Get Details |
| $337 | 2018 Honda CR-V 1.5T EX-L AWD | $259 | 36 | $2,799 | National | Get Details |
| $340 | 2019 Honda HR-V EX AWD | $259 | 36 | $2,899 | National | Get Details |
| $340 | 2019 Jeep Compass Latitude 4x2 (Current FCA Lessees) | $169 | 24 | $4,099 | California | Get Details |
| $341 | 2019 Chevrolet Trax LT (National) | $159 | 24 | $4,369 | National | Get Details |
| $346 | 2019 Kia Sorento LX V6 FWD | $269 | 39 | $2,999 | California | Get Details |
| $350 | 2019 Honda HR-V EX-L | $269 | 36 | $2,899 | National | Get Details |
| $352 | 2019 Mitsubishi Outlander Sport 2.0 ES | $274 | 39 | $3,048 | National | Get Details |
| $355 | 2019 Toyota RAV4 LE | $299 | 36 | $1,999 | Southern California | Get Details |
| $355 | 2018 Toyota RAV4 Hybrid XLE AWD | $299 | 36 | $1,999 | Southern California | Get Details |
| $364 | 2019 Mitsubishi Outlander 2.4 ES | $299 | 48 | $3,098 | National | Get Details |
| $365 | 2019 Nissan Pathfinder S AWD | $279 | 36 | $3,099 | Los Angeles | Get Details |
| $366 | 2019 Kia Sorento LX V6 AWD | $289 | 39 | $2,999 | California | Get Details |
| $368 | 2019 Honda HR-V EX-L AWD | $279 | 36 | $3,199 | National | Get Details |
| $368 | 2019 Hyundai Santa Fe XL 3.3L SE | $279 | 36 | $3,199 | Los Angeles | Get Details |
| $373 | 2018 Nissan Murano S FWD (Plus $2,000 Bonus) | $279 | 36 | $3,399 | Los Angeles | Get Details |
| $374 | 2018 Mitsubishi Eclipse Cross ES AWD | $249 | 36 | $4,498 | National | Get Details |
| $377 | 2019 Jeep Grand Cherokee Laredo 4x2 (Current FCA Lessees) | $269 | 36 | $3,899 | California | Get Details |
| $383 | 2018 Honda CR-V 1.5T Touring | $289 | 36 | $3,399 | National | Get Details |
| $393 | 2019 Ford Edge SE (Select Inventory) | $299 | 36 | $3,389 | California | Get Details |
| $395 | 2019 Mitsubishi Eclipse Cross ES AWD | $269 | 36 | $4,543 | National | Get Details |
| $396 | 2019 Volkswagen Atlas S 2.0T | $299 | 36 | $3,499 | CA, AZ, NV, OR, AK | Get Details |
| $399 | 2018 Honda CR-V 1.5T Touring AWD | $299 | 36 | $3,599 | National | Get Details |
| $403 | 2018 Mitsubishi Outlander PHEV SEL AWD | $289 | 36 | $4,088 | National | Get Details |
| $411 | 2019 Chevrolet Traverse LT (CA & Select States) | $289 | 36 | $4,389 | CA & Select States | Get Details |