This month, we found 98 SUVs with a lease payment under $300/month. At this price, your options range from a $21,000 Mazda CX-3 to a nearly $39,000 Acura RDX.
However, not all deals are great deals because of the amount due at signing. That's why we've calculated the effective cost of every SUV under $300 in the table at the bottom of this page.
Here are our top picks in terms of value and lowest price ahead of the 4th of July holiday.
Best Value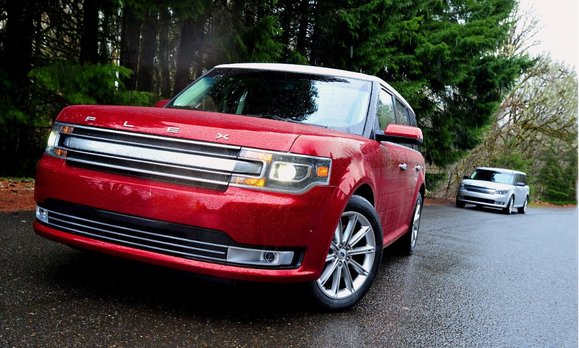 Don't let its nearly $38,000 price tag fool you— the Flex is an absurdly good value when leased, at least here in California.
Superior discounts actually result in the same effective lease cost as a Honda CR-V LX despite a $12,545 difference in MSRP.
Both come in at $315/month, but you'll be getting a lot more for your money with the Flex.
Honorable Mentions
Generous discounts make the Tiguan one of the best values when it comes to leases. Believe it or not, the all-new vehicle is actually cheaper to lease than the much older Tiguan Limited.
The effective cost of the Tiguan comes in at $254/month, a stellar value given its $25,495 MSRP. On the other hand, the Limited is $2,345 cheaper on paper but $8/month more to lease.
Cheapest Price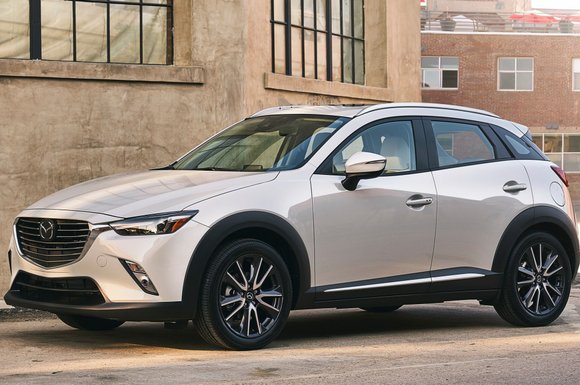 If you're looking for a cheap SUV, look no further than the CX-3. With an effective cost of $245/month, it's the most affordable out of 98 SUVs under $300 that we analyzed. But not by much.
For $8/month more, you could step into a Honda HR-V. The difference, apart from being more fun to drive, is that the CX-3 comes equipped with low-speed emergency braking, something you can't get in the HR-V.
Interestingly, a shift in discounts makes the CX-3 more affordable to lease than the Mazda3, which now starts at $199/month following a rather painful $30 price hike in June.
Every SUV Lease Under $300
We're currently tracking 98 offers with a monthly payment under $300.
| | | | | | | |
| --- | --- | --- | --- | --- | --- | --- |
| Effective Cost | Model | Monthly Payment | Term | Due at Signing | Region | More Info |
| $245 | 2018 Mazda CX-3 Sport FWD | $189 | 36 | $1,999 | Los Angeles | Get Details |
| $249 | 2018 Chevrolet Trax [CA and Select Regions] 1LT FWD (Conquest) | $189 | 39 | $2,349 | Select Regions | Get Details |
| $252 | 2018 Hyundai Tucson SE FWD | $199 | 36 | $1,899 | Los Angeles | Get Details |
| $252 | 2018 Volkswagen Tiguan Limited 2.0T Limited | $169 | 36 | $2,999 | Western States | Get Details |
| $253 | 2018 Honda HR-V LX 2WD | $189 | 36 | $2,299 | National | Get Details |
| $254 | 2018 Volkswagen Tiguan 2.0T S FWD | $179 | 36 | $2,699 | Western States | Get Details |
| $255 | 2018 Ford EcoSport SE FWD 200A w/Convenience Pkg | $199 | 36 | $1,999 | California | Get Details |
| $255 | 2018 Toyota C-HR XLE | $199 | 36 | $1,999 | Southern California | Get Details |
| $260 | 2018 Nissan Rogue Sport S AWD | $199 | 36 | $2,199 | Los Angeles | Get Details |
| $264 | 2018 Subaru Crosstrek 2.0i Manual (Los Angeles) | $209 | 36 | $1,989 | Los Angeles | Get Details |
| $265 | 2019 Mazda CX-3 Sport FWD | $209 | 36 | $1,999 | Los Angeles | Get Details |
| $265 | 2018 Mazda CX-5 Sport FWD Automatic | $209 | 36 | $1,999 | Los Angeles | Get Details |
| $266 | 2018 Hyundai Kona SEL FWD | $199 | 36 | $2,399 | National | Get Details |
| $272 | 2018 Honda HR-V LX AWD | $189 | 36 | $2,999 | National | Get Details |
| $274 | 2018 Nissan Rogue S AWD (Plus $500 Holiday Bonus) | $199 | 36 | $2,699 | Los Angeles | Get Details |
| $274 | 2018 Volkswagen Tiguan 2.0T S 4MOTION | $199 | 36 | $2,699 | Western States | Get Details |
| $275 | 2018 Toyota RAV4 LE FWD | $219 | 36 | $1,999 | Southern California | Get Details |
| $277 | 2018 Kia Sorento L 2.4 FWD | $199 | 36 | $2,799 | California | Get Details |
| $277 | 2018 Subaru Forester 2.5i Manual (Los Angeles) | $229 | 36 | $1,729 | Los Angeles | Get Details |
| $281 | 2018 Honda HR-V EX 2WD | $209 | 36 | $2,599 | National | Get Details |
| $285 | 2018 Subaru Crosstrek 2.0i Manual (National) | $229 | 36 | $2,009 | National | Get Details |
| $287 | 2018 Hyundai Santa Fe Sport 2.4L Base FWD | $229 | 36 | $2,099 | Los Angeles | Get Details |
| $288 | 2018 Chevrolet Trax [CA and Select Regions] 1LT FWD | $189 | 39 | $3,849 | Select Regions | Get Details |
| $292 | 2018 Kia Sportage LX 2.4 FWD | $209 | 36 | $2,999 | California | Get Details |
| $298 | 2018 Subaru Forester 2.5i Manual (National) | $249 | 36 | $1,749 | National | Get Details |
| $298 | 2018 Subaru Outback 2.5i CVT (Los Angeles) | $249 | 36 | $1,749 | Los Angeles | Get Details |
| $301 | 2018 Chevrolet Equinox [CA and Select Regions] LT 2WD (Conquest) | $229 | 39 | $2,799 | Select Regions | Get Details |
| $301 | 2018 Honda HR-V EX AWD | $229 | 36 | $2,599 | National | Get Details |
| $302 | 2018 Ford Escape SE FWD 200A | $219 | 36 | $2,999 | California | Get Details |
| $302 | 2018 Kia Sportage LX 2.4 AWD | $219 | 36 | $2,999 | California | Get Details |
| $307 | 2018 Chevrolet Trax [National] 1LT FWD | $199 | 39 | $4,229 | National | Get Details |
| $312 | 2018 Buick Encore Base FWD 1SB | $199 | 39 | $4,399 | Los Angeles | Get Details |
| $312 | 2018 Kia Sorento LX 2.4 FWD | $229 | 36 | $2,999 | California | Get Details |
| $314 | 2018 Chevrolet Equinox [CA and Select Regions] LT 2WD | $229 | 39 | $3,299 | Select Regions | Get Details |
| $315 | 2018 Ford Flex SEL FWD 202A | $259 | 36 | $1,999 | California | Get Details |
| $315 | 2018 Honda CR-V LX 2WD | $259 | 36 | $1,999 | National | Get Details |
| $318 | 2018 Subaru Outback 2.5i CVT (National) | $269 | 36 | $1,769 | National | Get Details |
| $320 | 2019 Jeep Cherokee Latitude Plus 4x2 | $219 | 36 | $3,649 | National | Get Details |
| $320 | 2019 Jeep Cherokee Latitude Plus 4x4 | $219 | 36 | $3,649 | National | Get Details |
| $322 | 2018 Honda HR-V EX-L Navi 2WD | $239 | 36 | $2,999 | National | Get Details |
| $325 | 2018 Toyota RAV4 Hybrid XLE AWD | $269 | 36 | $1,999 | Southern California | Get Details |
| $326 | 2018 FIAT 500X Trekking FWD | $239 | 36 | $3,149 | National | Get Details |
| $330 | 2018 Honda CR-V LX AWD | $269 | 36 | $2,199 | National | Get Details |
| $330 | 2018 Jeep Cherokee Trailhawk 4x4 | $229 | 36 | $3,649 | National | Get Details |
| $330 | 2019 Jeep Cherokee Limited 4x2 | $229 | 36 | $3,649 | National | Get Details |
| $330 | 2018 Jeep Compass Latitude FWD | $229 | 36 | $3,649 | National | Get Details |
| $330 | 2018 Jeep Renegade Latitude 4x4 | $229 | 36 | $3,649 | National | Get Details |
| $331 | 2018 GMC Terrain SLE 2WD (Current Buick/GMC Lessees) | $249 | 39 | $3,189 | National | Get Details |
| $331 | 2018 Jeep Cherokee Limited 4x2 | $219 | 36 | $4,049 | National | Get Details |
| $332 | 2018 Ford Edge SE FWD | $239 | 36 | $3,339 | California | Get Details |
| $332 | 2018 Mitsubishi Outlander 2.4 ES CVT 2WD | $269 | 48 | $3,043 | National | Get Details |
| $334 | 2018 Chevrolet Equinox [National] LT 2WD | $249 | 39 | $3,329 | National | Get Details |
| $336 | 2018 Jeep Cherokee Limited 4x4 | $229 | 36 | $3,849 | National | Get Details |
| $336 | 2018 GMC Acadia SLE-1 2WD (Current Buick/GMC Lessees) | $299 | 36 | $1,349 | National | Get Details |
| $337 | 2018 Kia Sorento LX 2.4 AWD | $254 | 36 | $2,999 | California | Get Details |
| $340 | 2018 Honda HR-V EX-L Navi AWD | $259 | 36 | $2,899 | National | Get Details |
| $340 | 2018 Jeep Compass Latitude 4x4 | $239 | 36 | $3,649 | National | Get Details |
| $340 | 2018 Jeep Renegade Limited 4x2 | $239 | 36 | $3,649 | National | Get Details |
| $340 | 2018 Jeep Renegade Limited 4x4 | $239 | 36 | $3,649 | National | Get Details |
| $340 | 2018 Jeep Renegade Trailhawk 4x4 | $239 | 36 | $3,649 | National | Get Details |
| $342 | 2019 Kia Sorento LX 2.4 FWD | $259 | 36 | $2,999 | California | Get Details |
| $342 | 2018 Toyota Highlander LE (New York) | $259 | 36 | $2,999 | New York | Get Details |
| $342 | 2018 Volkswagen Golf SportWagen 1.8T S with Automatic | $259 | 36 | $2,999 | Western States | Get Details |
| $343 | 2018 Jeep Cherokee Latitude + 4x4 | $219 | 36 | $4,449 | National | Get Details |
| $343 | 2018 Mitsubishi Outlander Sport 2.0 ES CVT 2WD | $259 | 36 | $3,033 | National | Get Details |
| $344 | 2018 GMC Terrain SLE 2WD | $249 | 39 | $3,689 | National | Get Details |
| $344 | 2018 Jeep Renegade Latitude 4x2 | $229 | 36 | $4,149 | National | Get Details |
| $350 | 2019 Jeep Cherokee Limited 4x4 | $249 | 36 | $3,649 | National | Get Details |
| $350 | 2019 Jeep Cherokee Trailhawk 4x4 | $249 | 36 | $3,649 | National | Get Details |
| $354 | 2018 Hyundai Santa Fe SE FWD | $279 | 36 | $2,699 | Los Angeles | Get Details |
| $357 | 2019 Kia Sorento LX 2.4 AWD | $274 | 36 | $2,999 | California | Get Details |
| $358 | 2019 MINI Clubman Cooper | $289 | 36 | $2,499 | California | Get Details |
| $360 | 2018 Jeep Compass Limited FWD | $259 | 36 | $3,649 | National | Get Details |
| $365 | 2018 Nissan Pathfinder S 4x4 (Plus $1,250 Bonus) | $279 | 36 | $3,099 | Los Angeles | Get Details |
| $365 | 2018 Jeep Wrangler Unlimited JK Sport 4dr 24C | $296 | 36 | $2,499 | National | Get Details |
| $366 | 2018 FIAT 500X Lounge AWD | $279 | 36 | $3,149 | National | Get Details |
| $368 | 2018 Acura RDX Base 2WD | $299 | 36 | $2,499 | National | Get Details |
| $368 | 2018 Jeep All-New Wrangler Unlimited JL Sport 4dr 24B | $299 | 36 | $2,499 | National | Get Details |
| $370 | 2018 Jeep Compass Trailhawk 4x4 | $269 | 36 | $3,649 | National | Get Details |
| $370 | 2018 Jeep Compass Limited 4x4 | $269 | 36 | $3,649 | National | Get Details |
| $373 | 2018 Nissan Murano S FWD (Plus $1,250 Bonus) | $279 | 36 | $3,399 | Los Angeles | Get Details |
| $374 | 2018 Mitsubishi Eclipse Cross ES AWD | $249 | 36 | $4,498 | National | Get Details |
| $375 | 2018 Honda Pilot LX 2WD | $289 | 36 | $3,099 | National | Get Details |
| $382 | 2018 Acura RDX Base AWD | $299 | 36 | $2,999 | National | Get Details |
| $382 | 2018 Volkswagen Golf Alltrack S with Automatic | $299 | 36 | $2,999 | Western States | Get Details |
| $390 | 2018 Dodge Journey Crossroad FWD | $259 | 24 | $3,149 | National | Get Details |
| $391 | 2018 Volkswagen Atlas S 2.0T FWD | $299 | 36 | $3,299 | Western States | Get Details |
| $400 | 2018 Jeep Cherokee Overland 4x2 | $299 | 36 | $3,649 | National | Get Details |
| $400 | 2019 Jeep Cherokee Overland 4x2 | $299 | 36 | $3,649 | National | Get Details |
| $403 | 2018 Mitsubishi Outlander PHEV SEL AWD | $289 | 36 | $4,088 | National | Get Details |
| $405 | 2018 Ford Explorer XLT 4x2 201A | $289 | 36 | $4,189 | California | Get Details |
| $410 | 2018 Dodge Journey G/T FWD | $279 | 24 | $3,149 | National | Get Details |
| $410 | 2018 Dodge Journey Crossroad AWD | $279 | 24 | $3,149 | National | Get Details |
| $414 | 2018 Chevrolet Traverse [CA And Select Regions] LT FWD | $299 | 36 | $4,129 | Select Regions | Get Details |
| $420 | 2018 GMC Acadia SLE-1 2WD | $299 | 36 | $4,349 | National | Get Details |
| $430 | 2018 Dodge Journey G/T AWD | $299 | 24 | $3,149 | National | Get Details |
| $437 | 2018 Buick Envision Preferred 1SD | $299 | 36 | $4,959 | Los Angeles | Get Details |
| $514 | 2018 Buick Regal TourX Preferred Wagon 1SB | $299 | 36 | $7,729 | National | Get Details |