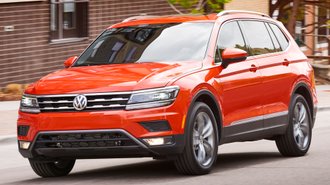 It continues to be a challenging time for VW buyers with none of the crazy deals we're used to seeing around this time of year. An inventory shortage has compelled VW to scale back financing incentives to 0% APR for 36 months. Around a year ago, you could score zero-interest financing for up to 72 months.
While the cheapest VW lease deals start at $199/month, shoppers should be aware that the brand requires a significant amount of money at signing. Even the all-new Taos requires $3,199 upfront, making it one of the worst SUVs you can lease. As usual, there are no rebates to speak of for most buyers.
Most of the offers listed here are available nationally through November 1. However, lease prices may vary in different parts of the country (examples below are for the state of California). We update this page each month, so check back for possible changes.
Must-Know Advice For VW Buyers
Hidden discounts. Unlike its competitors, VW almost never offers traditional rebates to lower prices. Instead, dealers are given unadvertised incentives in the form of dealer cash that can result in big discounts. Expect to see the best sedan deals on models like the Passat and SUVs like the three-row Atlas.
Getting the best price. In addition to lacking regular cash incentives, chances are that VW shoppers won't see the best prices online. That's because dealers are limited by MAAP (Minimum Allowable Advertised Price), a rule from VW that prevents them from advertising below a set price. As a result, you'll generally have to request a quote in order to see the lowest price on a VW.
Lease specials. If you're planning to lease, the Tiguan tends to rank among the best deals in the compact SUV segment. The Jetta often ranks among the cheapest cars to lease, particularly when VW rolls out one of its popular Sign & Drive lease promotions. In contrast, leases on the Golf and Passat tend to be expensive.
Warranty change. VW's 6-year warranty was shortened to just 4 years starting with the 2020 model year. That could be a downside if you're looking to buy and keep your car for a long time. However, a benefit is that VW is now offering 2 years of free routine maintenance on every model in its lineup.
College grad discounts. If you're a recent grad, be sure to ask about the VW College Graduate Program. It features a $500 bonus that can be combined with most other incentives. Just be aware that you'll have to finance through VW Credit in order to get it.
Used car deals. Rates for certified used VWs can often be competitive based on our monthly analysis of CPO offers.