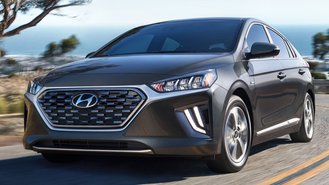 We're seeing a flurry of Black Friday EV & plug-in deals that can benefit green car buyers. Starting today, Hyundai is offering an extra $1,000 off the Ioniq family of vehicles, as well as the all-new 47 mpg Sonata Hybrid. The latter now offers twice the savings of a 2021 Sonata with a conventional gas engine ($2,000 vs. $1,000).
Those looking to lease a plug-in will find the 2020 Ioniq Electric one of the cheapest EVs you can lease. Here in California, it's listed at just $169 for 36 months with $2,199 at signing, $30/month cheaper than last month, and $70/month less than September. At that price, it manages to be one of the cheapest leases in America.
Late last week, Toyota began offering a $1,100 lease incentive on the 52 mpg 2021 Corolla Hybrid in the San Francisco Bay Area. This has created a rare situation in which you can actually lease one for the same price as a regular 2021 Corolla: $169 for 39 months with $1,999 due at signing through November 30.
If you're looking for extreme savings, the 2020 Chevy Bolt continues to be one of the cheapest cars you can lease when factoring-in a $3,000 Costco bonus. In San Francisco, you can lease one from as little as $176 for 36 months with $176 at signing. We consider it one of the best deals on a car ahead of Black Friday.
Through November 30, Ford is offering a free $500 Amazon Gift Card in places like California and Arizona. Interestingly, even the 2021 F-150 Hybrid is eligible for the deal. In addition to improved fuel economy, the all-new truck can cost the same as the diesel model but offers the added capability of an on-board generator.
In addition to a federal tax credit on many models, going green can get you access to extra savings thanks to the recent addition of the $1,500 California Clean Fuel Reward. Under the right circumstances, you can stack it with a Clean Vehicle Rebate for up to $11,000 in savings on the new Ford Mustang Mach-E.
Stay tuned for CarsDirect's ongoing coverage of the latest Black Friday deals. Apart from last-minute offers on a variety of models, we're also seeing great incentives on conventional cars & SUVs with year-end deals like 0% APR for up to 84 months and some crazy deals from over half a dozen luxury brands.