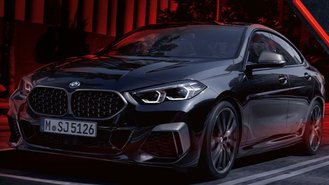 Marvel's long-anticipated Black Widow film is now playing at theaters nationwide. Interestingly, BMW's latest incentives reveal that the models used in the movie's chase scenes have some pretty good deals. Apart from lease specials, there's even a way to score up to a $2,000 discount off MSRP and get 0.9% APR.
First up is the BMW 2-Series Gran Coupe. Rather than the 2-Series Coupe, this is actually a four-dour entry-level model that features the brand's cheapest leases. Here in California, you can lease the 228i Gran Coupe with Driver Assistance Package (MSRP $38,195) for as little as $339 for 36 months with $4,499 at signing.
With an effective cost of $464/month before taxes & fees, that's the cheapest BMW you can lease. That's roughly $86/month cheaper than a BMW 330i, which is listed at $439 with $3,999 at signing, or $550/month. Having said that, financing a Gran Coupe can get you 0.9% APR for 60 months plus a $2,000 APR Credit.
If the SUV featured in Black Widow's chase scene in Budapest is more your style, the BMW X3 features the exact same financing deal. However, X3 lease prices are relatively expensive at $469 with $3,999 at signing, or $580/month for the entry-level sDrive30i. The more powerful M40i has an effective cost of $828.
Most BMW leases are more expensive this month. Fortunately, there's a good reason. Based on our analysis, it's largely due to the fact that the brand switched from advertising 7,500-mile-per-year leases to deals with a standard 10,000-mile allowance. The company's ultra-low-mileage leases started late last year.
BMW's most recent lease deals can help enable you to get more out of your car without ending up with overage fees. While we're still not exactly sure how Black Widow manages to pay for all of her gadgets & gear throughout the film, we think the ability to get a deal shouldn't be overlooked even if you're a super spy.
Build & Price Your BMW 2-Series