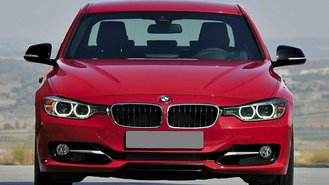 If you're shopping for a sports car, chances are you've considered a BMW 3-Series at some point. Since its debut in 1975, the car has become the face of the BMW brand. In honor of the model's 40th anniversary, the automaker has announced special cash and lease deals. This month's offers are some of the best we've seen this year on 3-series models. Here's what you need to know.
Has it been 40 years already?
For performance car enthusiasts, it might be hard to picture a world in which the 3-Series didn't exist. It has undeniably become an important benchmark within its class.
Now in its sixth generation, the BMW 3-Series continues to be a bestseller. Last month, BMW sold more than twice as many of them compared with their next-best seller, the 5-Series.
Outstanding deals on the 3-Series have been scarce since the clearance event we saw last December. With the end of a big promotion on the X-Series lineup of sports activity vehicles, BMW's best offers have shifted to the 3-Series.
Read our overview of the BMW 328 »
Celebration bonus
This month, BMW announced a $1,000 Anniversary Credit on all 3-Series models. The bonus can be combined with most other offers, including special APR financing as low as 1.9% for 36 months.
However, we think leases offer the best value right now thanks to a 1% improvement in residual values on the 3-Series lineup. The changes result in some of the best leases we've seen in a long time.
See BMW 320 pricing and deals »
Special leases
The least-expensive lease right now on a 3-Series is $269 per month for 36 months on the BMW 320 with $4,064 due at signing. Like all BMW leases, this carries a mileage allowance of 10,000 miles per year.
Cars like the Mercedes-Benz CLA250 have a similar MSRP but less favorable leases. The CLA can be leased for $329 per month and $3,623 at signing. The amount due at signing might be less, but the higher monthly payment makes this one of the least-favorable deals on an entry luxury vehicle.
Side-by-side: BMW 320 vs. Mercedes-Benz CLA250 »
Get an Eco Credit, save more
One of our favorite picks is the BMW 328d, which features an efficient diesel engine good for 45 mpg on the highway. In addition to the $1,000 Anniversary Credit, shoppers also get a $500 Eco Credit, for a total of $1,500 in savings. It made our list of the Best Green Car Deals this month, with payments starting at $329 per month for 36 months and $4,124 due at signing.
Editor's Picks: Best Green Car Deals »
Top BMW 3-Series deals this month
| | | | | | |
| --- | --- | --- | --- | --- | --- |
| Vehicle | Monthly Payment | Term | Miles/Year | Due at Signing | MSRP |
| 2015 BMW 320i Sedan | $269 | 36 | 10k | $4,064 | $35,300 |
| 2015 BMW 328i Sedan | $329 | 36 | 10k | $4,124 | $41,500 |
| 2015 BMW 328d Sedan | $329 | 36 | 10k | $4,124 | $42,450 |
| 2015 BMW 328 xDrive SportsWagon | $399 | 36 | 10k | $4,194 | $47,500 |
| 2015 BMW 328d xDrive SportsWagon | $399 | 36 | 10k | $4,194 | $47,550 |
| 2015 BMW 335i Sedan | $439 | 36 | 10k | $4,234 | $51,400 |
See all of this month's top lease deals »
Our take
If you've been holding out for a better deal the 3-Series, now is a good time to buy. Current BMW lessees should be sure to ask about a payment waiver program also running through June which involves BMW waiving up to the last 6 payments of an expiring lease to get you into a new vehicle. Combining both offers on the 3-Series will offer the best value for those who qualify.
Get a custom lease quote on a BMW 328d »
Looking for the best way to keep track of purchase and lease deals? Check out our CarsDirect Pricing Insider and Deals Articles pages for tips and advice on picking the right time to buy or lease your favorite car or truck.
Offers listed here are based on a resident in Southern California. Lease offers are based on top-tier credit and exclude tax, license, title, registration, document fees and insurance. Please check with your dealer partner for complete offer details.