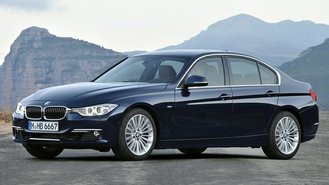 You may not know it but there's a sales war going on among luxury automakers. BMW is making a strong push in March on bestsellers like the 328 and 528 with rare discounts. Don't expect to see the programs advertised though- they're happening behind the scenes. Here's the inside scoop.
Pushing their bestsellers
Documents from BMW reveal a new program meant to help dealers supercharge sales this month. The incentive, which is not being advertised, targets in-stock 3-Series and 5-Series models- the automaker's two volume sellers.
The offer consists of an extra $1,000 bonus on 2015 3-Series models including the sedans, Gran Turismos, Sports Wagon, and M. Opt for the 5-Series and you can get an extra $1,500 discount on your choice of the sedan, Gran Turismo, and M.
The new incentive is compatible with existing offers and can be applied by dealers to cash, finance, and lease transactions. The program is set to expire March 31.
See pricing and deals for the BMW 328>>
Why this is unusual
We think this month's offer is unusual because it's the first time we've seen rebates on 2015 models since last December's holiday promotion. Since then, we've seen two months of conservative offers.
The new program is meant to have an impact this month, meaning it's possible we'll see it disappear when the incentives change on April 1. If you're in the market to buy a BMW or have been on the fence, now is a great time to buy.
Get a custom lease quote on a BMW 328>>
Looking for more pricing and deal insights? Check out our CarsDirect Pricing Insider page for analyses on over 300 models. Sign up for email alerts to be the first to know when the incentives change.