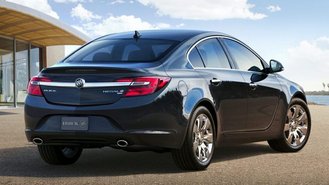 General Motors has announced a pair of new base 1SV models for the Buick Regal and Verano sedans. Though less expensive by as much as $2,925, a closer look reveals the new base models come with some trade-offs shoppers will want to be aware of. Interestingly, the story behind each is different and may influence your options when it comes time to shop. Here's what you need to know.
Regal gets a big price cut
The so-called entry luxury segment is packed with likable choices such as the Audi A3, Mercedes-Benz CLA250, Acura ILX and BMW 320. Of this set, the most aggressively priced car has been the 2016 Acura ILX at $28,820 including destination. The closest offering from Buick has been the Regal Turbo, starting at $30,915.
To better compete on price, the new Regal 1SV will start at $27,990, $830 less than the ILX. That's a steep $2,925 price cut from the Regal Turbo. But did Buick sacrifice any features to get to that price? Yes and no.
Side-by-side: Buick Regal vs. Audi A3 vs. Acura ILX vs. BMW 320>>
Trade-offs with the Regal 1SV
The Regal 1SV gets the type of features and amenities you might expect on a Buick these days, like standard leather seats and available 4G wireless connectivity (most competitors at this price come with cloth seats).
The biggest change is the addition of a 2.4L 4-cylinder Ecotec engine rated at 182 hp. Unfortunately, this isn't the same 2.4L with stop-start technology that's an option on the more expensive Premium model. Our investigation found that the "new" 4-cylinder was actually standard on a now-defunct fleet version of the Regal.
If you consider the lower power rating and curb weight of nearly 3,700 lbs, we wonder if drivers will sacrifice some degree of driving excitement. Our editors found that the turbo was actually a saving grace for the Regal. It seems odd that Buick would sacrifice a selling point like that to achieve a lower price.
Get a local quote on the Buick Regal>>
Verano also gets a price cut
Buick's most affordable sedan, the Verano, is getting a new base model too. Until now, the Verano started at $24,305 including destination. The new Verano 1SV starts at $21,990, a remarkable $2,315 price cut.
On the surface, the only obvious difference is the lack of a satellite radio. Behind the scenes, the automaker is doing something completely different compared with the Regal to achieve the lower price.
See purchase and lease deals for the Buick Verano>>
A shift in strategy
Earlier this year we reported a major shift by GM to add new base models. The strategy involves cutting dealer profit margins to achieve a lower advertised price without stripping away amenities. This is exactly what Buick has done with the Verano 1SV. The automaker has shrunken the gap between the dealer's invoice price and the MSRP to barely $106, down from $935.
Confirm availability and pricing for the Buick Verano>>
Our take
The prospect of getting a well-equipped luxury car at a better value is attractive. The Regal 1SV and Verano 1SV start thousands less than before but each have their own trade-offs as a result.
Shoppers considering a Regal because of its sporty package may be turned off by the less-powerful engine. It's also not encouraging that the EPA seems to have rated the 2.4L Ecotec with 1 mpg poorer overall fuel economy despite producing 77 hp less power than the turbo.
In the case of the Verano 1SV, we suspect dealers will be wary of keeping more than a few in stock. Shoppers should also be aware that GM has been excluding this type of base model from incentives. We suspect the new Verano 1SV will suffer a similar fate, but we'll know more in the months ahead.
See our picks for the best lease deals this month>>
Looking for the best way to keep track of purchase and lease deals? Check out our CarsDirect Pricing Insider and Deals Articles pages for tips and advice on picking the right time to buy or lease your favorite car or truck.
Incentives listed here assume a Southern California location and exclude tax, license, and dealer fees. Offers can be subject to change, so be sure to check with your CarsDirect Trusted Dealer to confirm eligibility.